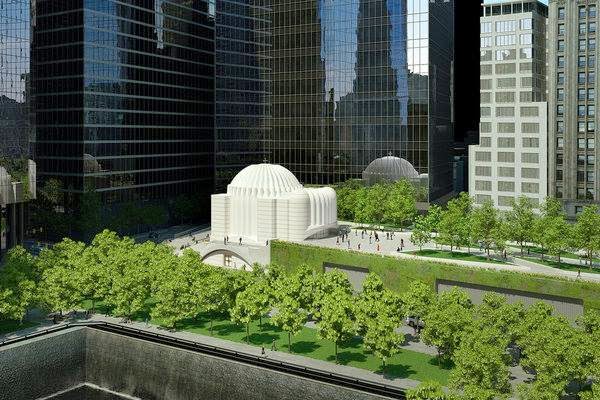 We are all in this together
As we struggle in this life, it is good to remember that we are all together. We find our place of silence, where we encounter God, but even in this place set apart, we are together. In our journey to God, our common goal is the acquisition of a humble and contrite heart, and our common homeland is found in the Divine Liturgy, wherein we enter Paradise, and participate in the Heavenly Banquet, together.In our moments of loneliness, and despondency, we are together. We are together in our celebration of life, and even in our death. When we seem so alone, we are together, for in Christ we are One Body. Glory to God for His loving kindness. Glory to Him forever.With love in Christ,
Abbot Tryphon
Photo: The proposed new Saint Nicholas Greek Orthodox Church at Ground Zero. The original Saint Nicholas Church was the only house of worship destroyed in the 9/11 attack on New York City.
The Parish of St. Nicholas was not allowed by the Port Authority to rebuild on the former site of the church. The fact that they are being allowed to build near the new structures is the result of a long battle with the Port Authority.
This beautiful church will stand as a symbol of the triumph of good over evil, and a powerful image of Orthodoxy at a time in history when so many Orthodox churches have been destroyed by the evil forces of extremist Muslims.
Saturday September 13, 2014
14th Week after Pentecost. Tone four.
The Placing of the Cincture (Sash) of the Most Holy Theotokos (395-408).
New Hieromartyr Alexander priest and Vladimir deacon (1918).
New Hieromartyrs Michael and Myron priests (1937).
New Hieromartyr Demetrius (1938).
Hieromartyr Cyprian, bishop of Carthage (258).
St. Gennadius, patriarch of Constantinople (471).
St. John, metropolitan of Kiev (1089).
St. Paulinus, bishop of Trier (358).
St. Gennadius Scholarius, patriarch of Constantinople (1372).
St. Eanswythe, abbess, of Folkestone (England) (640) (Celtic & British).
St. Cuthburga, abbess of Wimborne (Celtic & British).
St. Aidan, bishop of Lindisfarne (651) (Celtic & British).
Four Martyrs of Perge in Pamphylia (Greek).
Martyrs: Menas, Faustus, Andrew, Heraclius, Phileortus and Diadoch (Greek).
Martyr Phileortus (Greek).
Martyr Diadoch (Greek)
Eight Virgin-martyrs of Gaza (Greek).
366 Martyrs of Nicomedia (Greek).
New Martyrs of Jasenovac (1941-1945) (Serbia).You can read the life of the saint by clicking on the highlighted name.
"Blogs and social networks give us new opportunities for the Christian mission…Not to be present there means to display our helplessness and lack of care for the salvation of our brothers." His Holiness Patriarch Kirill
The Scripture Readings for the Day
1 Corinthians 4:1-5
Stewards of the Mysteries of God
4 Let a man so consider us, as servants of Christ and stewards of the mysteries of God. 2Moreover it is required in stewards that one be found faithful. 3But with me it is a very small thing that I should be judged by you or by a human court. In fact, I do not even judge myself. 4For I know of nothing against myself, yet I am not justified by this; but He who judges me is the Lord. 5Therefore judge nothing before the time, until the Lord comes, who will both bring to light the hidden things of darkness and reveal the counsels of the hearts. Then each one's praise will come from God.
Matthew 23:1-12
Woe to the Scribes and Pharisees
23 Then Jesus spoke to the multitudes and to His disciples, 2saying: "The scribes and the Pharisees sit in Moses' seat. 3Therefore whatever they tell you to observe, that observe and do, but do not do according to their works; for they say, and do not do. 4For they bind heavy burdens, hard to bear, and lay them on men's shoulders; but they themselves will not move them with one of their fingers. 5But all their works they do to be seen by men. They make their phylacteries broad and enlarge the borders of their garments. 6They love the best places at feasts, the best seats in the synagogues, 7greetings in the marketplaces, and to be called by men, 'Rabbi, Rabbi.' 8But you, do not be called 'Rabbi'; for One is your Teacher, the Christ, and you are all brethren. 9Do not call anyone on earth your father; for One is your Father, He who is in heaven. 10And do not be called teachers; for One is your Teacher, the Christ. 11But he who is greatest among you shall be your servant. 12And whoever exalts himself will be humbled, and he who humbles himself will be exalted.