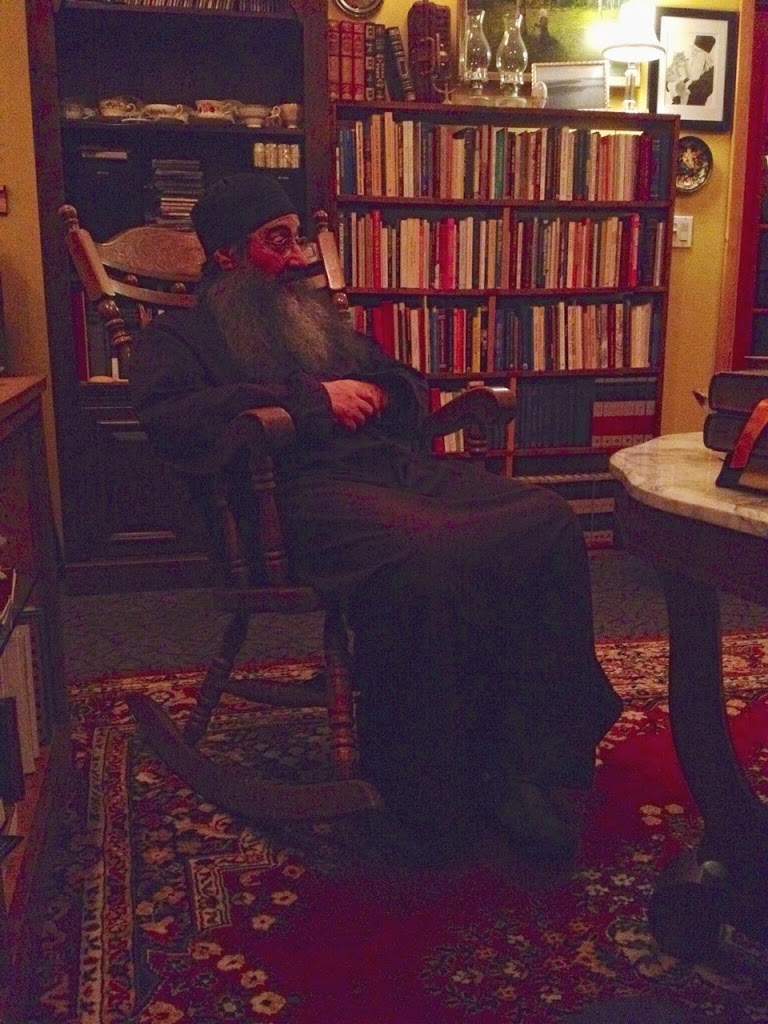 Those occasions when we mature into spiritual adulthood
There are those times in our lives when God seems distant, even absent from us. These are usually times when our faith seems weak and we struggle to believe God really cares for us, or perhaps we begin to question whether God even exists. In Western Christian tradition these moments are often referred to as the dark night of the soul. God seems as though He's far removed from us and we struggle with our faith.
In such moments it is good to remember that God is closer to us than our own breath and we only feel He's absent. God uses such periods in our life as a way to make us work at the relationship. As we struggle, we grow stronger. When God seems to withdraw Himself it is something like the parent who stands his toddler on his feet and moves a few feet away, encouraging the child to take his first steps, alone. The parent is prepared to reach out, should the child fall, but letting the child take that first step is necessary for the child's development.
Each time we are forced to work at this relationship, God's grace builds us up, making it possible for us to mature in the faith. Spiritual growth can not happen unless we feel the need for God, since the Lord will not force Himself on us. The awareness of God's presence in our lives comes with struggle, and as long as we do our part, God's grace flows abundantly.
Love in Christ,
Abbot Tryphon
Photos: 1) Hieromonk Paul in the monastery's library. 2) Peter Luckett, exploring his monastic vocation. 3) Monk Moses and his latest masterpiece.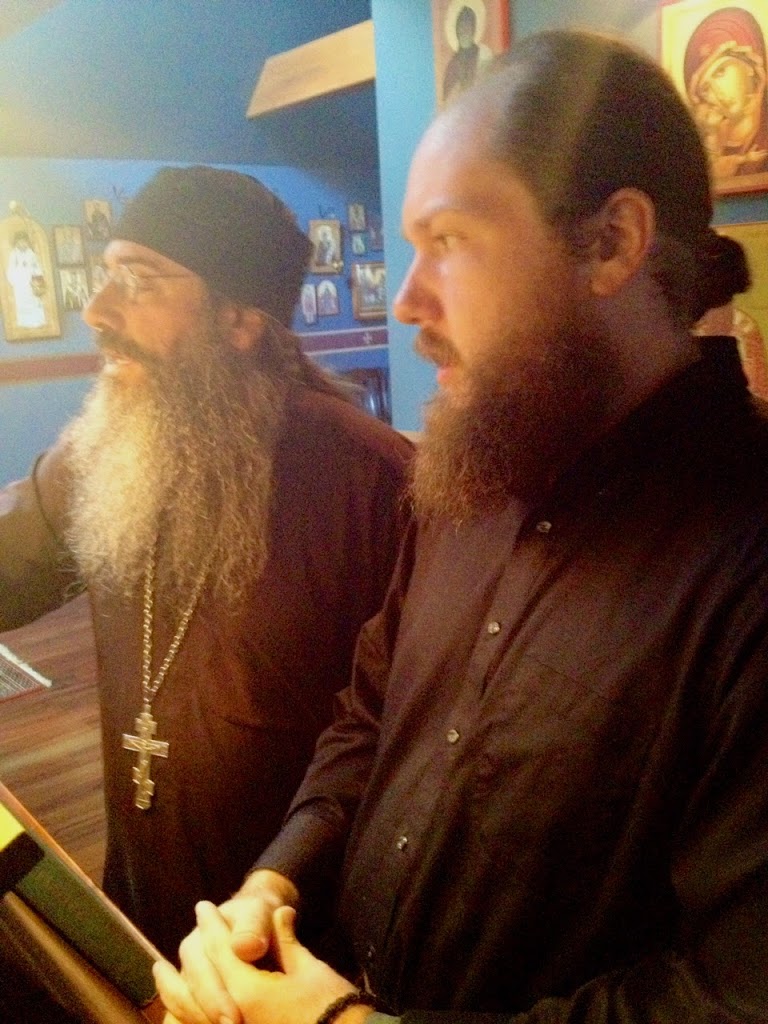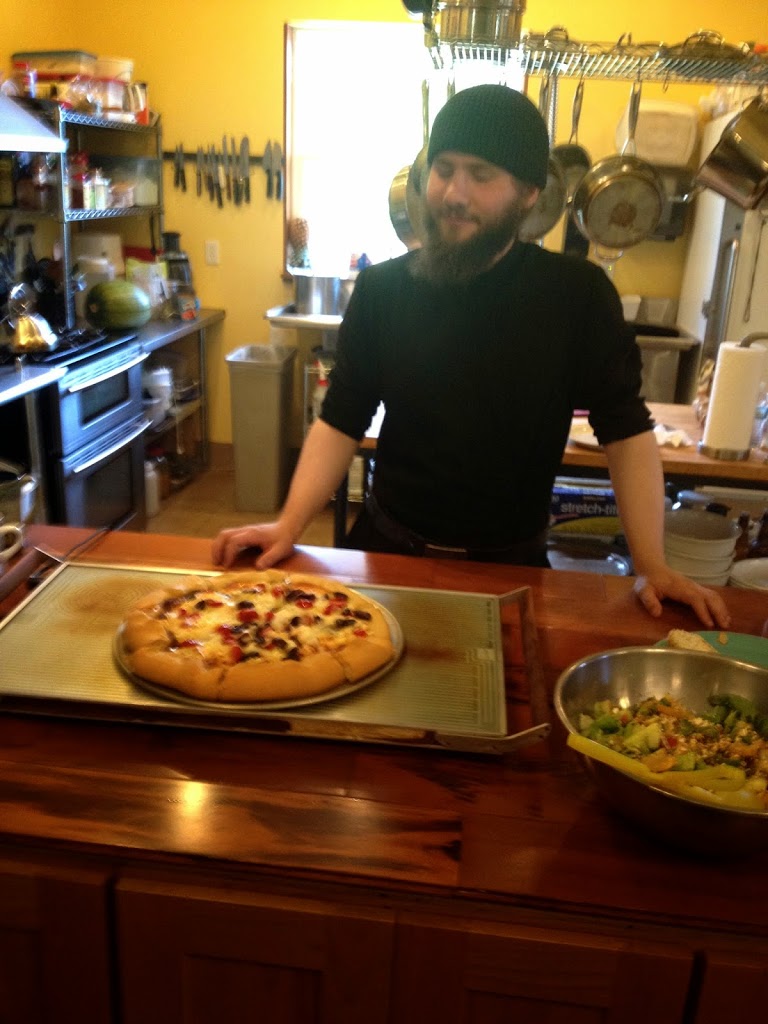 Thursday September 4, 2014
13th Week after Pentecost. Tone three.
Afterfeast of the Dormition.
Martyr Agathonicus of Nicomedia and his companions: Martyrs Zoticus, Theoprepius, Acindynus, Severian, Zeno, and others, who suffered under Maximian (4th c.).
Martyr Gorazd of Prague, Bohemia and Moravo-Cilezsk (1942).
Venerable Isaac I (Antimonov, the "Elder") of Optina (1894).
New Martyrs Ephraim (Kuznetsov), bishop of Selenginsk and Priest John Vostorgov (1918).
New Hieromartyrs Macarius bishop of Orlov, John and Alexis priests (1918).
New Hieromartyrs Theodore bishop of Penza and with him Basil and Gabriel priests (1937).
New Hieromartyrs John bishop of Velikoluk, Alexis archbishop of Omsk, Alexander, Michael and Theodore priests, Hieromartyr Hilarion, John and Hierotheus (1937)
Hieromartyr Athanasius (270-275), bishop of Tarsus in Cilicia, Venerable Anthusa of Syria (298) and Martyrs Charesimus and Neophytus (270-275).
Virgin-martyr Eulalia of Barcelona (303).
Iveron Icon of the Most Holy Theotokos at the Monastery of St. Alexis of Moscow (1650).
Venerable Bogolep of St. Paisius of Uglich Monastery (16th c.).
St. Symphorian of Autun (2nd-3rd c.) (Celtic & British).
Venerable Sigfrid, abbot of Wearmouth (England) (688) (Celtic & British).
New Hieromartyr Andrew (Ukhtomsky), bishop of Ufa (1937).
Martyrs Irenaeus, Deakon, Or, and Oropsus (Greek).
You can read the life of the saint by clicking on the highlighted name.
"Blogs and social networks give us new opportunities for the Christian mission…Not to be present there means to display our helplessness and lack of care for the salvation of our brothers." His Holiness Patriarch Kirill
The Scripture Readings for the Day
2 Corinthians 10:7-18
Reality of Paul's Authority
7Do you look at things according to the outward appearance? If anyone is convinced in himself that he is Christ's, let him again consider this in himself, that just as he is Christ's, even so we are Christ's. 8For even if I should boast somewhat more about our authority, which the Lord gave us for edification and not for your destruction, I shall not be ashamed— 9lest I seem to terrify you by letters. 10"For his letters," they say, "are weighty and powerful, but his bodily presence is weak, and his speech contemptible." 11Let such a person consider this, that what we are in word by letters when we are absent, such we will also be in deed when we are present.
Limits of Paul's Authority
12For we dare not class ourselves or compare ourselves with those who commend themselves. But they, measuring themselves by themselves, and comparing themselves among themselves, are not wise. 13We, however, will not boast beyond measure, but within the limits of the sphere which God appointed us—a sphere which especially includes you. 14For we are not overextending ourselves (as though our authority did not extend to you), for it was to you that we came with the gospel of Christ; 15not boasting of things beyond measure, that is, in other men's labors, but having hope, that as your faith is increased, we shall be greatly enlarged by you in our sphere, 16to preach the gospel in the regions beyond you, and not to boast in another man's sphere of accomplishment.
17But "he who glories, let him glory in the Lord." 18For not he who commends himself is approved, but whom the Lord commends.
Mark 3:28-35
The Unpardonable Sin
28"Assuredly, I say to you, all sins will be forgiven the sons of men, and whatever blasphemies they may utter; 29but he who blasphemes against the Holy Spirit never has forgiveness, but is subject to eternal condemnation"— 30because they said, "He has an unclean spirit."
Jesus' Mother and Brothers Send for Him
31Then His brothers and His mother came, and standing outside they sent to Him, calling Him. 32And a multitude was sitting around Him; and they said to Him, "Look, Your mother and Your brothers are outside seeking You."
33But He answered them, saying, "Who is My mother, or My brothers?" 34And He looked around in a circle at those who sat about Him, and said, "Here are My mother and My brothers! 35For whoever does the will of God is My brother and My sister and mother."