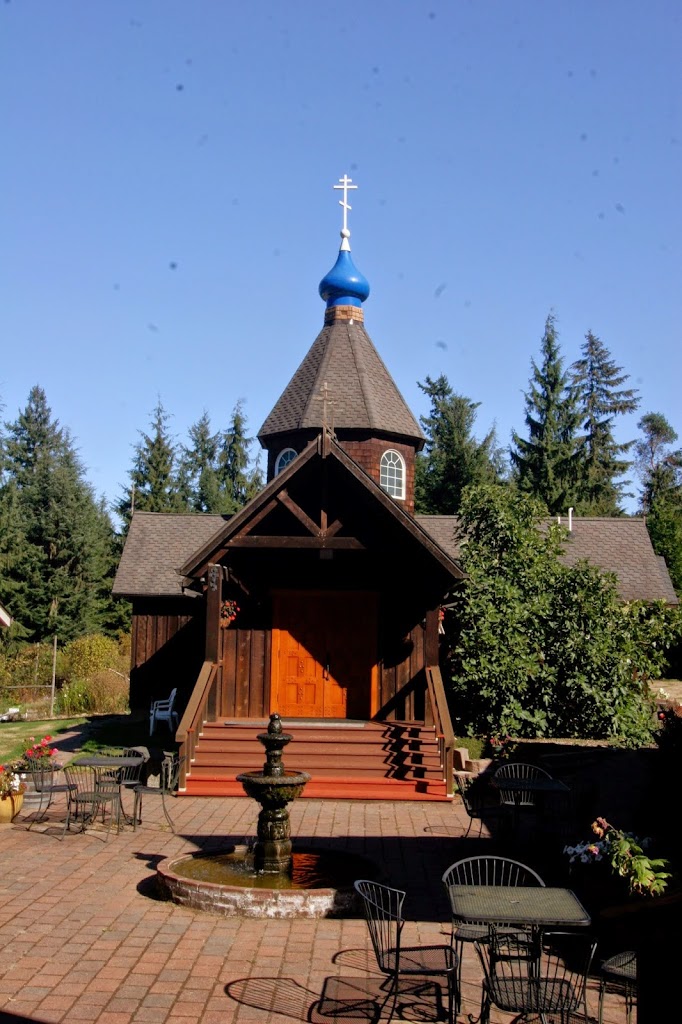 And the surrender of self-will
There is freedom from stress, anxiety, and even anger, when we place our trust in God, and in he whom God has set over us as our spiritual guide. The invading enemies to our salvation have power over us only when we depend on ourselves. Without humility, there can be no victory over the demons that would destroy the soul. When we set ourselves up as our guide, we make those whom God has charged with our spiritual care, the enemy. Comfort and joy can only be part of our life if we surrender our self-will, and give ourselves fully into the loving embrace of our God.
With love in Christ,
Abbot TryphonMonday September 15, 2014
15th Week after Pentecost. Tone five.
Martyr Mamas of Caesarea in Cappadocia (275), and his parents, Martyrs Theodotus and Rufina (3rd c.).
Venerable John the Faster, patriarch of Constantinople (595).
Venerables Anthony (1073) and Theodosius (1074) of the Kiev Caves.
New Martyrs Barsunuphius, bishop of Kyrilov, priest John, Abbess Seraphima of Therapontov Convent, and Anatole, Nicholas, Michael and Philip (1918).
New Hieromartyr Nicholas priest (1920).
New Hieromartyrs Damascene, bishop of Starodub, priests Ephimius, John, John, Vladimir, Victor, Basil, Theodore, Peter, Stephen and Virgin-martyr Ksenia(1937).
Herman, bishop of Vyaznikov, priest Stephen and martyr Paul (1937).
Translation of the relicts (1796) of Venerable Theodosius, abbot, of Totma.
3,618 Martyrs who suffered at Nicomedia (3rd-4th c.).
"Kaluga" Icon of the Most Holy Theotokos (1771).
Righteous Eleazar, son of Aaron, and Righteous Phineas.
Martyrs Aeithalas and Ammon of Thrace (Greek).
Hieu, abbess of Tadcaster (7th c.) (Celtic & British).You can read the life of the saint by clicking on the highlighted name.
"Blogs and social networks give us new opportunities for the Christian mission…Not to be present there means to display our helplessness and lack of care for the salvation of our brothers." His Holiness Patriarch Kirill
The Scripture Readings for the Day
Galatians 2:11-16
No Return to the Law
11Now when Peter had come to Antioch, I withstood him to his face, because he was to be blamed; 12for before certain men came from James, he would eat with the Gentiles; but when they came, he withdrew and separated himself, fearing those who were of the circumcision. 13And the rest of the Jews also played the hypocrite with him, so that even Barnabas was carried away with their hypocrisy.
14But when I saw that they were not straightforward about the truth of the gospel, I said to Peter before them all, "If you, being a Jew, live in the manner of Gentiles and not as the Jews, why do you compel Gentiles to live as Jews? 15We who are Jews by nature, and not sinners of the Gentiles, 16knowing that a man is not justified by the works of the law but by faith in Jesus Christ, even we have believed in Christ Jesus, that we might be justified by faith in Christ and not by the works of the law; for by the works of the law no flesh shall be justified.
Mark 5:24-34
24So Jesus went with him, and a great multitude followed Him and thronged Him.
25Now a certain woman had a flow of blood for twelve years, 26and had suffered many things from many physicians. She had spent all that she had and was no better, but rather grew worse. 27When she heard about Jesus, she came behind Him in the crowd and touched His garment. 28For she said, "If only I may touch His clothes, I shall be made well."
29Immediately the fountain of her blood was dried up, and she felt in her body that she was healed of the affliction. 30And Jesus, immediately knowing in Himself that power had gone out of Him, turned around in the crowd and said, "Who touched My clothes?"
31But His disciples said to Him, "You see the multitude thronging You, and You say, 'Who touched Me?'"
32And He looked around to see her who had done this thing. 33But the woman, fearing and trembling, knowing what had happened to her, came and fell down before Him and told Him the whole truth. 34And He said to her, "Daughter, your faith has made you well. Go in peace, and be healed of your affliction."