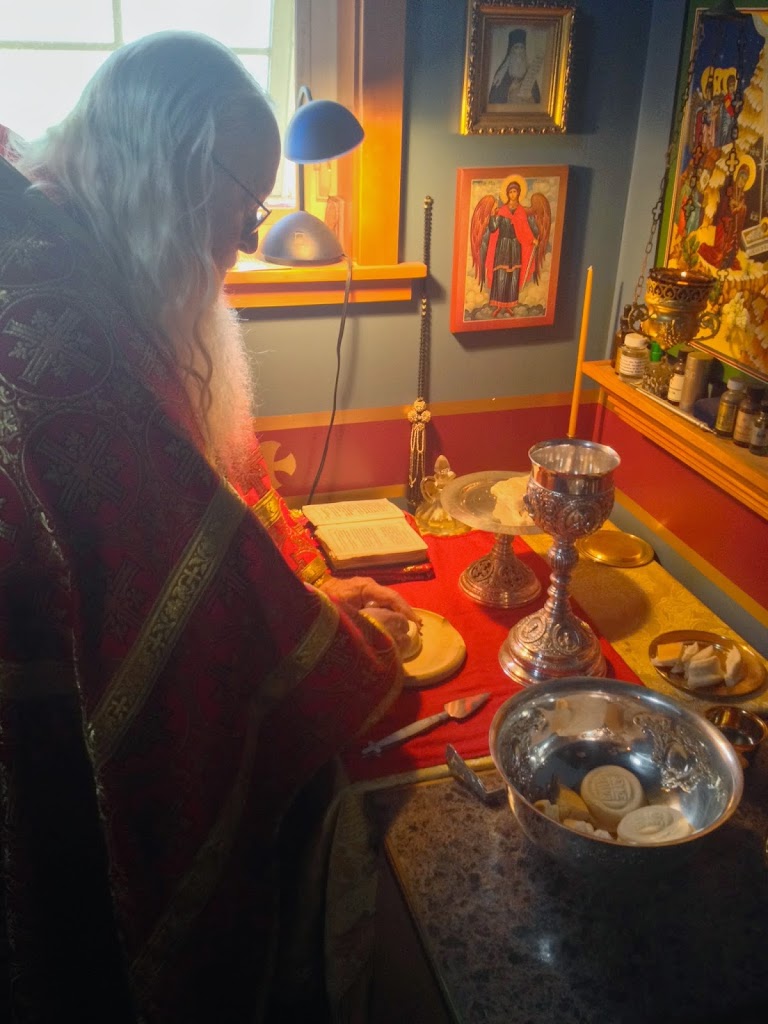 And the nightmare of an all-consuming death
This earthly life that we have been given has no meaning unless we see it as a workshop for the future life. We must not neglect that which is of an eternal nature, for the Creator has bestowed this life upon us as a time of preparation for eternity with Him. This is the time when we should be progressing from God's image to God's likeness. This life takes a tragic turn if we do not look beyond the confines of this earthly existence, for the gift of love that is Christ, helps us escape the nightmare of an all-consuming death.
The Apostle Paul gives an account of the Christian understanding of death, saying, "When the perishable puts on the imperishable, and the mortal puts on immortality, then shall come to pass the saying that is written: 'Death is swallowed up in victory (1 Cor. 15:54).'" It is in this life that we "put on Christ", for in doing so we attain the holiness that is necessary for us to stand in the presence of God for all eternity, and not be burned. Focusing on this life as anything but a time of preparation for eternity, is to ignore the reality that God has gifted us with life as a time of preparation for the heavenly vision of an all-consuming life.
With love in Christ,
Abbot Tryphon
Friday July 11, 2014
5th Week after Pentecost. Tone three.
Apostles' (Peter & Paul) Fast. By Monastic Charter: Strict Fast (Bread, Vegetables, Fruits)
Translation of the relics (412) of the Holy and Wonderworking Unmercenaries Cyrus and John (311).
Venerables Sergius and Herman (14th c.), abbots of Valaam.
New Hieromartyr Basil, deacon (1918).
Virgin-martyr Sebastiana (1938).
New Hieromartyr Gregory, deacon (1940).
Venerable Xenophon, abbot of Robeika (Novgorod) (1262).
Venerable Paul the Physician of Corinth (7th c.).
Icon of the Most Holy Theotokos "Of the Three Hands" (8th c.).
Venarable Sergius of Crete.
Venerable Moses the Anchorite.
St. Sennuphius the Standard-bearer of Egypt (4th c.).
St. Austol of Cornwall (6th c.) (Celtic & British).
Hieromartyr Donatus of Libya (Greek).
Three Martyrs of Galatia (Greek).
70 Martyrs of Scythopolis (Greek).
Martyr Pappias (Greek).
Martyr Macedonius (Greek).
Venerable Magnus, monk who reposed while praying to the Lord (Greek).
St. Sergius the Magistrate of Paphlagonia, founder of the monastery of the Mother of God called Nikitiatus in Nicomedia (9th c.) (Greek).
Martyrs Serenus, Plutarchus, Heraclides, Heron, Raiso, and others in Alexandria (202) You can read the life of the saint by clicking on the highlighted name.
"Blogs and social networks give us new opportunities for the Christian mission…Not to be present there means to display our helplessness and lack of care for the salvation of our brothers." His Holiness Patriarch Kirill
The Scripture Readings for the Day
Romans 16:1-16
Sister Phoebe Commended
16 I commend to you Phoebe our sister, who is a servant of the church in Cenchrea, 2that you may receive her in the Lord in a manner worthy of the saints, and assist her in whatever business she has need of you; for indeed she has been a helper of many and of myself also.
Greeting Roman Saints
3Greet Priscilla and Aquila, my fellow workers in Christ Jesus, 4who risked their own necks for my life, to whom not only I give thanks, but also all the churches of the Gentiles. 5Likewise greet the church that is in their house.
Greet my beloved Epaenetus, who is the firstfruits of Achaia to Christ. 6Greet Mary, who labored much for us. 7Greet Andronicus and Junia, my countrymen and my fellow prisoners, who are of note among the apostles, who also were in Christ before me.
8Greet Amplias, my beloved in the Lord. 9Greet Urbanus, our fellow worker in Christ, and Stachys, my beloved. 10Greet Apelles, approved in Christ. Greet those who are of the household of Aristobulus. 11Greet Herodion, my countryman. Greet those who are of the household of Narcissus who are in the Lord.
12Greet Tryphena and Tryphosa, who have labored in the Lord. Greet the beloved Persis, who labored much in the Lord. 13Greet Rufus, chosen in the Lord, and his mother and mine. 14Greet Asyncritus, Phlegon, Hermas, Patrobas, Hermes, and the brethren who are with them. 15Greet Philologus and Julia, Nereus and his sister, and Olympas, and all the saints who are with them.
16Greet one another with a holy kiss. The churches of Christ greet you.
Matthew 13:4-9
4And as he sowed, some seed fell by the wayside; and the birds came and devoured them. 5Some fell on stony places, where they did not have much earth; and they immediately sprang up because they had no depth of earth. 6But when the sun was up they were scorched, and because they had no root they withered away. 7And some fell among thorns, and the thorns sprang up and choked them. 8But others fell on good ground and yielded a crop: some a hundredfold, some sixty, some thirty. 9He who has ears to hear, let him hear!"