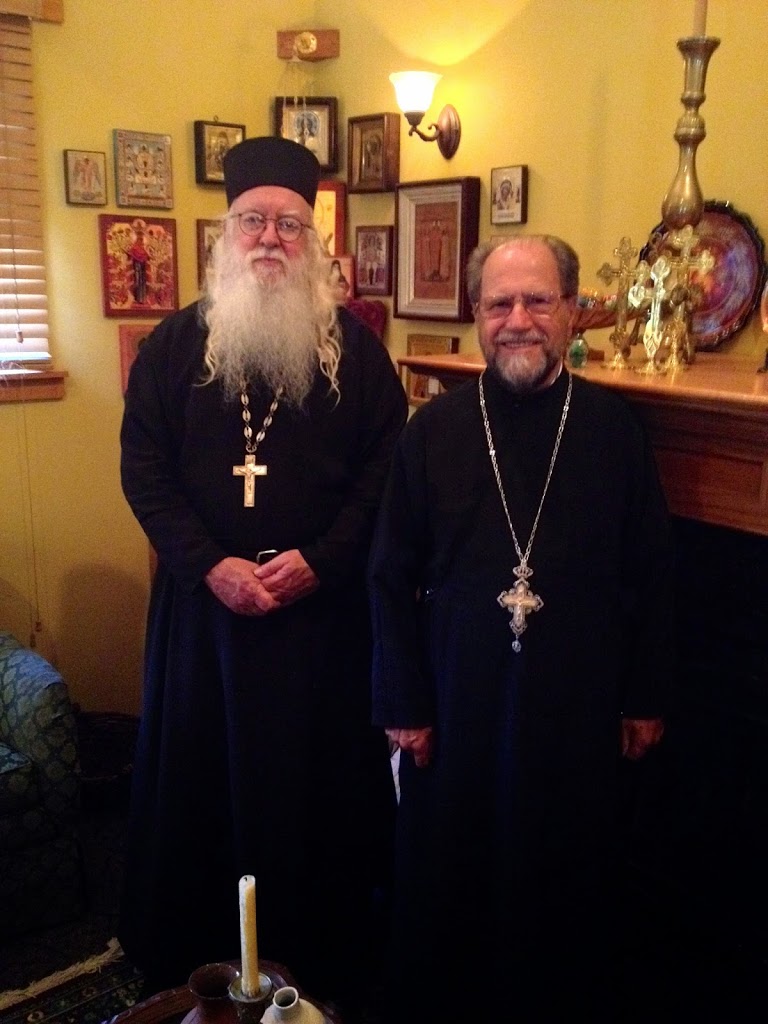 How can we possibly love everyone?
We are instructed by Christ to love our neighbors as ourselves, and even to love our enemies. There are always individuals who come into our lives that we find difficult to like, let alone love. Given this, how do we follow the commandment of Christ to love everyone?
As Christians we venerate icons of Christ, among them those showing Christ suffering on the cross. When the priest or deacon censes the church during the services he also censes the people, recognizing the image of God in everyone.
If we see everyone as Christ, those who are unlovable, unkind, hurtful, or even evil, can still be loved if we look upon them as Christ crucified. They, like ourselves, are created in the image and likeness of God, yet their sin obscures the image. They, by their fallen nature and unrepentant lives, are Christ crucified. They are loved by God and we are commanded to do the same.
But how? This is where grace comes in! Like Saint Paul, we can say that anything good we do is Christ in us. Loving one's enemies is perhaps one of the most difficult of Christ's commandments to keep, but with Christ all things are possible.
As we struggle to love others we must do so with a prayerful heart, asking that the Lord give us the grace needed to truly love others. It is the same grace from God that is needed to forgive those who offend or hurt us. God forgives us, loves us, so we can also forgive and love others. It is all about grace, for if we seek out the aid of the Holy Spirit, all things good can be ours, including holiness.
With love in Christ,
Abbot Tryphon
click on photo to en
Photo: Friday afternoon we received pilgrims from All Saints Orthodox Camp on Raft Island, who came to the monastery for Vespers, and to hear a talk by Abbot Tryphon. The group was led by Father John Angelis (Greek Archdiocese) and Father Daniel Armatas (Orthodox Church in America).
Sunday July 13, 2014
5th Sunday after Pentecost. Tone four.
Venerables Tikhon, Basil and Nikon Sokolovsky (16th c.) (movable holiday on the 1st Sunday after June 29th).
St. Arsenius, bishop of Tver (movable holiday on the 1st Sunday after June 29th).
Synaxis of saints of Tver (movable holiday on the 1st Sunday after June 29th).
Hieromartirs Neophytus, Jonah, Neophytus, Jonah, and Parthenius of Lampsacus (movable holiday on the 1st Sunday after June 27th).
Synaxis of the Holy, Glorious and All-praised Twelve Apostles: Peter, Andrew, James and John the sons of Zebedee, Philip, Bartholomew, Thomas, Matthew, James the son of Alphaeus, Jude the brother of James, Simon the Zealot, Matthias.
New Hieromartyr Timothy priest (1918).
New Hieromartyr Theogenes (1939).
New Hieromartyr Milan Popovic of Rmanj, Serbia (1940s).
Martyr Joh (1944).
Venerable Peter the Prince of Ordinsk, Rostov (1290).
Glorification (1918) of St. Sophronius, bishop of Irkutsk (1771).
"Balikin" (1711) and "Gorbanevsk" (1786) Icons of the Mother of God.
St. Andrew, prince of Bogoliubsk (1174).
New Martyr Michael (Paknanas) the Gardener, of Athens (1770) (Greek).
Translation of the relics of the Great-martyr Stephen-Urosh III of Dechani, Serbia (1338).
St. Gelasius of Rimef (Transylvania) (14th c.).
Martyr Peter of Synope (Greek).
Martyr Meleton (Greek).
Martyr Basilides the Soldier at Alexandria (202).
Holy Queen Dinar (10th c.) (Georgia).
St. Stephen of Omsk (1876).
St. Martial, bishop of Lomoges (3rd c.).
You can read the life of the saint by clicking on the highlighted name.
"Blogs and social networks give us new opportunities for the Christian mission…Not to be present there means to display our helplessness and lack of care for the salvation of our brothers." His Holiness Patriarch Kirill
The Scripture Readings for the Day
Romans 10:1-10
Israel Needs the Gospel
10 Brethren, my heart's desire and prayer to God for Israel is that they may be saved. 2For I bear them witness that they have a zeal for God, but not according to knowledge. 3For they being ignorant of God's righteousness, and seeking to establish their own righteousness, have not submitted to the righteousness of God. 4For Christ is the end of the law for righteousness to everyone who believes.
5For Moses writes about the righteousness which is of the law, "The man who does those things shall live by them." 6But the righteousness of faith speaks in this way, "Do not say in your heart, 'Who will ascend into heaven?'" (that is, to bring Christ down from above) 7or, "'Who will descend into the abyss?'" (that is, to bring Christ up from the dead). 8But what does it say? "The word is near you, in your mouth and in your heart" (that is, the word of faith which we preach): 9that if you confess with your mouth the Lord Jesus and believe in your heart that God has raised Him from the dead, you will be saved. 10For with the heart one believes unto righteousness, and with the mouth confession is made unto salvation.
Matthew 8:28-9:1
Two Demon-Possessed Men Healed
28When He had come to the other side, to the country of the Gergesenes, there met Him two demon-possessed men, coming out of the tombs, exceedingly fierce, so that no one could pass that way. 29And suddenly they cried out, saying, "What have we to do with You, Jesus, You Son of God? Have You come here to torment us before the time?"
30Now a good way off from them there was a herd of many swine feeding. 31So the demons begged Him, saying, "If You cast us out, permit us to go away into the herd of swine."
32And He said to them, "Go." So when they had come out, they went into the herd of swine. And suddenly the whole herd of swine ran violently down the steep place into the sea, and perished in the water.
33Then those who kept them fled; and they went away into the city and told everything, including what had happened to the demon-possessed men. 34And behold, the whole city came out to meet Jesus. And when they saw Him, they begged Him to depart from their region.
Jesus Forgives and Heals a Paralytic
9 So He got into a boat, crossed over, and came to His own city.