We all know that money can't buy happiness, yet many are not aware that practicing simple gratitude does bring about happiness. Being grateful for the people we have in our lives, and for the things that we have, brings about a happiness that can not come about by endlessly trying to acquire things. Researchers testing gratefulness in laboratories have discovered that gratitude actually changes the brain, and makes us happier because it allows us to be happier. Gratitude changes more than brain chemistry, for it makes us better, happier, and kinder to others.
If we practice being thankful for the compliments we receive from our friends, and for those dinners they treat us to, the gifts they give us, the flowers they bring to our home, or for just being there when we need them, we will find that our gratitude brings about more friendships, for others will be drawn to us.
Dr. Robert A. Emmons conducted a study on gratitude at the University of California at Davis which proved measurable benefits on psychological, physical, and interpersonal health for subjects who practice gratitude. "Evidence on gratitude contradicts the widely held view that all people have a 'set-point' of happiness that cannot be reset by any known means." Translated, this simply means that if we practice gratitude we can actually be happier than we've ever thought possible.
Gratitude is an affirmation of goodness, for in our being grateful we affirm that there are good things in the world, and good people that are part of our lives. Our being grateful does not mean that everything in life is perfect, but it does mean that we look at life as a whole, and receive with gratitude all the goodness that is in our life. In turn, our gratitude becomes the foundation for building up those around us, for in being happy ourselves, we are more likely to bring about happiness in others.
Being happy nurtures those random acts of kindness that everyone loves to experience, and promotes goodness and kindness among even strangers. People love it when other people are good to random people. This happiness becomes like a magnet, and even strangers are drawn to us, and our list of friends proliferates. There is nothing that brings about satisfaction like being grateful for our life, for the lives of those around us, for the things in our lives, and for the love God has for us. Remember, it is not happiness that makes us grateful, but gratefulness that makes us happy.
With love in Christ,
Abbot Tryphon
Photos: Father Moses standing next to one of our large fir trees, in the lower Valaam Trail. Our forest, which we've dedicated as Saint Seraphim's Wood, is filled with Douglas Fir, Hemlock, Madrona, Maple, and Alder trees, as well as large ferns, salal and two types of huckleberry bushes. I can not begin to express my gratitude to God for blessing me with living my monastic life in such a beautiful setting.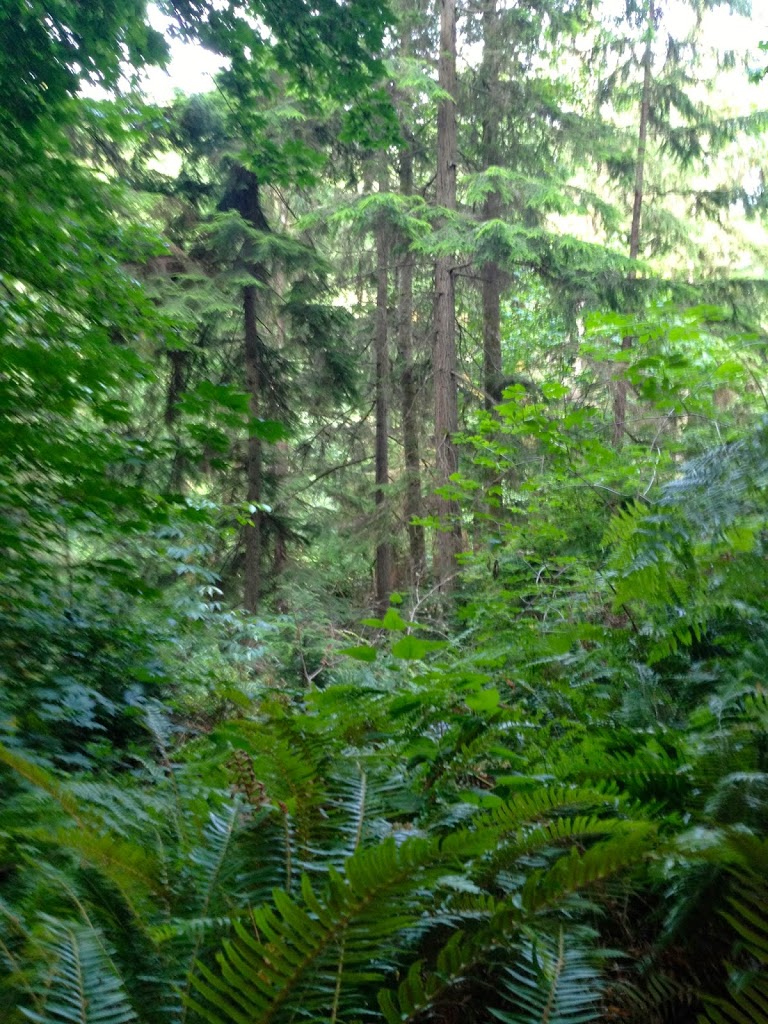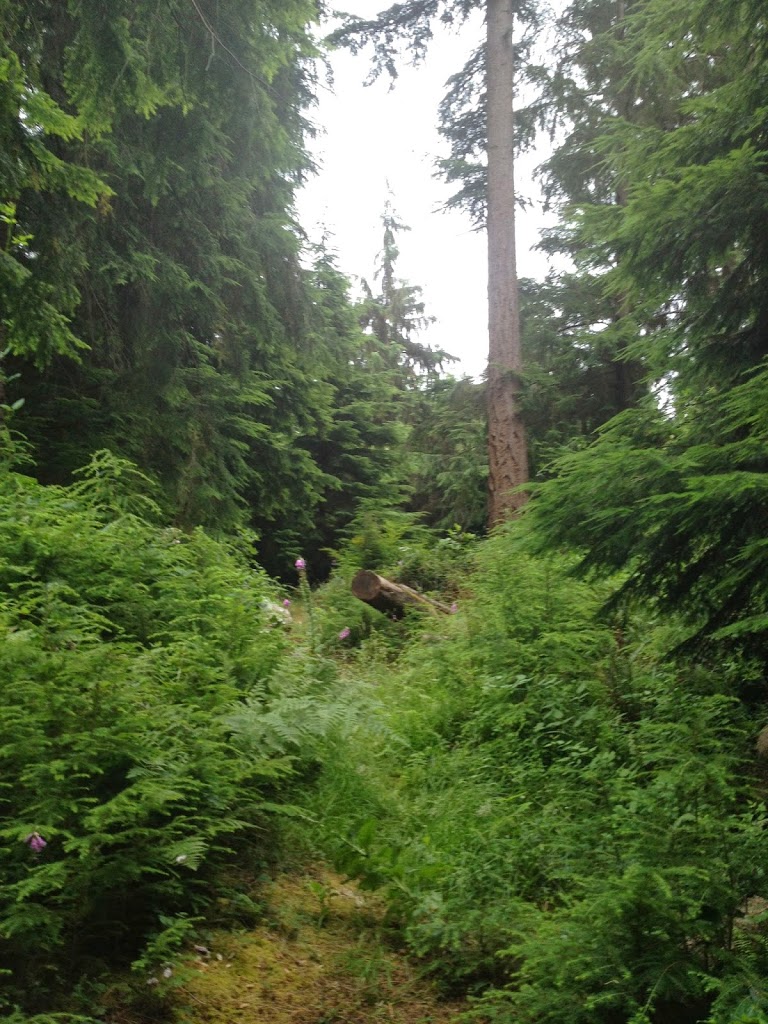 Friday July 4, 2014
4th Week after Pentecost. Tone two.
Apostles' (Peter & Paul) Fast. By Monastic Charter: Strict Fast (Bread, Vegetables, Fruits)
Martyr Julian of Tarsus in Cilicia (305).
New Hieromartyr John (1918).
Venerable George (Lavrov) the Confessor, archimandrite of Kaluga (1932)
New Hieromartyrs Alexis, Paul and Nicholas priests (1938).
New Hieromartyr Ionna (1938).
New Martyr Nicetas (1942).
Finding of the relics (1996) of Venerable Maximus the Greek (1556).
Hieromartyr Terence (Tertius), bishop of Iconium (1st c.).
Venerable Julius, presbyter of Novara, and his brother Venerable Julian the Deacon (5th c.).
Martyrs Archil II (744) and Luarsab II (1622), kings of Georgia (Georgia).
New Martyr Nicetas of Nisyros, near Rhodes (1732) (Greek).
Martyr Aphrodisius in Cilicia.
Martyr Julian of Libya (Greek).
Hieromartyr Anthony, Martyrs Anastasius, who was raised from the dead, Celsius and his mother Vasilissa, 20 prison guards and 7 brothers, martyred with St. Julian (Greek).
Venerable Anastasia (Anna) of Serbia, mother of St. Sava (1200) (Serbia).
Martyr Theodore, right-believing prince of Starodub (1330).
St. Cormac of the Sea (590) (Celtic & British).
St. Mewan, abbot of St. Meen.
You can read the life of the saint by clicking on the highlighted name.
"Blogs and social networks give us new opportunities for the Christian mission…Not to be present there means to display our helplessness and lack of care for the salvation of our brothers." His Holiness Patriarch Kirill
The Scripture Readings for the Day
Romans 11:25-36
25For I do not desire, brethren, that you should be ignorant of this mystery, lest you should be wise in your own opinion, that blindness in part has happened to Israel until the fullness of the Gentiles has come in. 26And so all Israel will be saved, as it is written:
"The Deliverer will come out of Zion,
And He will turn away ungodliness from Jacob;
27For this is My covenant with them,When I take away their sins."
28Concerning the gospel they are enemies for your sake, but concerning the election they are beloved for the sake of the fathers. 29For the gifts and the calling of God are irrevocable. 30For as you were once disobedient to God, yet have now obtained mercy through their disobedience, 31even so these also have now been disobedient, that through the mercy shown you they also may obtain mercy. 32For God has committed them all to disobedience, that He might have mercy on all.
33Oh, the depth of the riches both of the wisdom and knowledge of God! How unsearchable are His judgments and His ways past finding out!
34"For who has known the mind of the Lord?
Or who has become His counselor?"35"Or who has first given to Him
And it shall be repaid to him?"
36For of Him and through Him and to Him are all things, to whom be glory forever. Amen.
Matthew 12:1-8Jesus Is Lord of the Sabbath
12 At that time Jesus went through the grainfields on the Sabbath. And His disciples were hungry, and began to pluck heads of grain and to eat. 2And when the Pharisees saw it, they said to Him, "Look, Your disciples are doing what is not lawful to do on the Sabbath!"
3But He said to them, "Have you not read what David did when he was hungry, he and those who were with him: 4how he entered the house of God and ate the showbread which was not lawful for him to eat, nor for those who were with him, but only for the priests? 5Or have you not read in the law that on the Sabbath the priests in the temple profane the Sabbath, and are blameless? 6Yet I say to you that in this place there is One greater than the temple. 7But if you had known what this means, 'I desire mercy and not sacrifice,' you would not have condemned the guiltless. 8For the Son of Man is Lord even of the Sabbath."