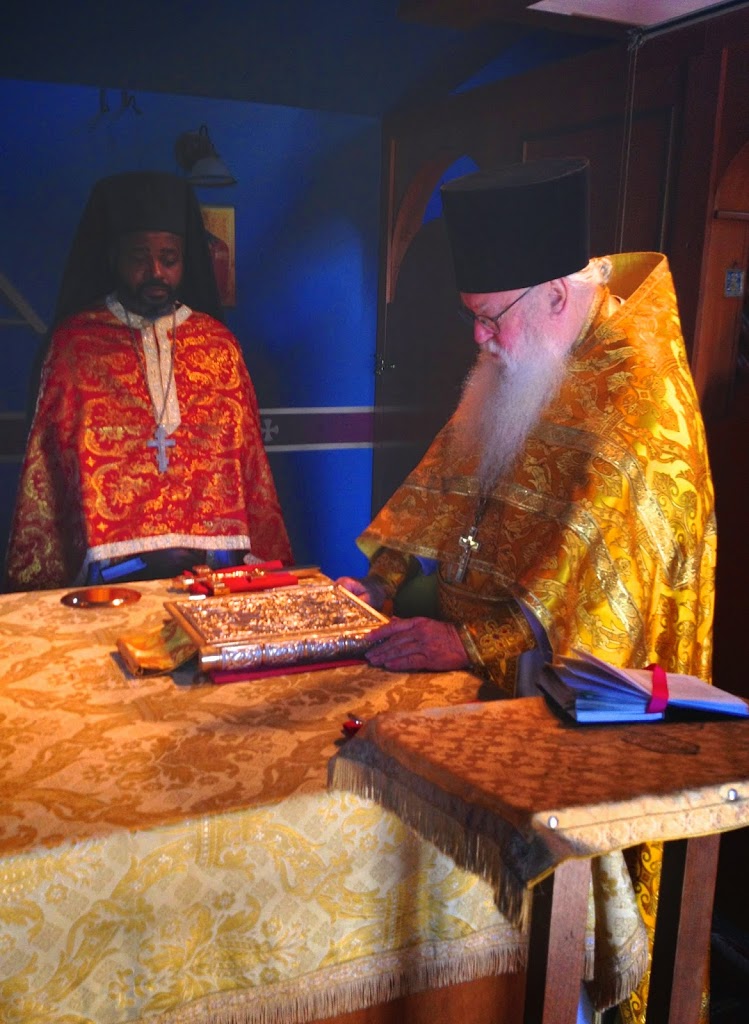 Being Orthodox in a non-Orthodox world
In this pluralistic society there are many Orthodox individuals who've found themselves sharing their lives with non-Orthodox family members. Sometimes these families are not even practicing Christians, so the struggle to keep to the traditions and practices of the Orthodox Faith can be difficult. The lenten periods can be especially hard when the whole family is eating meat, eggs and dairy, while the Orthodox member is required by the Church to fast.
Even the blessing prayers before each meal can be awkward when other members of one's household are not believers. There are also those Sunday mornings or feast days when other members of one's family want to head for the beach, but you're needing to be in church for the Divine Liturgy. The difficulty of being true to one's faith can be even more difficult if your family members hold to anti-religious sentiments.
I remember an uncle who was so hostile towards religion that he forbade my aunt and cousins to attend church. Although he was an extreme example, there are many Orthodox Christians who struggle to live their faith in an environment that is not conducive to the spiritual life. This hostility towards our Orthodox Christian faith can also even carry over into the workplace. A goodly number of employers do not let Orthodox Christians take time off for holy days, or even major feast days such as the Nativity of Christ.
When we are committed to Christ we must not allow others to keep us from practicing our faith. Although it is not necessary to be in their face about our faith, it is important that we remember the example of the early Christians. They were so committed to Christ that they willingly faced martyrdom rather than deny their faith, or compromise Christian principles.
It has been my experience that many individuals who deny the importance of religion in their lives have, in reality, simply been turned off to religiosity. They've seen a form of Christianity that is disingenuous and have therefore discounted Christianity all together. Others see Christians as judgmental and self-righteous, and are therefore turned off to any religious expression.
What to do! First of all we must not hide our faith under any circumstances. This does not mean that we are preachy or self-righteous. A Christian who is grateful for their faith is also compassionate toward those who have no faith. Giving a loving witness to Christ while following the dictates of our Orthodox traditions is a good starting point.
If we are seated at the dinner table with unbelievers, it is important that we not be showy about our faith, but also important that we not hide the fact that we are Orthodox Christians. Making a simple sign of the cross over ourselves before we eat expresses not only our gratitude towards God for our food, but gives quiet witness to our willingness to truly live our lives in open love of our Saviour. The Lord said if we deny Him before men, He will deny us before the Father. Keeping the traditions of our faith, staying true to the fast periods and making an effort to attend Liturgy on a weekly basis is absolutely necessary if we are to grow spiritually.
Most important, our dedication to our faith and a willingness to give witness to our love of Christ can have a huge impact on those around us. If our love of the Saviour translates into love of family and neighbor, those around us will see that our God is real, and our Orthodox faith is truly a way of life, one that actually transforms our nature. When people see that we are filled with joyous living and not judging others, they in turn will want what we have. The Pearl of Great Price can be theirs as well!
With love in Christ,
Abbot Tryphon
Photos: Saturday afternoon we received four Seattle Pacific University students for the weekend. All of them are serious seekers, and entered into the rhythm of our Orthodox monastic prayers, conversation, meals, and the Divine Services. It was a joy to have them with us.
On Sunday we were blessed to have Archimandrite Maximos Nnachette concelebrate the Liturgy. Father Maximos is in the United States working on his masters degree. He serves under Greek Metropolitan Alexander of Nigeria.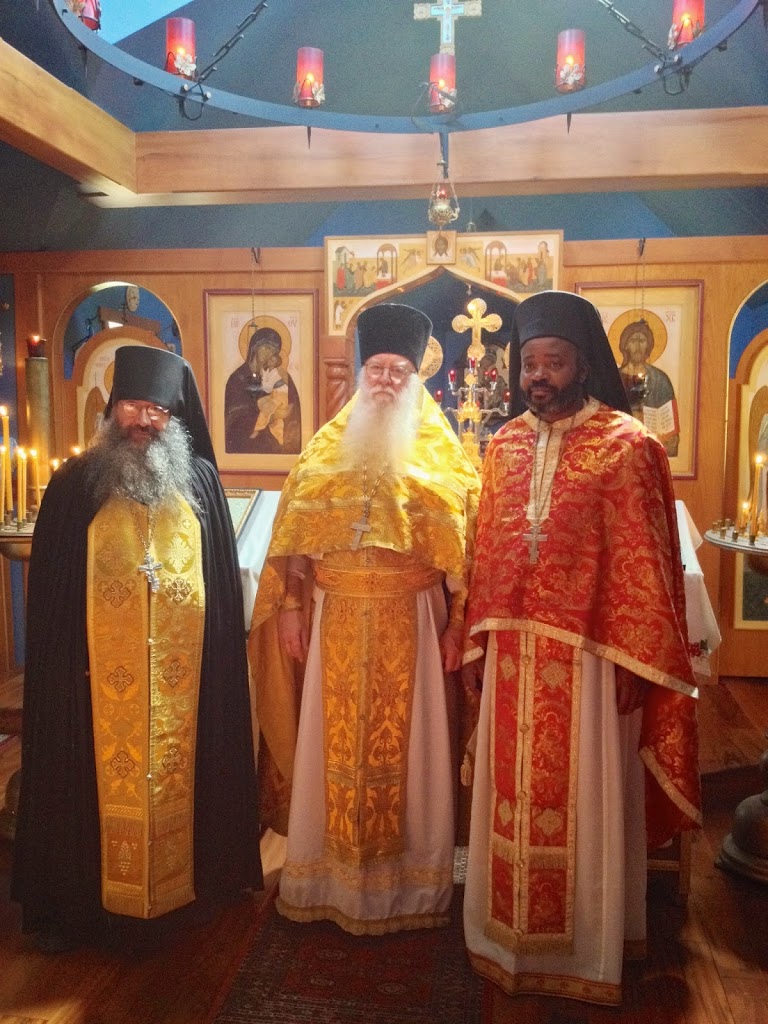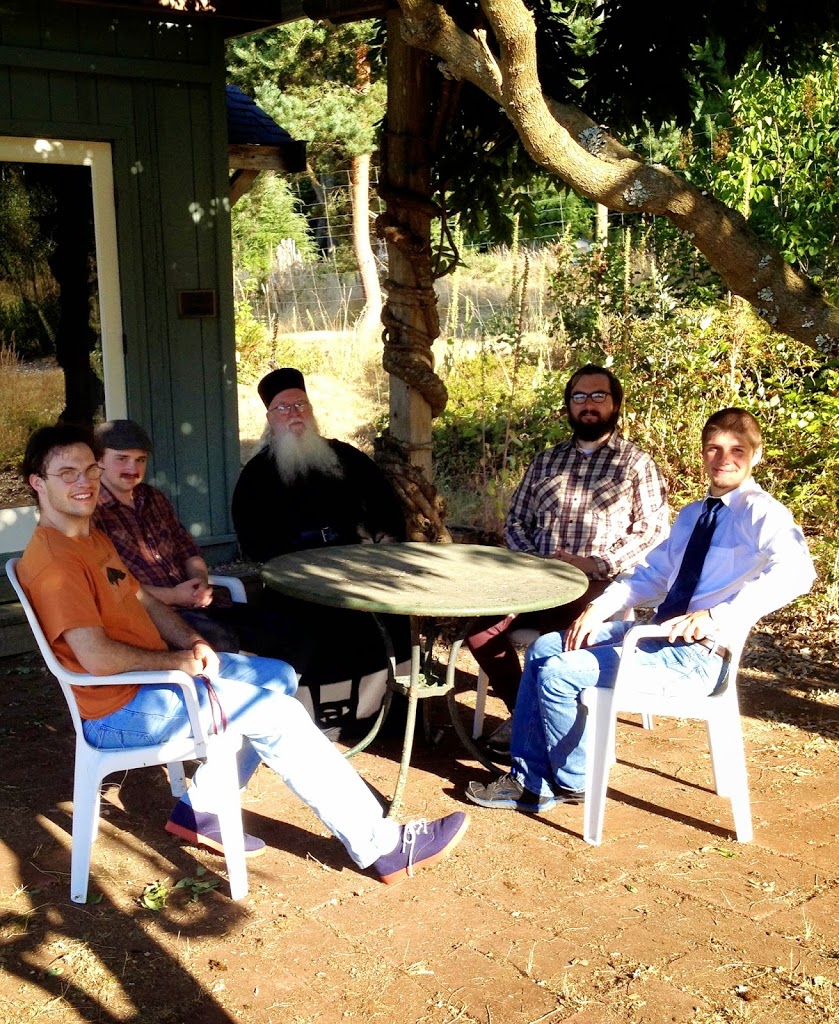 Monday July 14, 2014
6th Week after Pentecost. Tone four.
Holy and Wonderworking Unmercenaries Cosmas and Damian, martyrs at Rome.
New Hieromartyr Arcadius priest (1918).
New Hieromartyr Alexis deacon (1942).
Martyr Potitus at Naples (2nd c.).
Venerable Peter the Patrician, monk, of Constantinople (854).
St. Angelina, despotina of Serbia (16th c.).
Venerable Nicodemus of Svyatogorsk (1809).
Translation of the relics of Venerable John of Rila (946) from Turnovo to Rila (1470) (Bulgaria).
Holy Julius and Aaron, protomartyrs of Wales (ca. 304) (Celtic & British).
St. Servanus, Apostle of Western Fife of East Scotland (6th c.) (Celtic & British).
St. Leontius, bishop of Radauti in Moldavia (15th c.) (Romania).
Venerable Gallus, bishop of Clermont (551) (Gaul).
25 Martyrs in Nicomedia (Greek).
Venerable Basil, founder of the Monastery of the Deep Stream in Cappadocia (10th c.) (Greek).
Martyr Constantine the Wonderworker and those with him, of Cyprus (Greek).
St. Leo the Hermit (Greek).
St. Serf, bishop of Kinross.
St. Eparchius the Recluse of Gaul (581).
You can read the life of the saint by clicking on the highlighted name.
"Blogs and social networks give us new opportunities for the Christian mission…Not to be present there means to display our helplessness and lack of care for the salvation of our brothers." His Holiness Patriarch Kirill
The Scripture Readings for the Day
Romans 16:17-24
Avoid Divisive Persons
17Now I urge you, brethren, note those who cause divisions and offenses, contrary to the doctrine which you learned, and avoid them. 18For those who are such do not serve our Lord Jesus Christ, but their own belly, and by smooth words and flattering speech deceive the hearts of the simple. 19For your obedience has become known to all. Therefore I am glad on your behalf; but I want you to be wise in what is good, and simple concerning evil. 20And the God of peace will crush Satan under your feet shortly.
The grace of our Lord Jesus Christ be with you. Amen.
Greetings from Paul's Friends
21Timothy, my fellow worker, and Lucius, Jason, and Sosipater, my countrymen, greet you.
22I, Tertius, who wrote this epistle, greet you in the Lord.
23Gaius, my host and the host of the whole church, greets you. Erastus, the treasurer of the city, greets you, and Quartus, a brother. 24The grace of our Lord Jesus Christ be with you all. Amen.
Matthew 13:10-23
The Purpose of Parables
10And the disciples came and said to Him, "Why do You speak to them in parables?"
11He answered and said to them, "Because it has been given to you to know the mysteries of the kingdom of heaven, but to them it has not been given. 12For whoever has, to him more will be given, and he will have abundance; but whoever does not have, even what he has will be taken away from him. 13Therefore I speak to them in parables, because seeing they do not see, and hearing they do not hear, nor do they understand. 14And in them the prophecy of Isaiah is fulfilled, which says:
'Hearing you will hear and shall not understand,
And seeing you will see and not perceive;
15For the hearts of this people have grown dull.
Their ears are hard of hearing,
And their eyes they have closed,
Lest they should see with their eyes and hear with their ears,
Lest they should understand with their hearts and turn,
So that I should heal them.'
16But blessed are your eyes for they see, and your ears for they hear; 17for assuredly, I say to you that many prophets and righteous men desired to see what you see, and did not see it, and to hear what you hear, and did not hear it.
The Parable of the Sower Explained
18"Therefore hear the parable of the sower: 19When anyone hears the word of the kingdom, and does not understand it, then the wicked one comes and snatches away what was sown in his heart. This is he who received seed by the wayside. 20But he who received the seed on stony places, this is he who hears the word and immediately receives it with joy; 21yet he has no root in himself, but endures only for a while. For when tribulation or persecution arises because of the word, immediately he stumbles. 22Now he who received seed among the thorns is he who hears the word, and the cares of this world and the deceitfulness of riches choke the word, and he becomes unfruitful. 23But he who received seed on the good ground is he who hears the word and understands it, who indeed bears fruit and produces: some a hundredfold, some sixty, some thirty."