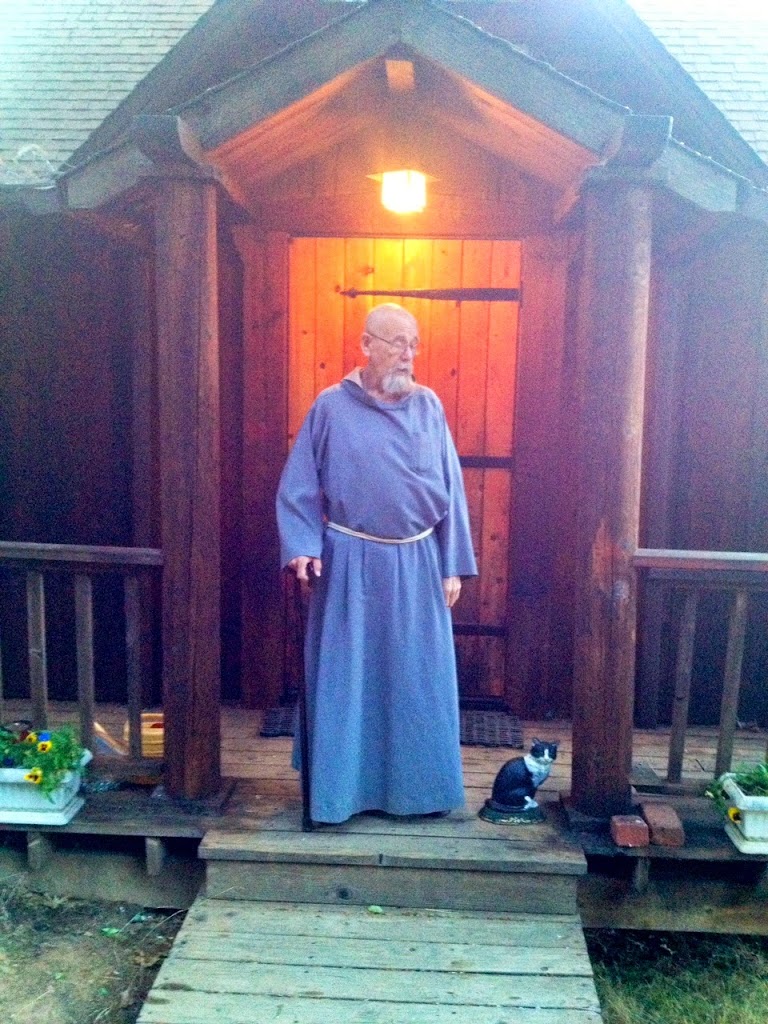 The 20th Anniversary of the
Glorification of Saint John
I'm late posting The Morning Offering after nine and a half hours of sleep following my road trip to the Bay Area, where I will be participating in the 20th Anniversary Celebration of the Glorification of Saint John the Wonderworker of San Francisco. Bishops, priests, and faithful Orthodox Christians from around the world will be converging on Holy Virgin "Joy of All Who Sorrow" Cathedral on the 28th and 29th of this month.
My first night on the road was spent in the hermitage of my friend of thirty-four years, Anglican priest, and Franciscan, Father Leo Joseph. Father Leo has a very rare form of cancer, and was given only six months to live, FOUR YEARS AGO! Many people would have dropped everything, made up a "Bucket List", and tried to do everything they ever wanted to do before their death. Father Leo not only refused chemotherapy, but continued to serve Saint John's Episcopal Church in Lakeport, CA., all these years. His abdomen is filled with tumors, and he has come very close to death on three major occasions, but by God's grace, continues his service to God, and this earthly struggle. Please remember to pray for Father Leo.
With love in Christ,
Abbot Tryphon
3rd Week after Pentecost. Tone one.
Apostles' (Peter & Paul) Fast. By Monastic Charter: Strict Fast (Bread, Vegetables, Fruits)
Venerable Onuphrius the Great (400).
Venerable Peter of Mt. Athos (734).
Opening of the relics (1650) of St. Anna of Kashin (1338).
Venerable Arsenius, abbot of Konevits (1447).
Venerable Onuphrius, abbot of Malsk (Pskov) (1492).
Venerables Bassian and Jonah, monks, of Petroma (Solovki) (1561).
Venerables Onuphrius and Auxentius, monks, of Vologda (1521).
Venerable Stephen of Komel, abbot of Ozersk Monastery, Vologda (1542).
Venerables John, Andrew, Heraclemon, and Theophilus, hermits of Egypt (4th c.).
St. John the Soldier of Egypt (6th-7th c.).
Venerable Onuphrius, abbot of Katrom Monastery (Vologda) (16th c.).
St. Julian of Dagouta at Constantinople (Greek).
New Martyrs Onuphrius, bishop (1938), and with him: Anthony, Barsanuphius and Joseph (1937), and bishop Alexander Kharkovsky.
St. Olympius, bishop and confessor who suffered in Thrace (4th c.).
St. Timothy the Hermit of Egypt (4th c.).
St. Cunera, virgin-martyr of Rhenen (451) (Neth.).
Venerable John (Tornike) of Mt. Athos (998) (Georgia).
Finding of the relics (1672) of St. John of Moscow, fool-for-Christ (1589).
Synaxis of All Saints of St. Onuphrius Monastery at Jablechna (Poland).
Miracle-working icons of the Theotokos (14th c.) and St. Onuphrius (14th c.) at St. Onuphrius Monastery (Poland). You can read the life of the saint by clicking on the highlighted name.
"Blogs and social networks give us new opportunities for the Christian mission…Not to be present there means to display our helplessness and lack of care for the salvation of our brothers." His Holiness Patriarch Kirill
The Scripture Readings for the Day
Romans 8:2-13
2For the law of the Spirit of life in Christ Jesus has made me free from the law of sin and death. 3For what the law could not do in that it was weak through the flesh, God did by sending His own Son in the likeness of sinful flesh, on account of sin: He condemned sin in the flesh, 4that the righteous requirement of the law might be fulfilled in us who do not walk according to the flesh but according to the Spirit. 5For those who live according to the flesh set their minds on the things of the flesh, but those who live according to the Spirit, the things of the Spirit. 6For to be carnally minded is death, but to be spiritually minded is life and peace. 7Because the carnal mind is enmity against God; for it is not subject to the law of God, nor indeed can be. 8So then, those who are in the flesh cannot please God.
9But you are not in the flesh but in the Spirit, if indeed the Spirit of God dwells in you. Now if anyone does not have the Spirit of Christ, he is not His. 10And if Christ is in you, the body is dead because of sin, but the Spirit is life because of righteousness. 11But if the Spirit of Him who raised Jesus from the dead dwells in you, He who raised Christ from the dead will also give life to your mortal bodies through His Spirit who dwells in you.
Sonship Through the Spirit
12Therefore, brethren, we are debtors—not to the flesh, to live according to the flesh. 13For if you live according to the flesh you will die; but if by the Spirit you put to death the deeds of the body, you will live.
Matthew 10:16-22
Persecutions Are Coming
16"Behold, I send you out as sheep in the midst of wolves. Therefore be wise as serpents and harmless as doves. 17But beware of men, for they will deliver you up to councils and scourge you in their synagogues. 18You will be brought before governors and kings for My sake, as a testimony to them and to the Gentiles. 19But when they deliver you up, do not worry about how or what you should speak. For it will be given to you in that hour what you should speak; 20for it is not you who speak, but the Spirit of your Father who speaks in you.
21"Now brother will deliver up brother to death, and a father his child; and children will rise up against parents and cause them to be put to death. 22And you will be hated by all for My name's sake. But he who endures to the end will be saved.