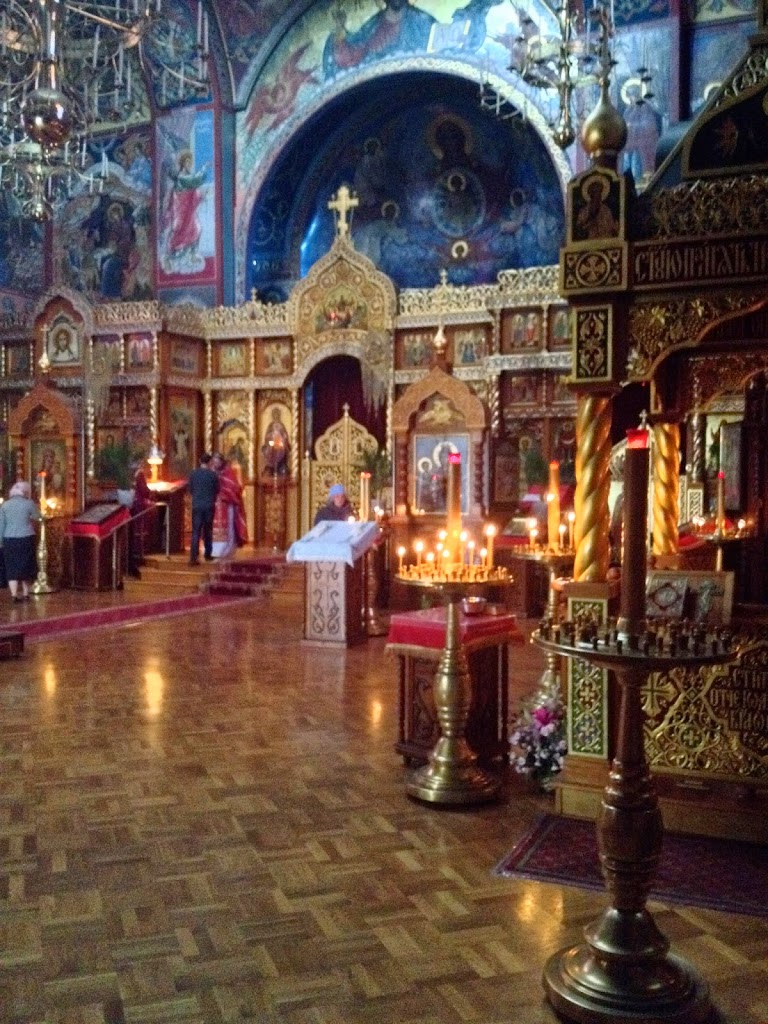 Our response to God's love
casts aside all estrangement
When we feel estranged from God it is a true sign we are in need of working more diligently on building up our faith. Faith is a gift from God that requires our cooperation and when we are feeling dry we must quickly turn our eyes to Christ, asking him to fill the void and quicken our belief. Our cooperative response begins when we commit to increasing our time in prayer, both corporate and in private. The corporate prayer of the Church brings us into contact with the Holy Mysteries, which in turn feeds our souls.
The hearing of God's Word and the partaking of the Lord's Body and Blood, together with a repentant heart, push aside the estrangement and open the door to a deepening faith. Like the spouse who responds to the touch of her husband, so too does our soul respond to the love of God and our faith comes alive by the power of the Holy Spirit.
A woman whose husband never tells of his love will feel her love diminish, whereas the husband who tenderly expresses his love for his wife will see the rebuilding of a relationship that began with love and passion. Our soul, as well, responds to our tenderly expressed love of God and sees love of Christ increase and faith restored to a state of blissful vigor, with all estrangement cast aside.
With love in Christ,
Abbot Tryphon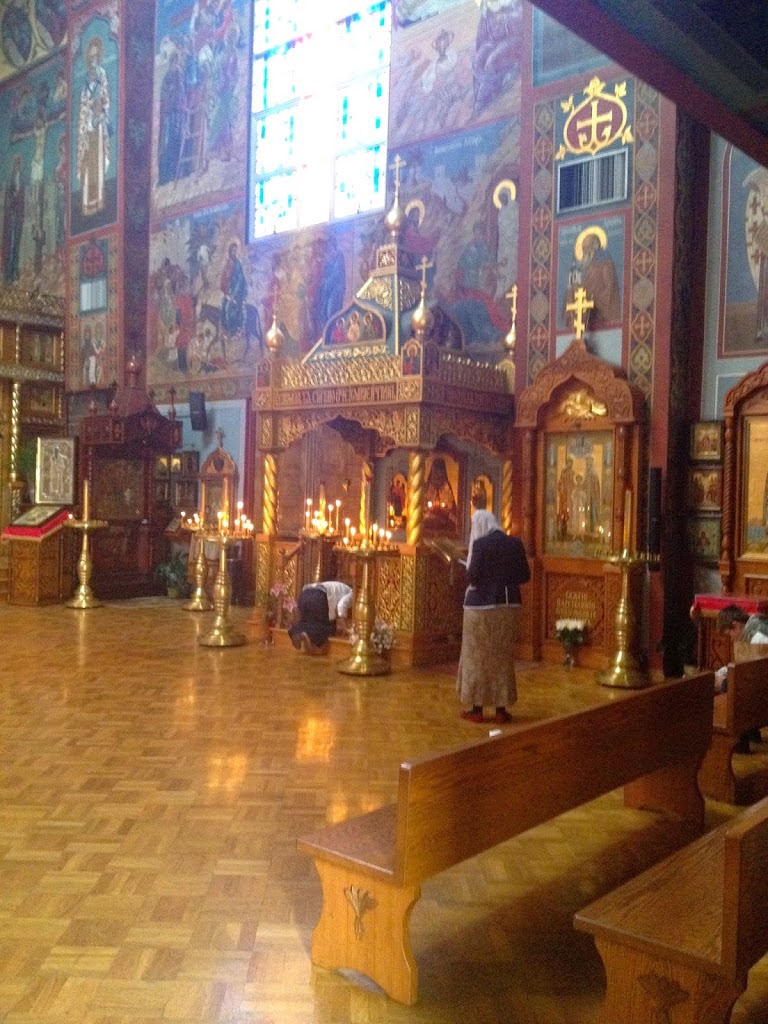 Photos: On Sunday the Russian Orthodox Church Outside of Russia will be celebrating the 20th Anniversary of the Glorification of Saint John the Wonderworker of Shanghai and San Francisco. Gathering in Holy Virgin "Joy of All Who Sorrow" Cathedral, built by Saint John himself, an expected 1500 people, together with bishops and priests from around the world, will gather to honor this beloved saint of the Universal Church.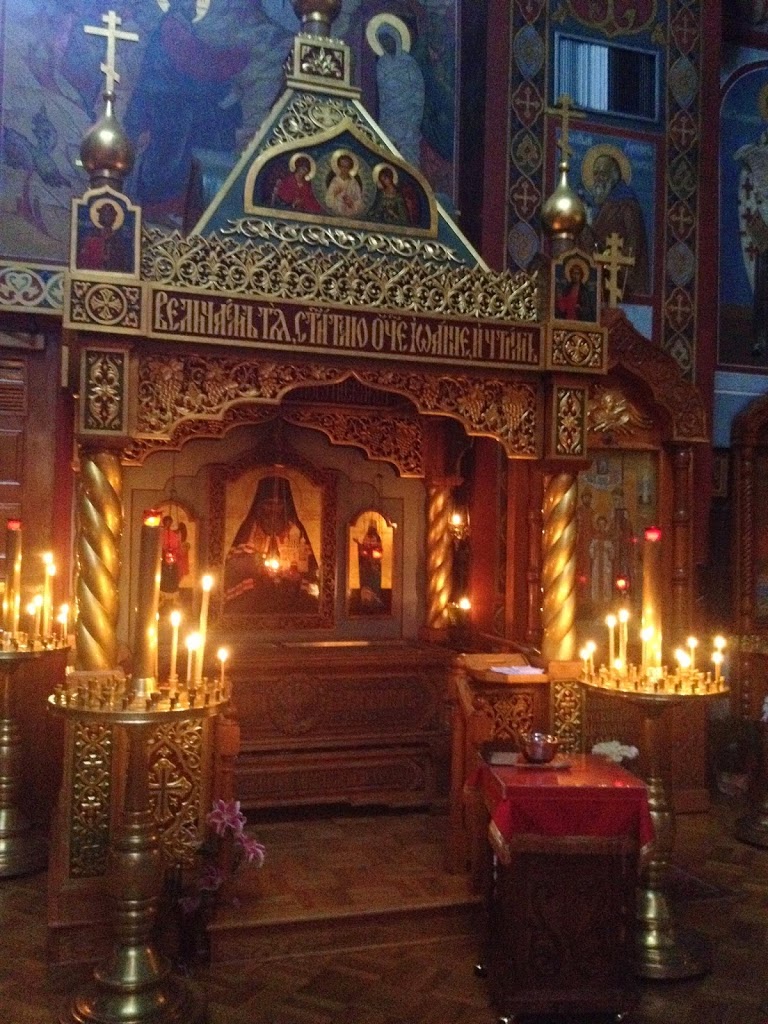 Saturday June 28, 2014
3rd Week after Pentecost. Tone one.
Apostles' (Peter & Paul) Fast. Fish Allowed
St. Jonah, metropolitan of Moscow (1461).
Prophet Amos (8th c. B.C.).
New Hieromartyr Amos priest (1918).
Venerables Gregory and Cassian, abbots of Avnezh (Vologda) (1392) (translation of the relics, 1524).
Martyrs Vitus, Modestus, and Crescentia at Lucania (303).
Martyr Dulas of Cilicia (305-313).
Venerable Dulas the Passion-bearer of Egypt.
Venerable Jerome (Hieronymus) of Stridonium (420).
Translation of the relics (9th c.) of Theodore the Sykeote (613).
Great-martyr Tsar Venerable Lazar of Serbia (1389).
St. Ephraim, patriarch of Serbia (1400).
Blessed Augustine, bishop of Hippo (430), and his mother Monica (387).
Venerable Orsiesius of Tabenna, disciple of St. Pachomius the Great (368-380).
Virgin Martyrs Leonis, Libye, and Eutropia, and their mother, who suffered in Palmyra of Syria (305).
St. Michael, first metropolitan of Kiev (992).
St. Symeon, archbishop of Novgorod (1421).
Venerable Abraham, abbot, of Auvergne (477) (Gaul).
Apostles Fortunatus, Achaicus, and Stephen (Greek).
Venerable Joseph, monk, of Bethlehem (Greek).
Martyr Grace (Greek).
St. Cedronus, patriarch of Alexandria (107).
Martyr Hesychius the Soldier of Dorostolum and two others in Moesia (302).
St. Spyridon, patriarch of Serbia (1388).
All New Martyrs of Serbia.
St. Trillo, abbot of Llandrillo.. You can read the life of the saint by clicking on the highlighted name.
"Blogs and social networks give us new opportunities for the Christian mission…Not to be present there means to display our helplessness and lack of care for the salvation of our brothers." His Holiness Patriarch Kirill
The Scripture Readings for the Day
Romans 3:28-4:3
28Therefore we conclude that a man is justified by faith apart from the deeds of the law. 29Or is He the God of the Jews only? Is He not also the God of the Gentiles? Yes, of the Gentiles also, 30since there is one God who will justify the circumcised by faith and the uncircumcised through faith. 31Do we then make void the law through faith? Certainly not! On the contrary, we establish the law.
Abraham Justified by Faith
4 What then shall we say that Abraham our father has found according to the flesh? 2For if Abraham was justified by works, he has something to boast about, but not before God. 3For what does the Scripture say? "Abraham believed God, and it was accounted to him for righteousness."
Matthew 7:24-8:4
Build on the Rock
24"Therefore whoever hears these sayings of Mine, and does them, I will liken him to a wise man who built his house on the rock: 25and the rain descended, the floods came, and the winds blew and beat on that house; and it did not fall, for it was founded on the rock.
26"But everyone who hears these sayings of Mine, and does not do them, will be like a foolish man who built his house on the sand: 27and the rain descended, the floods came, and the winds blew and beat on that house; and it fell. And great was its fall."
28And so it was, when Jesus had ended these sayings, that the people were astonished at His teaching, 29for He taught them as one having authority, and not as the scribes.
Jesus Cleanses a Leper
8 When He had come down from the mountain, great multitudes followed Him. 2And behold, a leper came and worshiped Him, saying, "Lord, if You are willing, You can make me clean."
3Then Jesus put out His hand and touched him, saying, "I am willing; be cleansed." Immediately his leprosy was cleansed.
4And Jesus said to him, "See that you tell no one; but go your way, show yourself to the priest, and offer the gift that Moses commanded, as a testimony to them."