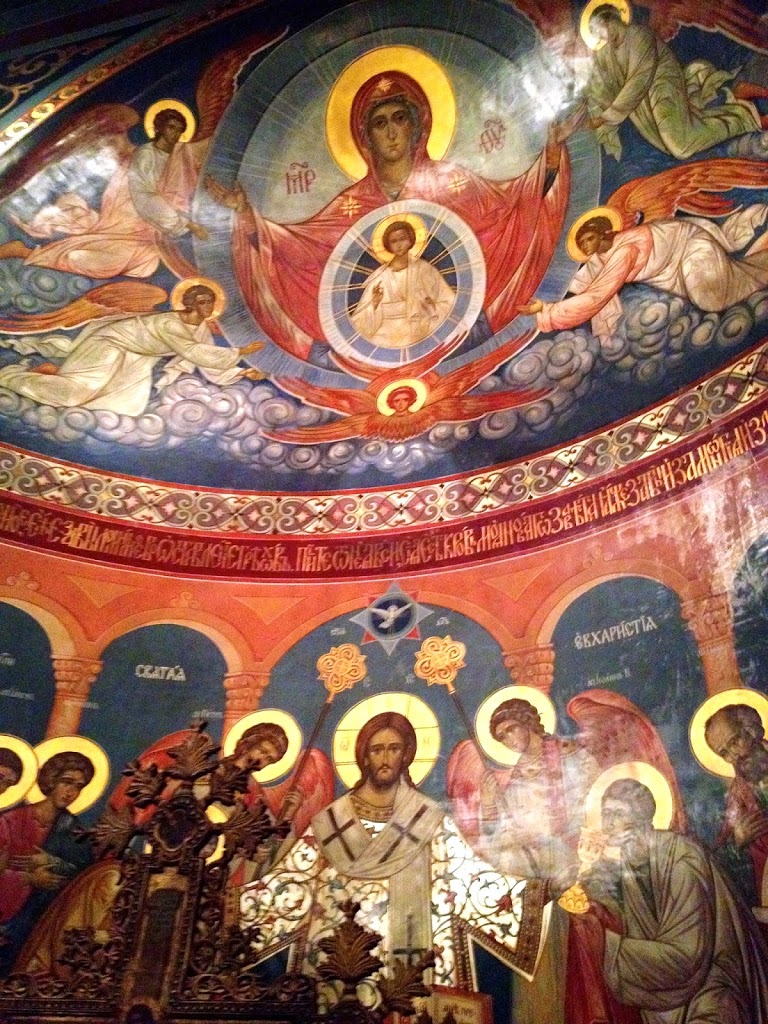 Orthodoxy is about Christ, not religion
Orthodoxy is not a religion, but a way of life that is centered in Jesus Christ. Orthodoxy, as a way of life, has the cure to what ails us and can return us to that state of wholeness that was God's original intent for human kind. Because Orthodoxy is not about religion, it can offer the transformation of the heart that comes with entering into a relationship with our Creator.
This transformation begins with repentance, that moment when we decide to return to that pure state of communion with God, for which we were created. When we renounce ourselves, we become a different person through the action of God's grace. Where we became corrupt because of the fall, through repentance we are returned to that state for which we were created.
"One cannot say that Christianity is a religion. Christianity is a revelation of eternity & life. The angels rejoice greatly because God has revealed Himself mystically to His creature, man. Our human nature has become part of the mystery of the Holy Trinity, and that is a great gift which we do not even appreciate; instead, we have cleaved to the things of this world. We have been given the opportunity to prepare ourselves for eternity, to vanquish evil, and to always be with our Heavenly Father (Elder Thaddeus of Vitovnica)."
With love in Christ,
Abbot Tryphon
Photo The altar of Holy Virgin "Joy of All Who Sorrow" Cathedral in San Francisco.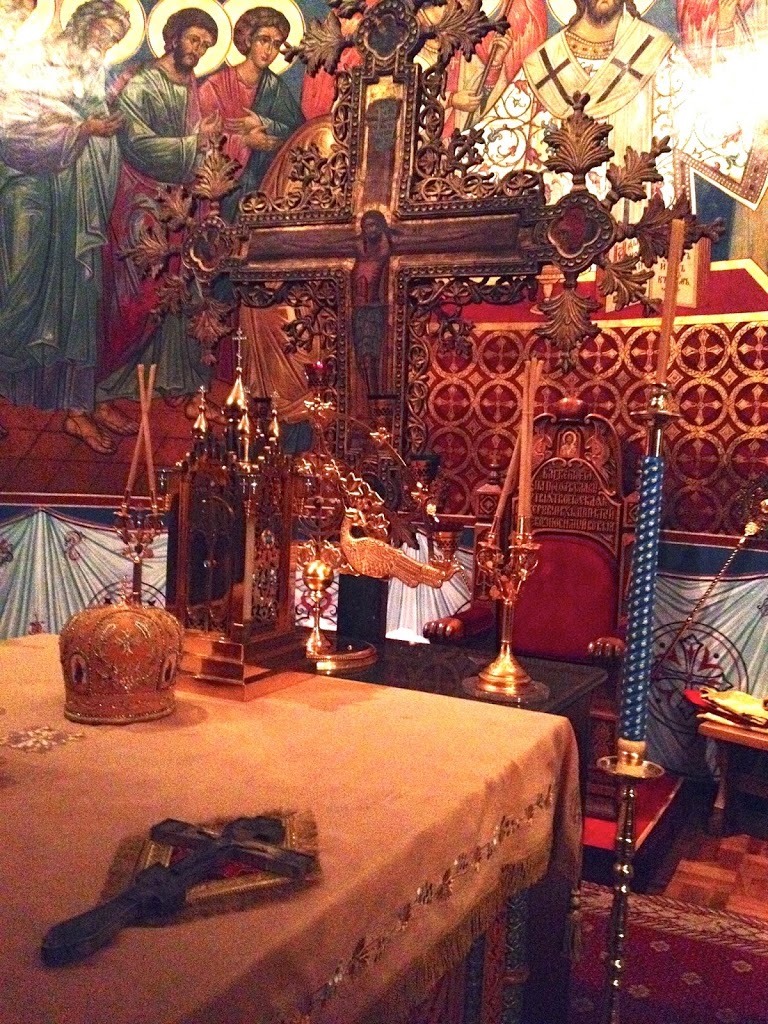 Sunday June 29, 2014
3rd Sunday after Pentecost. Tone two.
Apostles' (Peter & Paul) Fast. Fish Allowed
Celebration in Vologda to the venerable fathers of Vologda (movable holiday on the 3rd Sunday of Pentecost).
Synaxis of Novgorod Hierarchs (movable holiday on the 3rd Sunday of Pentecost).
Synaxis of Saints of Belorussia (movable holiday on the 3rd Sunday of Pentecost): St. Menas, Bishop of Polotsk (1116), St Dionysius bishop Polotsk (1182), Cyril Bishop of Turiv (1183), Lavrenti Bishop of Turiv (1184), Symeon bishop Polotsk (1289); Blessed Great Prince Rostislav (baptize as Michael), of Kiev (1167); Venerable Martyrs Athanasius, Higumen of Brest (1648), Makarius Kabevsky Higumen of Pinsk (1678); Venerable Martin Turovsky (1150), Elise Lavrishevsk (1250); venerable Ephrosinia of Polotsk (1173), Martyr child Gabriel Belostotsky (1690); righteous Juliana princes Olshansky (1550), and Sophia princes Slutsk (1612).
Synaxis of Saints of Pskov (movable holiday on the 3rd Sunday of Pentecost).
Synaxis of Saints of St. Petersburg (movable holiday on the 3rd Sunday of Pentecost).
New Martyrs of the Turkish Yoke (movable holiday on the 3rd Sunday of Pentecost).
St. Tychon, bishop of Amathus in Cyprus (425).
Venerable Tikhon of Kaluga or Medin (1492).
Venerable Tikhon of Lukhov (1503).
Venerable Moses of Optina, founder of the Optina Skete (1862).
New Martyr Hermogenes (Germogen), bishop of Tobolsk, Euphremius, Michael and Peter priests and Martyr Constantine (1918).
Translation of the relics (2002) of St. Theophan the Recluse, bishop of Tambov (1894).
Martyrs Tigrius and Eutropius of Constantinople (404).
Venerable Tikhon of Krestogorsk (Vologda).
St. Mark the Just of Apollonias, nephew of the Apostle Barnabas.
Five Martyrs of Nicomedia (Greek).
Forty Martyrs of Rome (Greek).
St. Kaikhosro the Georgian (1612) (Georgia).
St. Ismael, bishop of Menevia.
You can read the life of the saint by clicking on the highlighted name.
"Blogs and social networks give us new opportunities for the Christian mission…Not to be present there means to display our helplessness and lack of care for the salvation of our brothers." His Holiness Patriarch Kirill
The Scripture Readings for the Day
Romans 5:1-10
Faith Triumphs in Trouble
5 Therefore, having been justified by faith, we have peace with God through our Lord Jesus Christ, 2through whom also we have access by faith into this grace in which we stand, and rejoice in hope of the glory of God. 3And not only that, but we also glory in tribulations, knowing that tribulation produces perseverance; 4and perseverance, character; and character, hope. 5Now hope does not disappoint, because the love of God has been poured out in our hearts by the Holy Spirit who was given to us.
Christ in Our Place
6For when we were still without strength, in due time Christ died for the ungodly. 7For scarcely for a righteous man will one die; yet perhaps for a good man someone would even dare to die. 8But God demonstrates His own love toward us, in that while we were still sinners, Christ died for us. 9Much more then, having now been justified by His blood, we shall be saved from wrath through Him. 10For if when we were enemies we were reconciled to God through the death of His Son, much more, having been reconciled, we shall be saved by His life.
Matthew 6:22-33
The Lamp of the Body
22"The lamp of the body is the eye. If therefore your eye is good, your whole body will be full of light. 23But if your eye is bad, your whole body will be full of darkness. If therefore the light that is in you is darkness, how great is that darkness!
You Cannot Serve God and Riches
24"No one can serve two masters; for either he will hate the one and love the other, or else he will be loyal to the one and despise the other. You cannot serve God and mammon.
Do Not Worry
25"Therefore I say to you, do not worry about your life, what you will eat or what you will drink; nor about your body, what you will put on. Is not life more than food and the body more than clothing? 26Look at the birds of the air, for they neither sow nor reap nor gather into barns; yet your heavenly Father feeds them. Are you not of more value than they? 27Which of you by worrying can add one cubit to his stature?
28"So why do you worry about clothing? Consider the lilies of the field, how they grow: they neither toil nor spin; 29and yet I say to you that even Solomon in all his glory was not arrayed like one of these. 30Now if God so clothes the grass of the field, which today is, and tomorrow is thrown into the oven, will He not much more clothe you, O you of little faith?
31"Therefore do not worry, saying, 'What shall we eat?' or 'What shall we drink?' or 'What shall we wear?' 32For after all these things the Gentiles seek. For your heavenly Father knows that you need all these things. 33But seek first the kingdom of God and His righteousness, and all these things shall be added to you.