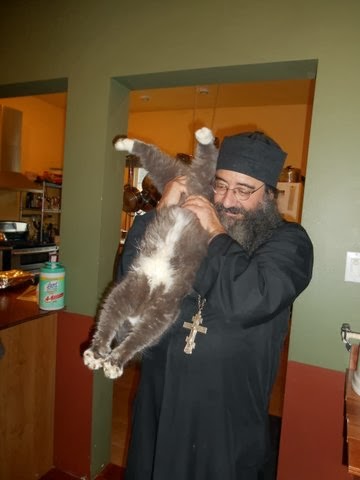 Struggling with the Passions
As we struggle with our passions, the only way we can overcome our sin is through humility. The snares of the enemy are all around us, and if we think we can win the battle with the enemy without humility, we are wrong.
Love in Christ,
Abbot Tryphon
Photo: Hieromonk Paul with Hammi, the amazing Norwegian Forest Cat.
Friday January 31, 2014
32nd Week after Pentecost. Tone six.
Fast. Fish Allowed
St. Athanasius the Great (373) and St. Cyril (444), archbishops of Alexandria.
Venerable Cyril, schemamonk, and Venerable Maria, schemanun (1337) (parents of St. Sergius of Radonezh).
New Hieromartyr Michael priest (1919).
New Hieromartyr Eugine priest (1930).
New Hieromartyrs Vladimir, Nicholas, Sergius Alexander priests (1938).
Venerable Athanasius, abbot of Syanzhema (Valaam) (1550).
Venerable Athanasius of Novolok, monk (16th-17th c.).
Venerable Marcian of Cyrrhus in Syria, monk (ca. 303).
Martyr Xenia.
St. Maximus of Serbia, metropolitan (1516) (Serbia).
Venerable Silvanus, of Palestine, monk.
St. Leobardus of Marmoutier (6th c.) (Gaul).
Martyr Theodula and her companions Helladius, Boethius, Evagrius and Macarius of Anazarbus in Cilicia, (304).
St. Ephraim the Lesser, the Philospher (1101) (Georgia).
Venerable Hieromonk Alexi (Shushania) of Teklati (1923) (Georgia).
St. Joachim, patriarch of Turnovo (1235).
St. Ninnidh of Inismacsaint (6th c.) (Celtic & British).
You can read the life of the saint by clicking on the highlighted name.
THANKS to all of you who have been able to contribute towards the support of the monastery. These difficult times of economic hardship have impacted the monastery, and those of you who have been able to donate, have been our lifeline. May God bless you for your generosity, and kindness.
With love in Christ,
Abbot Tryphon
The Scripture Readings for the Day
1 Peter 1:1-2
Greeting to the Elect Pilgrims
1 Peter, an apostle of Jesus Christ,
To the pilgrims of the Dispersion in Pontus, Galatia, Cappadocia, Asia, and Bithynia, 2elect according to the foreknowledge of God the Father, in sanctification of the Spirit, for obedience and sprinkling of the blood of Jesus Christ:
1 Peter 1:10-12
10Of this salvation the prophets have inquired and searched carefully, who prophesied of the grace that would come to you, 11searching what, or what manner of time, the Spirit of Christ who was in them was indicating when He testified beforehand the sufferings of Christ and the glories that would follow. 12To them it was revealed that, not to themselves, but to us they were ministering the things which now have been reported to you through those who have preached the gospel to you by the Holy Spirit sent from heaven—things which angels desire to look into.
1 Peter 2:6-10
New King James Version (NKJV) 6Therefore it is also contained in the Scripture,
"Behold, I lay in Zion
A chief cornerstone, elect, precious,And he who believes on Him will by no means be put to shame."
7Therefore, to you who believe, He is precious; but to those who are disobedient,
"The stone which the builders rejected
Has become the chief cornerstone,"
8and
"A stone of stumbling
And a rock of offense."
They stumble, being disobedient to the word, to which they also were appointed.
9But you are a chosen generation, a royal priesthood, a holy nation, His own special people, that you may proclaim the praises of Him who called you out of darkness into His marvelous light; 10who once were not a people but are now the people of God, who had not obtained mercy but now have obtained mercy.
Mark 12:1-12
The Parable of the Wicked Vinedressers
12 Then He began to speak to them in parables: "A man planted a vineyard and set a hedge around it, dug a place for the wine vat and built a tower. And he leased it to vinedressers and went into a far country. 2Now at vintage-time he sent a servant to the vinedressers, that he might receive some of the fruit of the vineyard from the vinedressers. 3And they took him and beat him and sent him away empty-handed. 4Again he sent them another servant, and at him they threw stones, wounded him in the head, and sent him away shamefully treated. 5And again he sent another, and him they killed; and many others, beating some and killing some. 6Therefore still having one son, his beloved, he also sent him to them last, saying, 'They will respect my son.' 7But those vinedressers said among themselves, 'This is the heir. Come, let us kill him, and the inheritance will be ours.' 8So they took him and killed him and cast him out of the vineyard.
9"Therefore what will the owner of the vineyard do? He will come and destroy the vinedressers, and give the vineyard to others. 10Have you not even read this Scripture:
'The stone which the builders rejected
Has become the chief cornerstone.
11This was the Lord's doing,
And it is marvelous in our eyes'?"
12And they sought to lay hands on Him, but feared the multitude, for they knew He had spoken the parable against them. So they left Him and went away.