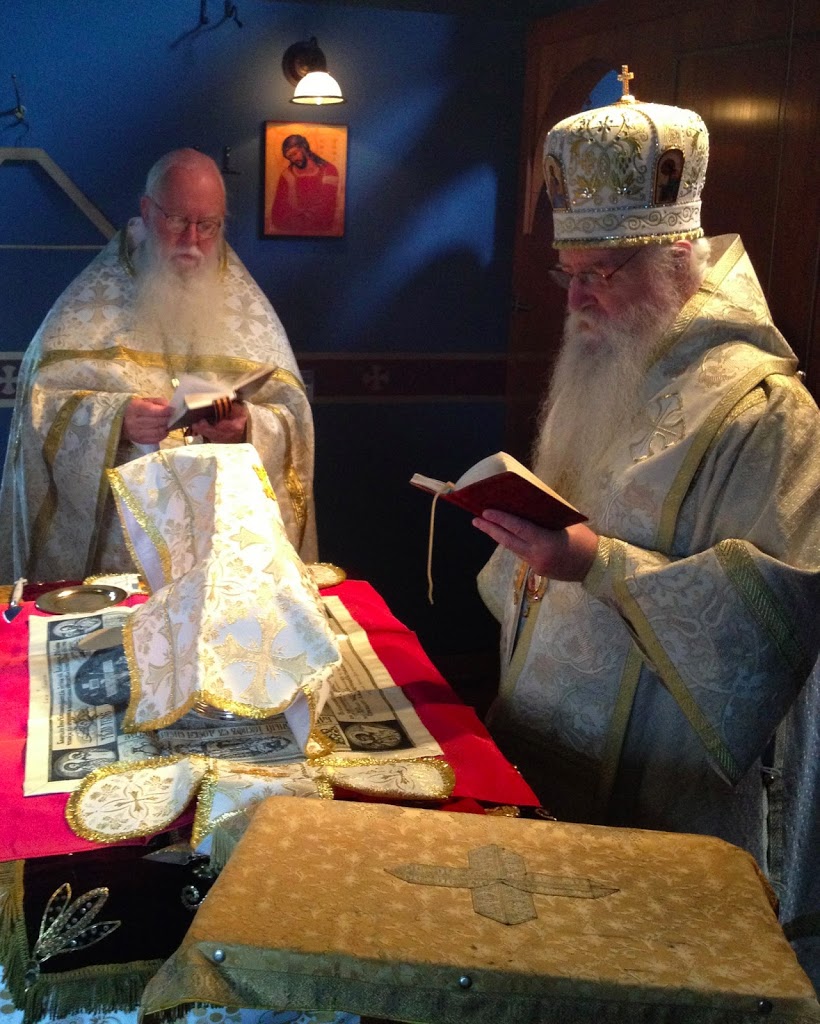 Serving Liturgy with Bishop George of Mayfield
Turning to Christ as our Refuge from the Storm
These difficult times are causing more and more people to lose hope. The struggle just to stay the course has become increasingly stressful for ever increasing numbers of people, and Christians are no exception. When we are down it is good for us to turn our face towards Christ, remembering the words of from the Gospel of Matthew, "Thou art indeed the Son of God". This world promises us nothing, but in Christ we have everything, for He is the only refuge in Whom we can turn in times of trial.
"Here on earth there is nothing that can give us inner peace. For neither riches, nor glory, nor honour, nor position, nor family, nor neighbors can give us unshakable inner peace. There is only one giver of life, peace and joy – God (Elder Thaddeus of Vitovnica)."
As Christians we must not allow anything to disturb our peace of heart, for we know that this life is transitory. "If you think to find paradise on earth, even in a monastery, then you are very mistaken. Paradise—full blessedness—does not exist on earth, and cannot, because man was not created for earth, but for heaven (Abbess Thaisia of Leushino)."
With love in Christ,
Abbot Tryphon
Fourth Week of Pascha. Tone three.
Martyr Isidore of Chios (251).
St. Isidore, fool-for-Christ, wonderworker of Rostov (1474).
St. Matthew, Hieromonk of Yaramsk in Vyatka (1927).
New Hieromartyr Peter priest (1939).
Venerable Nicetas, bishop of Novgorod and recluse of the Kiev Caves (1108).
Martyr Maximus, under Decius (250).
Venerable Serapion the Sindonite, monk, of Egypt (542).
St. Leontius, patriarch of Jerusalem (1175).
Trebensk (1654) and Yaroslavl (Pechersk) Icons of the Mother of God (1823).
New Martyr John-Raiko of Shumena, Bulgaria (1802)) (Greek).
New Martyr Mark of Crete, at Smyrna (1643) (Greek).
First opening of the relics (1846) of St. Tikhon of Zadonsk (1783).
St. Aprunculus, bishop of Clermont in Gaul (Gaul).
Sts. Alexander, Barbarus, and Acolythus, martyred at the Church of Holy Peace by the Sea in Constantinople (Greek).
St. Andrew, abbot of Raphael (Tobolsk) (1820).
You can read the life of the saint in red, by clicking on the name.THANKS to all of you who have been able to contribute towards the support of the monastery. These difficult times of economic hardship have impacted the monastery, and those of you who have been able to donate, have been our lifeline. May God bless you for your generosity, and kindness.
With love in Christ,
Abbot Tryphon
The Scripture Readings
Acts 10:1-16
Cornelius Sends a Delegation
10 There was a certain man in Caesarea called Cornelius, a centurion of what was called the Italian Regiment, 2a devout man and one who feared God with all his household, who gave alms generously to the people, and prayed to God always. 3About the ninth hour of the day he saw clearly in a vision an angel of God coming in and saying to him, "Cornelius!"
4And when he observed him, he was afraid, and said, "What is it, lord?"
So he said to him, "Your prayers and your alms have come up for a memorial before God. 5Now send men to Joppa, and send for Simon whose surname is Peter. 6He is lodging with Simon, a tanner, whose house is by the sea. He will tell you what you must do." 7And when the angel who spoke to him had departed, Cornelius called two of his household servants and a devout soldier from among those who waited on him continually. 8So when he had explained all these things to them, he sent them to Joppa.
Peter's Vision
9The next day, as they went on their journey and drew near the city, Peter went up on the housetop to pray, about the sixth hour. 10Then he became very hungry and wanted to eat; but while they made ready, he fell into a trance 11and saw heaven opened and an object like a great sheet bound at the four corners, descending to him and let down to the earth. 12In it were all kinds of four-footed animals of the earth, wild beasts, creeping things, and birds of the air. 13And a voice came to him, "Rise, Peter; kill and eat."
14But Peter said, "Not so, Lord! For I have never eaten anything common or unclean."
15And a voice spoke to him again the second time, "What God has cleansed you must not call common." 16This was done three times. And the object was taken up into heaven again.
John 6:56-69
56He who eats My flesh and drinks My blood abides in Me, and I in him. 57As the living Father sent Me, and I live because of the Father, so he who feeds on Me will live because of Me. 58This is the bread which came down from heaven—not as your fathers ate the manna, and are dead. He who eats this bread will live forever."
59These things He said in the synagogue as He taught in Capernaum.
Many Disciples Turn Away
60Therefore many of His disciples, when they heard this, said, "This is a hard saying; who can understand it?"
61When Jesus knew in Himself that His disciples complained about this, He said to them, "Does this offend you? 62What then if you should see the Son of Man ascend where He was before? 63It is the Spirit who gives life; the flesh profits nothing. The words that I speak to you are spirit, and they are life. 64But there are some of you who do not believe." For Jesus knew from the beginning who they were who did not believe, and who would betray Him. 65And He said, "Therefore I have said to you that no one can come to Me unless it has been granted to him by My Father."
66From that time many of His disciples went back and walked with Him no more. 67Then Jesus said to the twelve, "Do you also want to go away?"
68But Simon Peter answered Him, "Lord, to whom shall we go? You have the words of eternal life. 69Also we have come to believe and know that You are the Christ, the Son of the living God."
JUNE 9 – Monasticism Today: A Journey to the Heart of God LIVE CALL IN ON ANCIENT FAITH RADIO
Guest: The V. Rev. Father Tryphon, a monk for almost thirty years, and co-founder and abbot of All-Merciful Saviour Monastery on Vashon Island, WA. Abbot Tryphon speaks with host Kevin Allen of Ancient Faith Radio about all aspects of (Orthodox Christian) monasticism in the 21 century (and perhaps some of his interesting personal journey story).
It will be a live stream — as AFR is recording it — but will also be available later as a download on AFR and the AFT archives.
It will stream live via Internet on Ancient Faith Radio TALK is 5 PM – 6:30 PM Pacific (US); 6 PM Mountain; 7 PM Central; and, 8 PM (- 9:30 PM) Eastern.
For foreign countries, please refer to the US standard times and adjust accordingly.