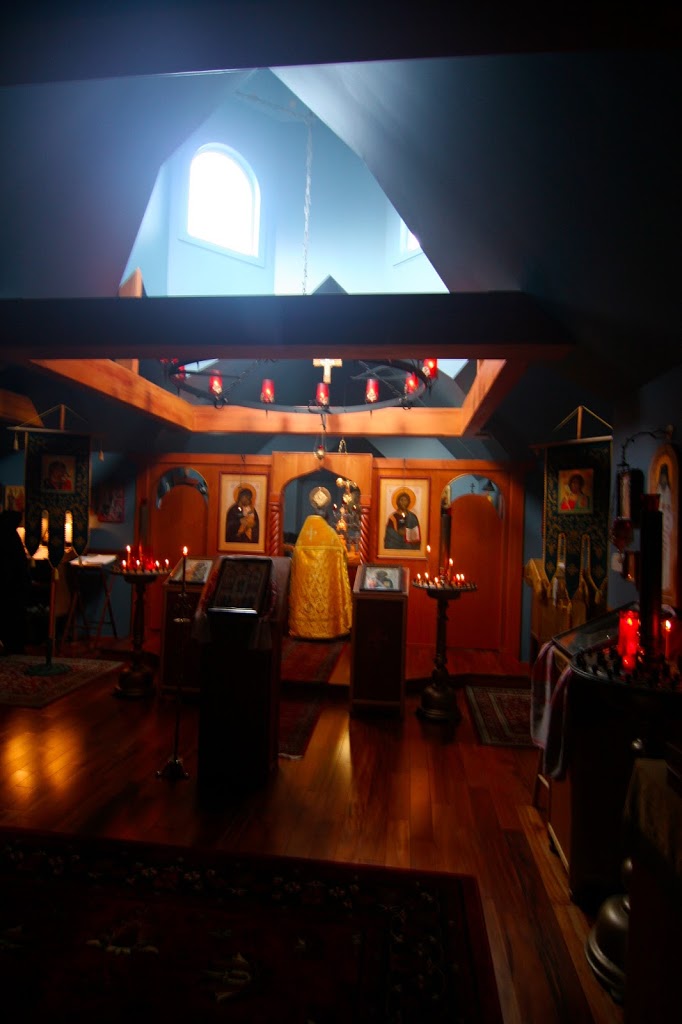 If You are to Win the Battle, Focus only on Your Own Sins
When we take our eyes off our own failings, shortcomings, and sins, we notice the failings of others. As the sins of others get our attention, our focus turns away from our own struggles with the passions, and we begin to fall further into sin, our eyes having turned away from the Lord. When our focus is no longer turned towards the conquering of our own passions, our hearts become vulnerable, and we begin to expend our energy on picking apart our neighbor. Their sins become the hot topic with our gossiping friends, and we fall further into the rottenness of our own sins. At this stage, Abba Sisoes asks, "How can we guard the heart if the tongue leaves the door of the fortress open?"
If we are to take ourselves out of the mire of sin, and with Christ's help, be transformed and made whole, our eyes must never look to the sins of others, "For a person cannot be disquieted or concerned about other people's affairs if he is satisfied with concentrating on the work of his own hands (St. John Cassian)."
As we approach Great and Holy Lent, let us refocus ourselves, and prepare for the struggle ahead. Let us make this Great Fast the most profitable of all, with the goal of acquiring a humble and contrite heart. If we focus on our own failings, only, we will find this Lenten season will be the most profitable of all, and we will be lifted up by God, and our celebration of Holy Pascha will be the most glorious of them all.
Remember, the Great and Holy Fast was created for us as a time for repentance, renewal, and the restoration of heart, mind, and body. Let us keep our spiritual eyes on Christ, and be open to the healing of our soul that comes for us through this very Christ Jesus, Whom we worship and adore.
As the Church observes this Forgiveness Sunday, I ask all my readers to please forgive me for any hurt or offense I have cause you in any way.
With love in Christ,
Abbot Tryphon
The Symbol of the Eggs
It is the tradition of the Church that we eat a hard boiled egg as the very last non-lenten food before the beginning of the Great Fast. Tonight, before you go to bed, close your mouth with the old egg (white, hard boiled egg), and open with the new egg (the red egg at Pascha, which represents Christ. Hitting the eggs together as believers, while saying, "Christ is Risen", represents the crashing of the doors of hell. Christ breaking down the gates of hell, and the tombs opening, with the dead being raised up.
Sunday March 17, 2013
The Sunday of Forgiveness. Tone eight.
Cheesefare Sunday. Meat is excluded
Venerable Gerasimus of the Jordan (475).
Venerable Gerasimus, monk, of Vologda (1178).
St. Daniel, prince of Moscow (1303).
New Hieromartyrs Archpriest Dimitry Ivanov of Kiev (1933) and Priest Vyacheslav (Leontiev) of Nizhegorod (1937).
New Hieromartyr Alexander priest (1938).
Blessed Basil (Basilko), prince of Rostov (1238).
Saints of Pskov martyred by the Latins: Venerable Ioasaph of Snetogorsk Monastery and St. Basil of Mirozh Monastery (1299).
Martyrs Paul, his sister Juliana, and Quadratus, Acacius, and Stratonicus, at Ptolemais in Syria (273).
Venerable James the Faster of Phoenicia (Syria) (6th c.).
Translation of the relicts (938) of Martyr Wenceslaus, prince of the Czechs (935).
St. Gregory, bishop of Constantia in Cyprus.
St. Gregory, bishop of Assos near Ephesus (1150).
St. Julian, patriarch of Alexandria (189).
St. Peter (Michurin), youth of Tobolsk (Siberia) (1820).
You can read the life of the saint in green, by click on the name.
THANK YOU, to all of you who have been able to contribute towards the support of the monastery. These difficult times of economic hardship have impacted the monastery, and those of you who have been able to donate, have been our lifeline. May God bless you for your generosity, and kindness.With love in Christ,
Abbot Tryphon
Romans 13:11-14:4
Put on Christ
11And do this, knowing the time, that now it is high time to awake out of sleep; for now our salvation is nearer than when we first believed. 12The night is far spent, the day is at hand. Therefore let us cast off the works of darkness, and let us put on the armor of light. 13Let us walk properly, as in the day, not in revelry and drunkenness, not in lewdness and lust, not in strife and envy. 14But put on the Lord Jesus Christ, and make no provision for the flesh, to fulfill its lusts.
The Law of Liberty
14 Receive one who is weak in the faith, but not to disputes over doubtful things. 2For one believes he may eat all things, but he who is weak eats only vegetables. 3Let not him who eats despise him who does not eat, and let not him who does not eat judge him who eats; for God has received him. 4Who are you to judge another's servant? To his own master he stands or falls. Indeed, he will be made to stand, for God is able to make him stand.
Matthew 6:14-21
14"For if you forgive men their trespasses, your heavenly Father will also forgive you. 15But if you do not forgive men their trespasses, neither will your Father forgive your trespasses.
Fasting to Be Seen Only by God
16"Moreover, when you fast, do not be like the hypocrites, with a sad countenance. For they disfigure their faces that they may appear to men to be fasting. Assuredly, I say to you, they have their reward. 17But you, when you fast, anoint your head and wash your face, 18so that you do not appear to men to be fasting, but to your Father who is in the secret place; and your Father who sees in secret will reward you openly.[a]
Lay Up Treasures in Heaven
19"Do not lay up for yourselves treasures on earth, where moth and rust destroy and where thieves break in and steal; 20but lay up for yourselves treasures in heaven, where neither moth nor rust destroys and where thieves do not break in and steal. 21For where your treasure is, there your heart will be also.