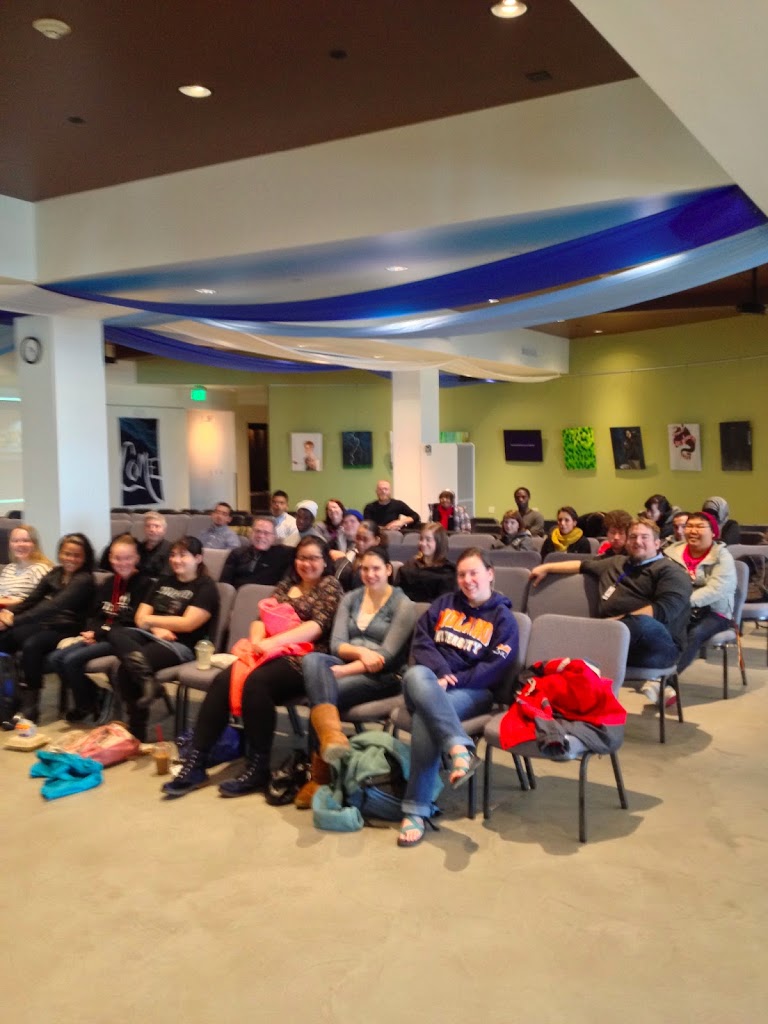 The Role of Saints in our Christian Lives
Growing up Lutheran I always believe the veneration of saints by Roman Catholics and Orthodox Christians was a form of idolatry. They were idolaters because they "worshiped saints". This worship of the saints was a major stumbling block for most protestants, since worship was only to be offered to God. The distinction between veneration and adoration was unknown to us. Adoration is reserved for God alone, while veneration is the respect we show to the saints.
The historic Church has always venerated the saints because the Church is undivided. The Church Triumphant (in heaven) and the Church Militant (on earth) is one, undivided. When the Church is at worship the cloud of witnesses (those who've won the battle and are in heaven with God) are united in this worship before the Throne of God with those on earth. When we enter into the communal worship of the Church here on earth, we are mystically united with the saints in heaven. Death does not separate us from those who've gone on before us, for in Christ, there is no death.
The saints being alive in Christ are not dead. When we venerate the saints we are showing love and respect to those who've gone on before us. Kissing an icon of a saint is much the same as kissing a bible. We show our love and respect for the Word of God by offering a kiss, just as we do when expressing our love of our mother or grandmother. When we kiss a photo of a loved one we are not worshiping the person, but demonstrating in a concrete way our love for the person. This is the very thing we are demonstrating when we kiss the icon of a saint.
When we are in need of prayer we don't head for the nearest tavern and ask the man slumped over the bar to pray for us (God may not have heard from this fellow for a very long time), rather we ask for prayers of those who are close to God. No one is closer to God than those who've lived holy lives, or who have died as martyrs, so we know they are alive in Christ, and have His ear. We don't just ask a friend, we ask a saint to pray for us because, Christ is glorified in His saints (2 Thessalonians 1:10).
With love in Christ,
Abbot Tryphon
Photo: I taught a class on Friday morning at Trinity Lutheran College in Everett, WA.
Friday March 22, 2013
Saturday March 23, 2013
First Saturday of the Great Lent. Tone eight.Great Lent. Food withOil
Great Martyr Theodore Tyro (306) (movable holiday on Saturday of the 1st week of the Great Lent).
Martyrs Codratus (Quadratus) and with him: Cyprian, Dionysius, Anectus, Paul, Crescens, Dionysius (another), Victorinus, Victor, Nicephorus, Claudius, Diodorus, Serapion, Papias, Leonidas, Chariessa, Nunechia, Basilissa, Nice, Galla, Galina, Theodora, and others at Corinth (258).
New Hieromartyr Demetrius, priest (1938).
Martyrs Codratus, Saturninus, and Rufinus of Nicomedia (3rd c.).
Venerable Anastasia the Patrician of Alexandria (567).
New Martyr Michael of Agrapha, Thessalonica (1544). (Greek).
Martyr Marcian (Greek).
Venerable George Arselaites (6th c.).
St. Attalus, abbot of Bobbio (626).
St. Paul of Taganrog (1879).
St. Kessog, bishop of Loch Lomond.
St. John of Khakuhli, also called Chrysostom (10th-11th c.) (Georgia).
You can read the life of the saint in green, by click on the name.
THANK YOU, to all of you who have been able to contribute towards the support of the monastery. These difficult times of economic hardship have impacted the monastery, and those of you who have been able to donate, have been our lifeline. May God bless you for your generosity, and kindness.
With love in Christ,
Abbot Tryphon
Hebrews 1:1-12
God's Supreme Revelation
1 God, who at various times and in various ways spoke in time past to the fathers by the prophets, 2has in these last days spoken to us by His Son, whom He has appointed heir of all things, through whom also He made the worlds; 3who being the brightness of His glory and the express image of His person, and upholding all things by the word of His power, when He had by Himself purged our sins, sat down at the right hand of the Majesty on high, 4having become so much better than the angels, as He has by inheritance obtained a more excellent name than they.
The Son Exalted Above Angels
5For to which of the angels did He ever say:
"You are My Son,
Today I have begotten You"?
And again:
"I will be to Him a Father,
And He shall be to Me a Son"?
6But when He again brings the firstborn into the world, He says:
"Let all the angels of God worship Him." 7And of the angels He says:
"Who makes His angels spirits
And His ministers a flame of fire."
8But to the Son He says:
"Your throne, O God, is forever and ever;
A scepter of righteousness is the scepter of Your kingdom.
9You have loved righteousness and hated lawlessness;
Therefore God, Your God, has anointed YouWith the oil of gladness more than Your companions."
10And:
"You, Lord, in the beginning laid the foundation of the earth,
And the heavens are the work of Your hands.
11They will perish, but You remain;
And they will all grow old like a garment;
12Like a cloak You will fold them up,
And they will be changed.
But You are the same,
And Your years will not fail."
Mark 2:23-3:5
Jesus Is Lord of the Sabbath
23Now it happened that He went through the grainfields on the Sabbath; and as they went His disciples began to pluck the heads of grain. 24And the Pharisees said to Him, "Look, why do they do what is not lawful on the Sabbath?"
25But He said to them, "Have you never read what David did when he was in need and hungry, he and those with him: 26how he went into the house of God in the days of Abiathar the high priest, and ate the showbread, which is not lawful to eat except for the priests, and also gave some to those who were with him?"
27And He said to them, "The Sabbath was made for man, and not man for the Sabbath. 28Therefore the Son of Man is also Lord of the Sabbath."
Healing on the Sabbath
3 And He entered the synagogue again, and a man was there who had a withered hand. 2So they watched Him closely, whether He would heal him on the Sabbath, so that they might accuse Him. 3And He said to the man who had the withered hand, "Step forward." 4Then He said to them, "Is it lawful on the Sabbath to do good or to do evil, to save life or to kill?" But they kept silent. 5And when He had looked around at them with anger, being grieved by the hardness of their hearts, He said to the man, "Stretch out your hand." And he stretched it out, and his hand was restored as whole as the other.