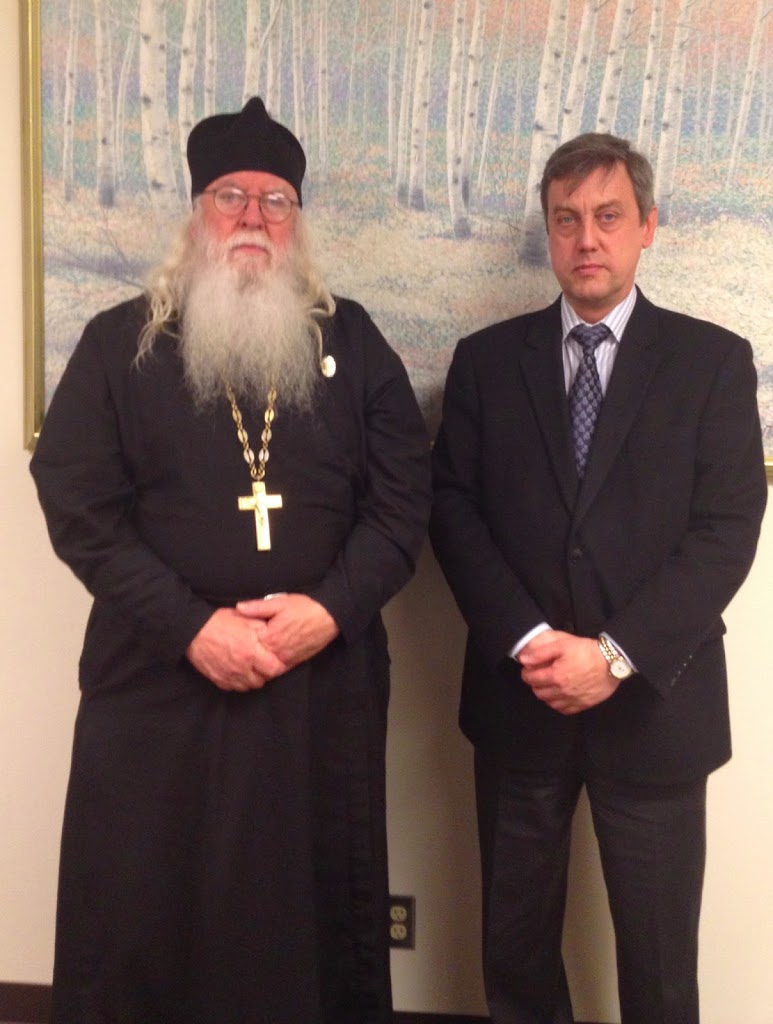 Consul General Andrey Yushmanov
Acknowledging Warts and Wrinkles
If we do not live in repentance and humility, we clergy betray Christ, Whom we claim to serve. We must be willing to put aside all intellectual and romanticized notions of the Church, acknowledge the many warts and wrinkles and institutional flaws that have accumulated over the centuries, and live in imitation of Christ, Who came as but a humble servant. We must cast aside the baggage that has diluted the message of the Gospels, and give witness to the humble Saviour Who has saved us.
If we clergy live as though we are a special class of nobles, and avoid true repentance, lording priestly authority over others, we will have betrayed the Gospels, and cause people to turn away from the promise of salvation. If we are not truly humble, others will fail to see Christ in us, and will turn away from the Church.
We priests must meditate upon the words of the Elder Anthony of Optina, who said, "…without humbling oneself in spirit one cannot be saved. Humility cannot be learned from mere words; it is necessary to practice it, and someone has to hammer us flat. Without humility it is hard to enter into the Kingdom of God, which is obtained through many sorrows."
The world needs Christ, and we must not allow ourselves to obscure this message by becoming professional clerics. We are but servants of the Lord most high, and we'd best remember our humble place. "Verily, verily, I say unto you, The servant is not greater than his lord; neither he that is sent greater than he that sent him John 13:16."
With love in Christ,
Abbot Tryphon
Photo: Abbot Tryphon visited with Consul General Andrey Yushmanov at the Russian Consulate in Seattle.
Friday March 15, 2013
Week of the Last Judgment. Tone seven.
Maslenitsa. Meat is excluded
Appearance of the Kolomenskoye Icon of the Most Holy Theotokos, "Reigning" (1917).
Hieromartyr Theodotus, bishop of Cyrenia (315).
St. Arsenius, bishop of Tver (1409).
Virgin-martyr Euthalia of Sicily (257).
Martyr Troadius of Neo-Caesarea (3rd c.).
Venerable Agatho of Egypt, monk (5th c.).
440 Martyrs slain by the Lombards (579).
St. Sabbatius, monk, of Tver (1434), and his disciple St. Euphrosynus (1460).
Sts. Barsanuphius (1459) and Sabbas (1467), abbots, of Tver.
St. Chad, bishop of Lichtfield, England (672) (Celtic & British).
Righteous Father Nicholas Planas (1932) (Greek).
St. Quintus of Phrygia, confessor and wonderworker (283) (Greek).
Martyr Andronicus and the virgin Athanasia (Greek).
Hieromartyrs Nestor the bishop and Tribimius the deacon of Perga in Pamphylia (250).
Martyr Hesychius the Palatine of Antioch (304).
New Martyr Theodore Sladich of Komogovina (1788).
St. Joachim (Papoulakis) of Vatopedi, Mt. Athos and Ithaca (1868).
You can read the life of the saint in green, by click on the name.
THANK YOU, to all of you who have been able to contribute towards the support of the monastery. These difficult times of economic hardship have impacted the monastery, and those of you who have been able to donate, have been our lifeline. May God bless you for your generosity, and kindness.With love in Christ,
Abbot Tryphon
Zechariah 8:7-17
7"Thus says the Lord of hosts:
'Behold, I will save My people from the land of the east
And from the land of the west;
8I will bring them back,
And they shall dwell in the midst of Jerusalem.
They shall be My people
And I will be their God,
In truth and righteousness.'
9"Thus says the Lord of hosts:
'Let your hands be strong,
You who have been hearing in these days
These words by the mouth of the prophets,
Who spoke in the day the foundation was laid
For the house of the Lord of hosts,
That the temple might be built.
10For before these days
There were no wages for man nor any hire for beast;
There was no peace from the enemy for whoever went out or came in;
For I set all men, everyone, against his neighbor.
11But now I will not treat the remnant of this people as in the former days,' says the Lord of hosts.
12'For the seed shall be prosperous,
The vine shall give its fruit,
The ground shall give her increase,
And the heavens shall give their dew—
I will cause the remnant of this people
To possess all these.
13And it shall come to pass
That just as you were a curse among the nations,
O house of Judah and house of Israel,
So I will save you, and you shall be a blessing.
Do not fear,
Let your hands be strong.'
14"For thus says the Lord of hosts:
'Just as I determined to punish you
When your fathers provoked Me to wrath,'
Says the Lord of hosts,
'And I would not relent,
15So again in these days
I am determined to do good
To Jerusalem and to the house of Judah.
Do not fear.
16These are the things you shall do:
Speak each man the truth to his neighbor;
Give judgment in your gates for truth, justice, and peace;
17Let none of you think evil in your heart against your neighbor;
And do not love a false oath.
For all these are things that I hate,'
Says the Lord."
Zechariah 8:19-23
19"Thus says the Lord of hosts:
'The fast of the fourth month,
The fast of the fifth,
The fast of the seventh,
And the fast of the tenth,Shall be joy and gladness and cheerful feasts
For the house of Judah.
Therefore love truth and peace.'
20"Thus says the Lord of hosts:
'Peoples shall yet come,
Inhabitants of many cities;
21The inhabitants of one city shall go to another, saying,"Let us continue to go and pray before the Lord,
And seek the Lord of hosts.
I myself will go also."
22Yes, many peoples and strong nations
Shall come to seek the Lord of hosts in Jerusalem,
And to pray before the Lord.'
23"Thus says the Lord of hosts: 'In those days ten men from every language of the nations shall grasp the sleeve of a Jewish man, saying, "Let us go with you, for we have heard that God is with you."'"