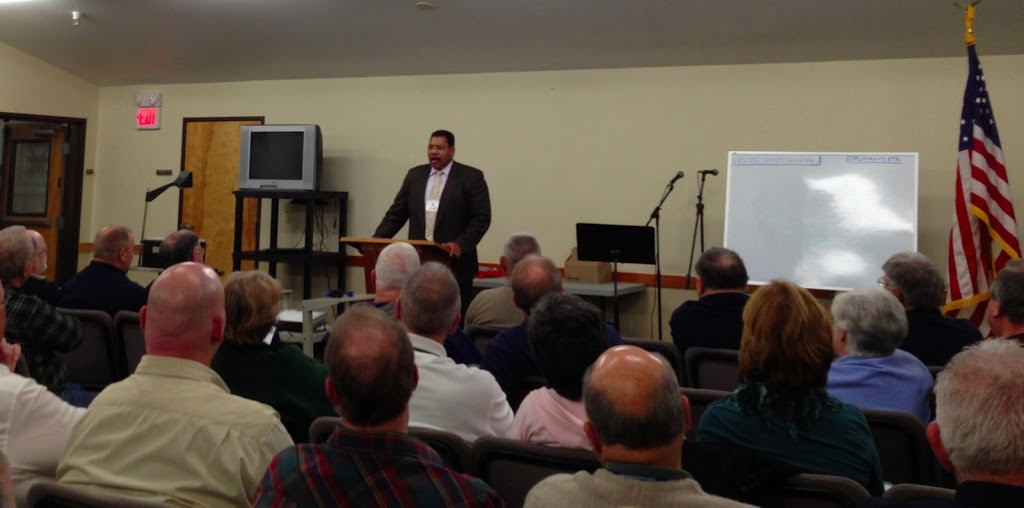 Our Toxic Environment
The main speaker for our International Conference of Police Chaplains, was Samuel L. Feemster, a retired FBI Supervisory Special Agent who was assigned to the FBI Academy. According to Mr. Feemster, our police officers are serving in a society that is filled with a toxicity that necessitates spiritual health, as well as mental and physical health. A nation that has placed Halloween as the second most popular national holiday, after Christmas, and where Friday is now more important than Sunday, is not a healthy place. We've become a nation that no longer consults Christian clergy when facing major decisions that will impact our people, and where churches are becoming more and more marginalized by a society that has become militantly secular.
According to Mr. Feemster, without advocacy, spiritually underdeveloped officers will continue to be exposed to and overcome by evil and its toxins. The role of law enforcement chaplains is to be for the officers what they cannot be for themselves. Chaplains must be their intercessors and their advocates, the first responders for the first responders.
"An evolving law enforcement chaplaincy is essential for the officer wellness, for officer safety, organizational wellness, and community security. Intentional advocacy by law enforcement chaplains is essential because if anyone knows evil is real, the chaplains do."
With love in the New Born King,
Abbot Tryphon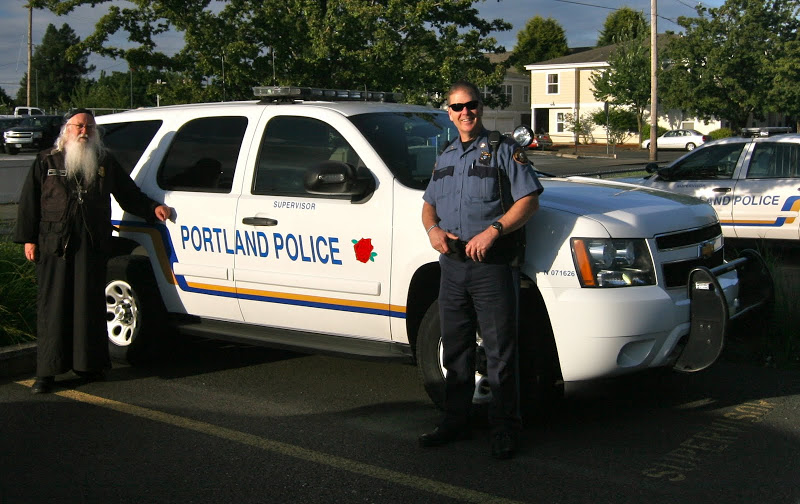 Abbot Tryphon and Captain Pat Walsh
Wednesday January 9, 2013
32nd Week after Pentecost. Tone six.
Sviatki. Fast-free
Third Day of the Feast of the Nativity.Holy Protomartyr and Archdeacon Stephen (34).
Venerable Theodore Graptus ("the Branded") of Palestine and Bithynia, confessor (840), brother of St. Theophanes the Confessor and Hymnographer (850).
New Hieromartyrs Tikhon, archbishop of Voronezh and with him 160 martyred priests (1919).
Virgin-Martyr Antonina (1937).
St. Theodore, archbishop of Constantinople (686).
Uncovering of Relics (1514) of Venerable Pherapont of Mozhaisk, Luzhetsk.
Venerable Luke, monk, of Tryglia.
St. Maximus, bishop of Alexandria (282).
St. Maurice and the Theban Legion. (Candidus, Innocent, Exuperius and 6,600 others) (302).
You can read the life of the saint in green, by click on the name.
THANK YOU, to all of you who have been able to contribute towards the support of the monastery. These difficult times of economic hardship have impacted the monastery, and those of you who have been able to donate, have been our lifeline. May God bless you for your generosity, and kindness.With love in Christ,
Abbot Tryphon
The Scripture for the day: (click for the readings)
James 3:11-4:6
Mark 11:23-26
Acts 6:8-15; 7:1-5, 47-60 Saint
Matthew 21:33-42 Saint