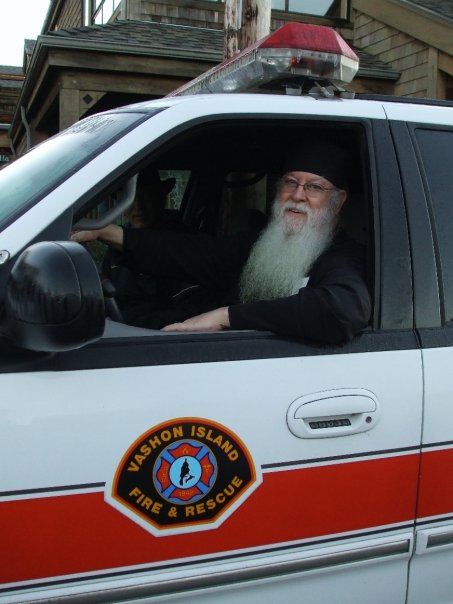 A City without Police
Would be a Hell of a Place
The first time I ever visited the City of San Francisco, a friend took a photo of me on a city bus, with an ad showing just above me that read, "San Francisco Would be a Hell of a Place without Police". Even as a long haired "flower child" and college student, I knew the truth in that ad calling for more men and women to consider becoming police officers. Without police, none of us would be safe to go anywhere. Our streets would be war zones, with lawlessness governing every corner. Home invasions would be the everyday norm, and no one would be safe from the potential carjacker. Although we've all been stunned by the recent news reports of the slaughter of so many innocents by deranged individuals, without our police, things would be far worse.
I am a proud member of the International Conference of Police Chaplains, and I've served the brave men and women of the Vashon Island Fire and Rescue, and the King County Sheriff's department, as a chaplain, for over eleven years. During these years I have grown to love and respect these people, and have seen my ministry as an Orthodox priestmonk expand to the entire island community, in ways I would never have thought possible. I've been able to lift the burden from officers by doing death notifications, and remaining behind with families, following tragedies that left them devastated, allowing the medics and deputies to resume their all important duties for the next call.
An important part of my role as chaplain is to help these men and women see that their vocation is, truly, a spiritual calling. I have learned that in order to be the protectors of the rest of us, they need to be strong, spiritually and physically. The best firefighters, and the best police officers, are those who recognize their vocation as a calling by God to protect and support the rest of us. Even in their toughness, they must remain untainted by the evil they see on a daily basis, for just like the rest of us, they are bombarded with the temptations of the Evil One. They, perhaps more than most, recognize evil.
As a priest I have stood in the presence of evil, and have felt it much like a heavy, suffocating mist. I even had a demon reveal his own face, through the face of an angry drug dealer I'd confronted. Like 85% of law enforcement personnel, I find it unfathomable that anyone could believe the devil is fictional, and that evil does not exist as a force in our world.
I once remember passing in front of a dirty old van, parked next to the monastery's van, on the ferry crossing from Vashon Island, to Seattle. As I walked in front of this van, which had darkened windows, I felt an evil presence coming from the driver, whom I could not see clearly. When I got to the passenger deck, I asked Father Paul, who was just behind me, if he'd noticed that dirty white van. He said that yes, he'd seen it, and that he'd sensed an evil presence as he'd passed in front.
The men and women who serve our country need spiritual support. They need you, when you are being presented with the speeding ticket you deserve, to be grateful and polite. They need to know that we all support them, and that we appreciate the fact that they lay their collective lives on the line for us, each and every day. We need to remember that they have spouses who worry about them, and children who depend on them, when they drive out into a very dangerous job environment.
As of last night, I am in Cannon Beach, Oregon, attending the ICPC's 2013 Training Seminar. I'm with 91 other chaplains from many different states, for this week long seminar, because I care about the men and women who make our streets safe, and keep our cities from becoming "a hell of a place". I pray for all these people, and I want my readers to join me in praying, daily, for those whom God has called to make our world as safe a place as these present dark days can be.
May God bless and protect the men and women who, each and every day (and night) watch over the rest of us, like the guardian angels that they are.
With love in the New Born King,
Abbot Tryphon
Tuesday January 8, 2013
32nd Week after Pentecost. Tone six.
Sviatki. Fast-free
Second Day of the Feast of the Nativity.
Synaxis of the Most Holy Theotokos.
Hieromartyr Euthymius, bishop of Sardis (840).
Venerable Isaac II (Bobrikov, the Younger), archimandrite of Optina (1938).
New Hieromartyrs Alexander and Demetrius priests (1918).
New Hieromartyrs Nicholas, Nicholas priests amd Michael deacon (1930).
New Hieromartyrs Leonidas bishop of Mariysk, Alexander priest and Virgin-martyrs Anthisa and Makaria (1937).
St. Russian New Martyr, Andrew, bishop of Ufa (1937) and New Martyr, Valentina, (1937).
New Hieromartyrs Gregory priest and Virgin-martyrs Augusta and Mary, Martyr Agrippina (1938).
Venerable Constantine, monk, of Synnada (9th c.).
Venerable Evaristus of the Studion Monastery (825).
St. Nicodemus of Tismana, Romania (1406).
"Vilen-Ostrabramsk", "Three Joys" or "Merciful", " Barlovsk" (1392) or "the Blessed Womb", "Baibuzsk" (1852) Icons of the Mother of God.
New Hieromartyr Constantius the Russian, at Constantinople (1743).
Venerable Nicodemus the Serbian (Serbia).
St. Archelaus, bishop of Kaskhara in Mesopotamia (3rd c.).
St. Zenon, bishop of Maiuma in Palestine (4th c.).
St. Tathai, abbot of Llantathan.
You can read the life of the saint in green, by click on the name.
THANK YOU, to all of you who have been able to contribute towards the support of the monastery. These difficult times of economic hardship have impacted the monastery, and those of you who have been able to donate, have been our lifeline. May God bless you for your generosity, and kindness.With love in Christ,
Abbot Tryphon
The Scripture for the day: (click for the readings)

Hebrews 2:11-18 Theotokos
Matthew 2:13-23 Theotokos