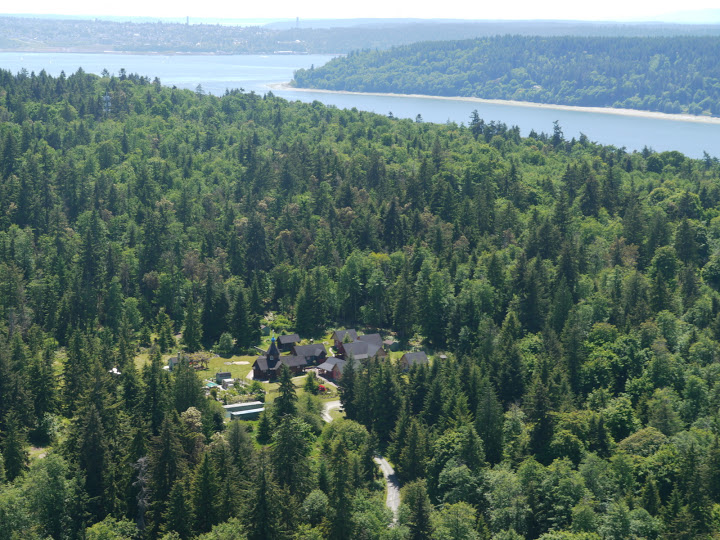 click on areal of monastery to enlarge
The Call to Monasticism is all About Relationships
The monastic vocation is a special calling from God that is all about relationships. It is a relationship that involves community (the monastic brotherhood), but primarily revolves around the monk's relationship with God.
Monks are not holy men who are living lives set apart from the world, but men who are seeking holiness by entering into a relationship with the God Who, through that relationship, promises holiness. The monk attempts, with God's help, to live a life that is in imitation of the angels, thus the monastic life is often referred to as the angelic life. Through his continued communion with God the monk attempts to give himself over to the transformation of his own life that comes with the action of the Holy Spirit.
Holiness is not something that is just about the saints, whose icons we venerate and whose lives we read about. Holiness is better understood as wholeness, made whole, or healed. We seek healing from the darkness and estrangement that we've inherited as a result of the fall. We seek out the God of righteousness Who alone can heal us of our infirmity. As Christ increases in us, our fallen nature decreases. In monastic obedience, the self is replaced by the will of God and the ego is trampled down.
The goal of the monk is to acquire the Holy Spirit from whom comes true repentance and a humble and contrite heart. This relationship that brings healing for the monk also brings healing for the world. Saint Seraphim of Sarov said that if you acquire inner peace, a thousand around you will be saved. The monk is thus not someone who leaves the world because he cares little for those in the world but because he cares for everyone and everything. Because he loves his neighbor and the whole of the cosmos, he gives himself over to be transformed by the Holy Spirit, becoming a living martyr to self.
The monk stands before God as an intercessor for the whole of mankind, not because he intentionally flees from others, but because he becomes closer to others by entering into an intimate relationship with Jesus Christ, Whom he serves.
Love in Christ,
Abbot Tryphon
Wednesday January 2, 2013
31st Week after Pentecost. Tone five.
Nativity (St. Philip's Fast). By Monastic Charter: Strict Fast (Bread, Vegetables, Fruits)
Forefeast of the Nativity of Christ.
Hieromartyr Ignatius the God-bearer, bishop of Antioch (107).
Repose of Righteous John of Kronstadt (1908).
Venerable Ignatius, archimandrite of the Kiev Caves (1435).
St. Anthony, archbishop of Voronezh (1846).
St. Philogonius, bishop of Antioch (323).
St. Daniel II, archbishop of Serbia (1338).
"Novodvorskaya" and "Lenkovskaya" (Novgorod-Severny) named "Rescuer of the Drowning" Icons of the Mother of God.
New Martyr John of the isle of Thasos (1652) (Greek).
You can read the life of the saint in green, by click on the name.
THANK YOU, to all of you who have been able to contribute towards the support of the monastery. These difficult times of economic hardship have impacted the monastery, and those of you who have been able to donate, have been our lifeline. May God bless you for your generosity, and kindness.With love in Christ,
Abbot Tryphon
James 1:1-18
Greeting to the Twelve Tribes
1 James, a bondservant of God and of the Lord Jesus Christ,
To the twelve tribes which are scattered abroad:
Greetings.
Profiting from Trials
2My brethren, count it all joy when you fall into various trials, 3knowing that the testing of your faith produces patience. 4But let patience have its perfect work, that you may be perfect and complete, lacking nothing. 5If any of you lacks wisdom, let him ask of God, who gives to all liberally and without reproach, and it will be given to him. 6But let him ask in faith, with no doubting, for he who doubts is like a wave of the sea driven and tossed by the wind. 7For let not that man suppose that he will receive anything from the Lord; 8he is a double-minded man, unstable in all his ways.
The Perspective of Rich and Poor
9Let the lowly brother glory in his exaltation, 10but the rich in his humiliation, because as a flower of the field he will pass away. 11For no sooner has the sun risen with a burning heat than it withers the grass; its flower falls, and its beautiful appearance perishes. So the rich man also will fade away in his pursuits.
Loving God Under Trials
12Blessed is the man who endures temptation; for when he has been approved, he will receive the crown of life which the Lord has promised to those who love Him. 13Let no one say when he is tempted, "I am tempted by God"; for God cannot be tempted by evil, nor does He Himself tempt anyone. 14But each one is tempted when he is drawn away by his own desires and enticed. 15Then, when desire has conceived, it gives birth to sin; and sin, when it is full-grown, brings forth death.
16Do not be deceived, my beloved brethren. 17Every good gift and every perfect gift is from above, and comes down from the Father of lights, with whom there is no variation or shadow of turning. 18Of His own will He brought us forth by the word of truth, that we might be a kind of firstfruits of His creatures.
Mark 10:11-16
11So He said to them, "Whoever divorces his wife and marries another commits adultery against her. 12And if a woman divorces her husband and marries another, she commits adultery."
Jesus Blesses Little Children
13Then they brought little children to Him, that He might touch them; but the disciples rebuked those who brought them. 14But when Jesus saw it, He was greatly displeased and said to them, "Let the little children come to Me, and do not forbid them; for of such is the kingdom of God. 15Assuredly, I say to you, whoever does not receive the kingdom of God as a little child will by no means enter it." 16And He took them up in His arms, laid His hands on them, and blessed them.