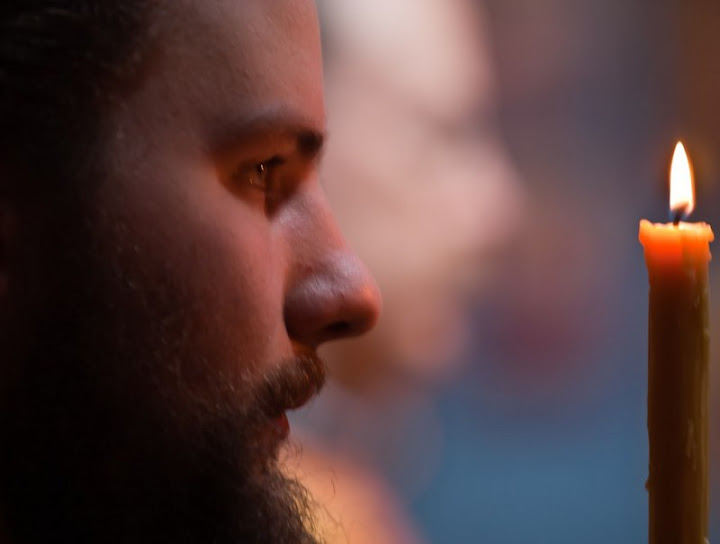 I want to greet all my readers as we begin the year 2013, with the words, "Glory to Jesus Christ, Glory to Him forever". May this year be one of spiritual renewal for all of us, and may we use the allotted time God gives us profitably, and for His glory. Let us love one another, and remember to pray for each other. Let us pray for the world, and for the salvation of all. May the Light of Christ shine brightly in us, that the world may know the love of God, and see God's mercy and kindness in us. Happy New Year to all of you.
With love in Christ,
Abbot Tryphon
Tuesday January 1, 2013
31st Week after Pentecost. Tone five.
Nativity (St. Philip's Fast). Food with Oil
Martyr Boniface at Tarsus in Cilicia (290) and Righteous Aglae (Aglaida) of Rome.
Venerable Elias of Murom, wonderworker of the Kiev Caves (1188).
Martyrs Elias, Probus, and Ares, in Cilicia (308.
Martyrs Polyeuctus at Caesarea in Cappadocia, and Timothy the Deacon in Mauretania (309).
St. Boniface the Merciful, bishop of Ferentino (6th c.).
St. Gregory (Gregentius), archbishop of Omirits (552).
Hieromartyr Capito, bishop of Cherson (4th c.).
Martyra Hermylus and Phocas.
Martyrs Eutyches and Thessalonica and with them 200 men and 70 women (Greek).
Sts. George the Scribe and Sava of Khakhuli (11th c.).
You can read the life of the saint in green, by click on the name.
THANK YOU, to all of you who have been able to contribute towards the support of the monastery. These difficult times of economic hardship have impacted the monastery, and those of you who have been able to donate, have been our lifeline. May God bless you for your generosity, and kindness.With love in Christ,
Abbot Tryphon
Hebrews 12:25-26
Hear the Heavenly Voice
25See that you do not refuse Him who speaks. For if they did not escape who refused Him who spoke on earth, much more shall we not escape if we turn away from Him who speaks from heaven, 26whose voice then shook the earth; but now He has promised, saying, "Yet once more I shake not only the earth, but also heaven."
Hebrews 13:22-25
22And I appeal to you, brethren, bear with the word of exhortation, for I have written to you in few words. 23Know that our brother Timothy has been set free, with whom I shall see you if he comes shortly.
24Greet all those who rule over you, and all the saints. Those from Italy greet you.
25Grace be with you all. Amen.
Mark 10:2-12
2The Pharisees came and asked Him, "Is it lawful for a man to divorce his wife?" testing Him.
3And He answered and said to them, "What did Moses command you?"
4They said, "Moses permitted a man to write a certificate of divorce, and to dismiss her."
5And Jesus answered and said to them, "Because of the hardness of your heart he wrote you this precept. 6But from the beginning of the creation, God 'made them male and female.' 7'For this reason a man shall leave his father and mother and be joined to his wife, 8and the two shall become one flesh'; so then they are no longer two, but one flesh. 9Therefore what God has joined together, let not man separate."
10In the house His disciples also asked Him again about the same matter. 11So He said to them, "Whoever divorces his wife and marries another commits adultery against her. 12And if a woman divorces her husband and marries another, she commits adultery."