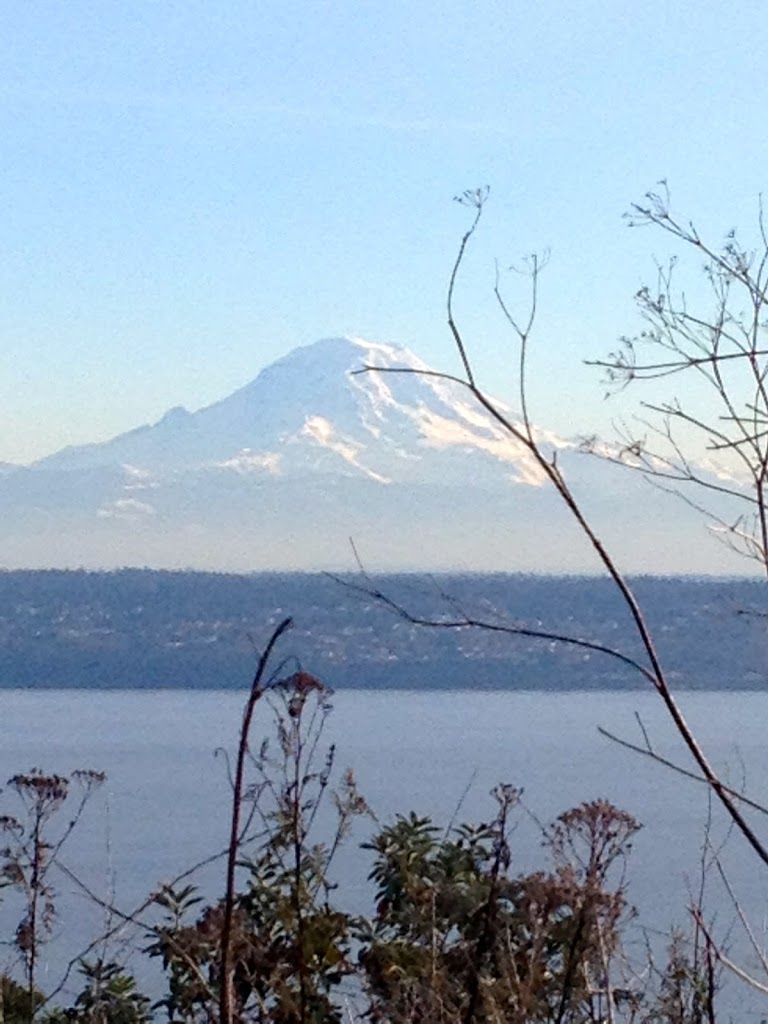 Mt. Rainier as seen from Vashon Island
Vigilantly Exercise Virtue in the Coming Year
It is a tradition among Americans to make a New Year's Resolution, pledging ourselves to positive change in the coming months. We decide we're going to lose weight, and set the loss of a certain amount as our goal for the coming year. We promise ourselves that we'll be more frugal in our spending, setting aside more of our income for savings. Our children will be more central in our weekly allotment of time, with family time coming before personal recreation. The yard work will not be put off in the coming months, and that major kitchen remodel will actually be put on the front burner.
A better plan would be to pledge ourselves to exercising virtue during the coming year. Pledging ourselves to the practice of virtue is to habitually and firmly dispose ourselves to do good. We pledge ourselves not only to perform good acts, but to give of the best of ourselves to others. The virtuous person tends toward the good with all his sensory and spiritual powers, and pursues the good and chooses it in concrete actions.
With love in Christ,
Abbot Tryphon
Thursday January 3, 2013
31st Week after Pentecost. Tone five.
Nativity (St. Philip's Fast). By Monastic Charter: Food without Oil
Forefeast of the Nativity of Christ.
Virgin-martyr Juliana of Nicomedia, and with her 500 men and 130 women (304).
Repose of St. Peter, metropolitan of All Russia (1326).
New Hieromartyr Michael priest (1918).
New Hieromartyr Sergius deacon (1937).
New Hieromartyr Nicetas bishop of Belevsk (1938).
New Hieromartyr Leontius deacon (1940).
St. Juliana, princess of Vyazma (1406).
Blessed Procopius of Vyatka, fool-for-Christ (1677).
St. Philaret (Theodosius in schema), metropolitan of Kiev (1857).
Martyr Theomistocles of Myra in Lycia (251).
St. Macarius the Faster, Abbot of the Khakhuli Monastery (11th c.).
Finding of the relicts (1950) of New Monk-martyr Ephraim of Nea Makri (1426).
You can read the life of the saint in green, by click on the name.
THANK YOU, to all of you who have been able to contribute towards the support of the monastery. These difficult times of economic hardship have impacted the monastery, and those of you who have been able to donate, have been our lifeline. May God bless you for your generosity, and kindness.With love in Christ,
Abbot Tryphon
James 1:19-27
Qualities Needed in Trials
19So then, my beloved brethren, let every man be swift to hear, slow to speak, slow to wrath; 20for the wrath of man does not produce the righteousness of God.
Doers—Not Hearers Only
21Therefore lay aside all filthiness and overflow of wickedness, and receive with meekness the implanted word, which is able to save your souls.
22But be doers of the word, and not hearers only, deceiving yourselves. 23For if anyone is a hearer of the word and not a doer, he is like a man observing his natural face in a mirror; 24for he observes himself, goes away, and immediately forgets what kind of man he was. 25But he who looks into the perfect law of liberty and continues in it, and is not a forgetful hearer but a doer of the work, this one will be blessed in what he does.
26If anyone among you thinks he is religious, and does not bridle his tongue but deceives his own heart, this one's religion is useless. 27Pure and undefiled religion before God and the Father is this: to visit orphans and widows in their trouble, and to keep oneself unspotted from the world.
Mark 10:17-27
Jesus Counsels the Rich Young Ruler
17Now as He was going out on the road, one came running, knelt before Him, and asked Him, "Good Teacher, what shall I do that I may inherit eternal life?"
18So Jesus said to him, "Why do you call Me good? No one is good but One, that is, God. 19You know the commandments: 'Do not commit adultery,' 'Do not murder,' 'Do not steal,' 'Do not bear false witness,' 'Do not defraud,' 'Honor your father and your mother.'"
20And he answered and said to Him, "Teacher, all these things I have kept from my youth."
21Then Jesus, looking at him, loved him, and said to him, "One thing you lack: Go your way, sell whatever you have and give to the poor, and you will have treasure in heaven; and come, take up the cross, and follow Me."
22But he was sad at this word, and went away sorrowful, for he had great possessions.
With God All Things Are Possible
23Then Jesus looked around and said to His disciples, "How hard it is for those who have riches to enter the kingdom of God!" 24And the disciples were astonished at His words. But Jesus answered again and said to them, "Children, how hard it is for those who trust in riches to enter the kingdom of God! 25It is easier for a camel to go through the eye of a needle than for a rich man to enter the kingdom of God."
26And they were greatly astonished, saying among themselves, "Who then can be saved?"
27But Jesus looked at them and said, "With men it is impossible, but not with God; for with God all things are possible."