Christos razhdayetsya! Slavite yoho!
Kristos rozhdaetsya! Slav'te ego!
Hristos se Rodi! Voistinu se Rodi!
Almasihu Wulidah! Famajjiduhu!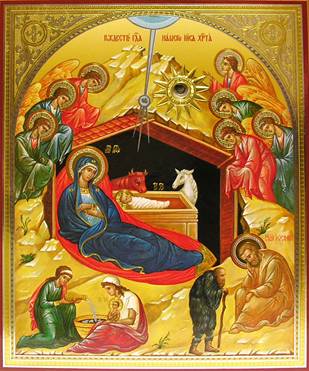 Today we celebrate the Feast of the Nativity of the Lord, He Who came to the world to restore peace and love. May we war against evil and the self, fighting with the weapons of peace. And may the Prince of Peace enter our hearts anew, and may He bring about the peace that passes all understanding.
Christ is Born! Glorify Him!
With love in the New Born King,
Abbot Tryphon
Monday January 7, 2013
32nd Week after Pentecost. Tone six.
Sviatki. Fast-free
The Nativity according to the Flesh of Our Lord, God and Saviour Jesus Christ.
From December 25 till January 5 is a Fast-free period (Sviatki).
The Adoration of the Magi: Melchior, Caspar, and Balthasar. Commemoration of the shepherds in Bethlehem who were watching their flocks and came to see the Lord.
Massacre of Venerable Jonah and with him 50 monks and 65 laymen at St. Tryphon of Pechenega Monastery, by the Swedes (1590).
New Hieromartyr Michael priest (1930).
You can read the life of the saint in green, by click on the name.
THANK YOU, to all of you who have been able to contribute towards the support of the monastery. These difficult times of economic hardship have impacted the monastery, and those of you who have been able to donate, have been our lifeline. May God bless you for your generosity, and kindness.With love in Christ,
Abbot Tryphon
The Scripture for the day: (click for the readings)
Matthew 1:18-25
Galatians 4:4-7
Matthew 2:1-12