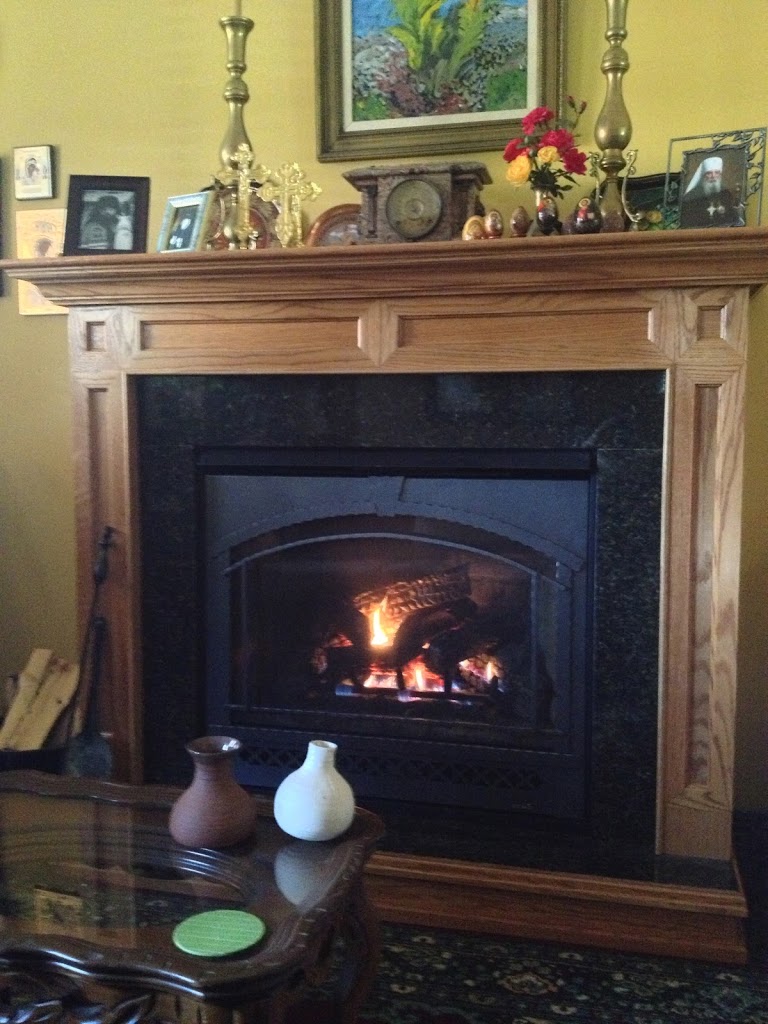 An Elder said: Just as a tree cannot bear fruit if it is often transplanted, so neither can a monk bear fruit if he frequently changes his abode.
In an age when people change addresses as often as those in past generations changed their socks, stability of place is almost unheard of. When I was a young man I moved from city to city quite often. One year alone I lived in New York City, Berkeley, California and Portland, Oregon. If I hated a job, I'd move. If my social life was on the rocks, I'd move. Reinventing myself in a new location became the norm. In my attempt to discover my place in this world, I couldn't stay in one place for very long.
As I grew older and wiser, I realized that the issues which needed to be dealt with had been avoided with each move. If I was ever to grow psychologically and spiritually, I needed to put down roots.
In Orthodox monasticism there are four vows: poverty, chastity, obedience and stability of place. Monks from the very beginning of monasticism realized that spiritual growth was not possible without struggle and a good way to avoid change was to move from place to place. If you are living with others who know your weaknesses, it is not easy to avoid change. Frequently moving from one job to another, one relationship to another, one neighborhood to another, or one city to another, is a sure way to avoid spiritual growth.
Many marriages end in divorce because the couples lacked the necessary stability of place which would have allowed them to confront those issues that needed to be changed. Moving from one parish to another is also a way many people avoid maturing in their faith. Moving from one church to another is just as destructive to the spiritual life as moving from city to city. Avoidance is the enemy of change.
Stick with the priest or confessor who really knows you. Spiritual transformation takes time and changing confessors inhibits growth, since you waste time letting the new priest get to know you. You wouldn't consider changing medical doctors every few years, not when your doctor knows your health history and is watching out for changes in your body that need attention. How much more the soul needs the guidance of a priest who really knows us, having established a relationship of trust. We all need the guidance of one who doesn't allow us to avoid working on that which inhibits growth in our relationship with God.
Stability can be for us the vehicle by which we are able to confront the habits, sins and vices that inhibit God from transforming our lives and making us whole. Constant movement allows us to hide from ourselves.
Love in Christ,
Abbot Tryphon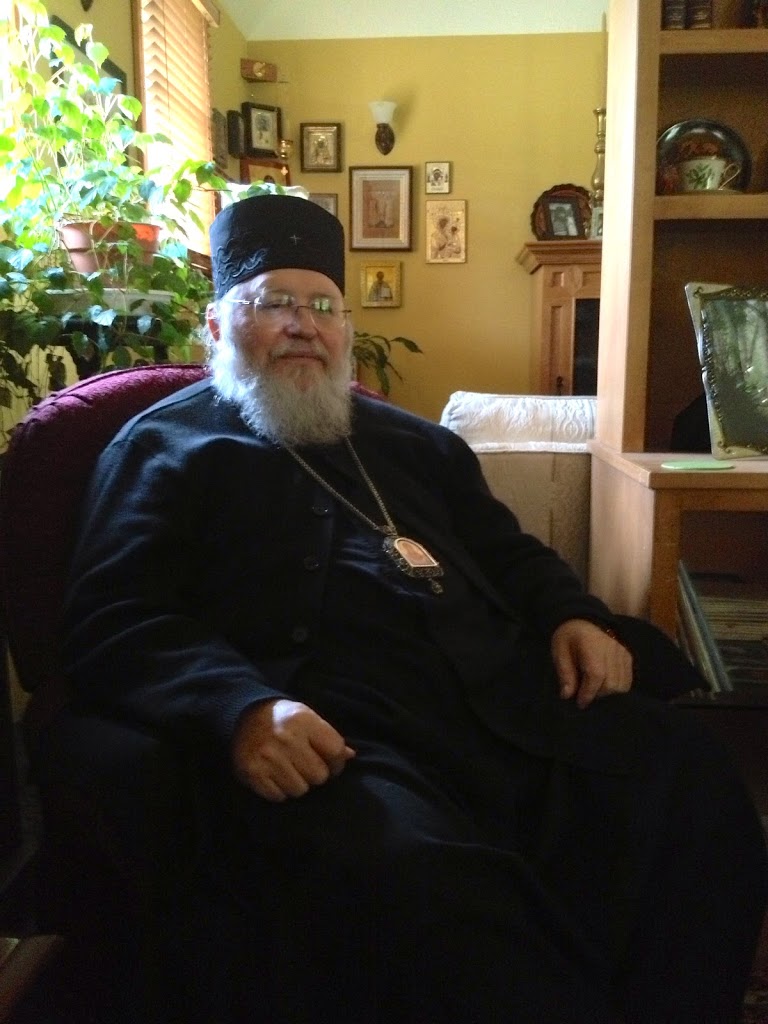 Vladyka Metropolitan sharing time in our library
Wednesday December 19, 2012
29th Week after Pentecost. Tone three.
Nativity (St. Philip's Fast). By Monastic Charter: Strict Fast (Bread, Vegetables, Fruits)
St. Nicholas the Wonderworker, archbishop of Myra in Lycia (345).
Blessed Maximus, metropolitan of Kiev (1305).
New Martyr Nicholas of Karamanos in Asia Minor (1657) (Greek).
St. Nicholas, bishop of Patara.
St. Theophilus, bishop of Antioch (181).
St. Abramius, bishop of Cratea in Bithynia (6th c.).Tuesday December 18, 2012
29th Week after Pentecost. Tone three.
Nativity (St. Philip's Fast). Fish Allowed
Venerable Sabbas the Sanctified (532).
New Hieromartyr Elias priest (1932).
New Hieromartyr Gennadius (1941).
St. Sergius confessor, priest (1950).
St. Gurias, archbishop of Kazan (156).
Martyr Anastasias.
Venerable Karion (Cyrion) and his son St. Zachariah of Egypt (4th c.).
Venerable Nectarius of Bitol (Serbia) (1500), and his elder, St. Philotheus, of Karyes Skete, Mt. Athos (Greek).
St. Nicetius, bishop of Trier (566) (Gaul).
Venerable Justinian, hermit of Wales (560) (Celtic & Britis).
Commemoration of St. Cosmas of Vatopedi (1276) and the monks of Karyes, Mt. Athos, martyred by the Latins (1283) (Greek).
Martyr Diogenes (Greek).
Martyr Abercius (Greek).
St. Nonnus, monk (Greek).
St. Gratus, monk (Greek).
You can read the life of the saint in green, by click on the name.
THANK YOU, to all of you who have been able to contribute towards the support of the monastery. These difficult times of economic hardship have impacted the monastery, and those of you who have been able to donate, have been our lifeline. May God bless you for your generosity, and kindness.With love in Christ,
Abbot Tryphon
Hebrews 13:17-21
17Obey those who rule over you, and be submissive, for they watch out for your souls, as those who must give account. Let them do so with joy and not with grief, for that would be unprofitable for you.
Prayer Requested
18Pray for us; for we are confident that we have a good conscience, in all things desiring to live honorably. 19But I especially urge you to do this, that I may be restored to you the sooner.
Benediction, Final Exhortation, Farewell
20Now may the God of peace who brought up our Lord Jesus from the dead, that great Shepherd of the sheep, through the blood of the everlasting covenant, 21make you complete in every good work to do His will, working in you what is well pleasing in His sight, through Jesus Christ, to whom be glory forever and ever. Amen.
Luke 6:17-23
Jesus Heals a Great Multitude
17And He came down with them and stood on a level place with a crowd of His disciples and a great multitude of people from all Judea and Jerusalem, and from the seacoast of Tyre and Sidon, who came to hear Him and be healed of their diseases, 18as well as those who were tormented with unclean spirits. And they were healed. 19And the whole multitude sought to touch Him, for power went out from Him and healed them all.
The Beatitudes
20Then He lifted up His eyes toward His disciples, and said:
"Blessed are you poor,
For yours is the kingdom of God.21Blessed are you who hunger now,
For you shall be filled.Blessed are you who weep now,
For you shall laugh.22Blessed are you when men hate you,
And when they exclude you,
And revile you, and cast out your name as evil,
For the Son of Man's sake.23Rejoice in that day and leap for joy!
For indeed your reward is great in heaven,
For in like manner their fathers did to the prophets.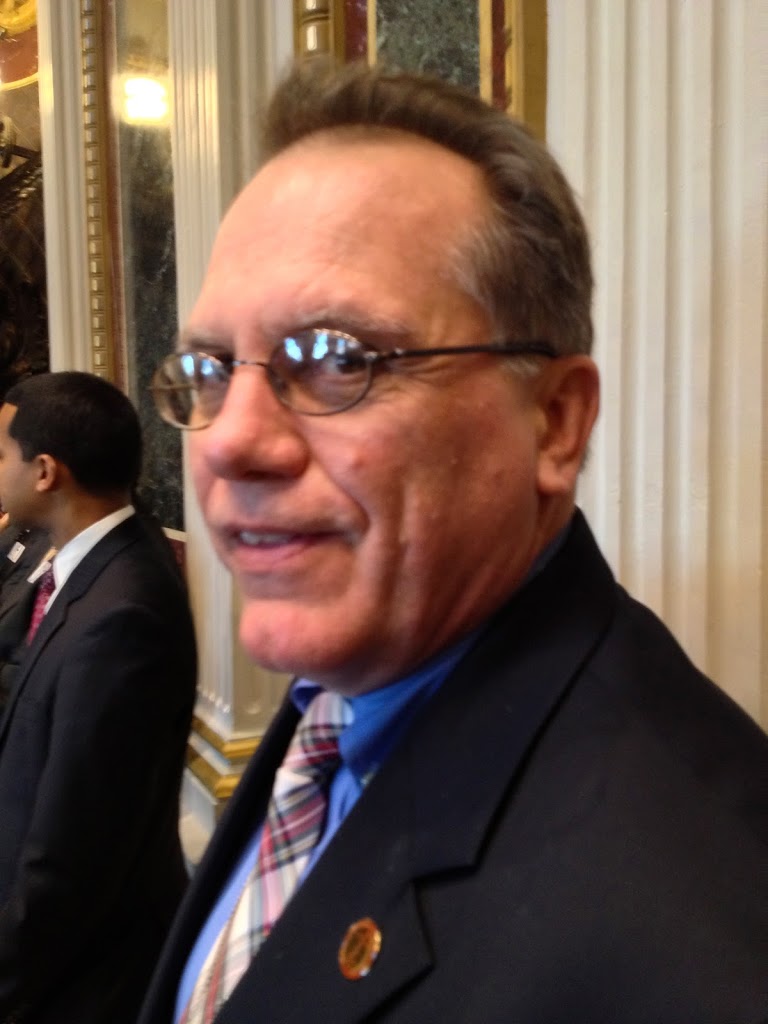 Daniel Christopulos
Please listen to my interview, recorded on a bus leaving the White House Complex, with Daniel Christopulos, U.S. Representative of International Orthodox Christian Charities: