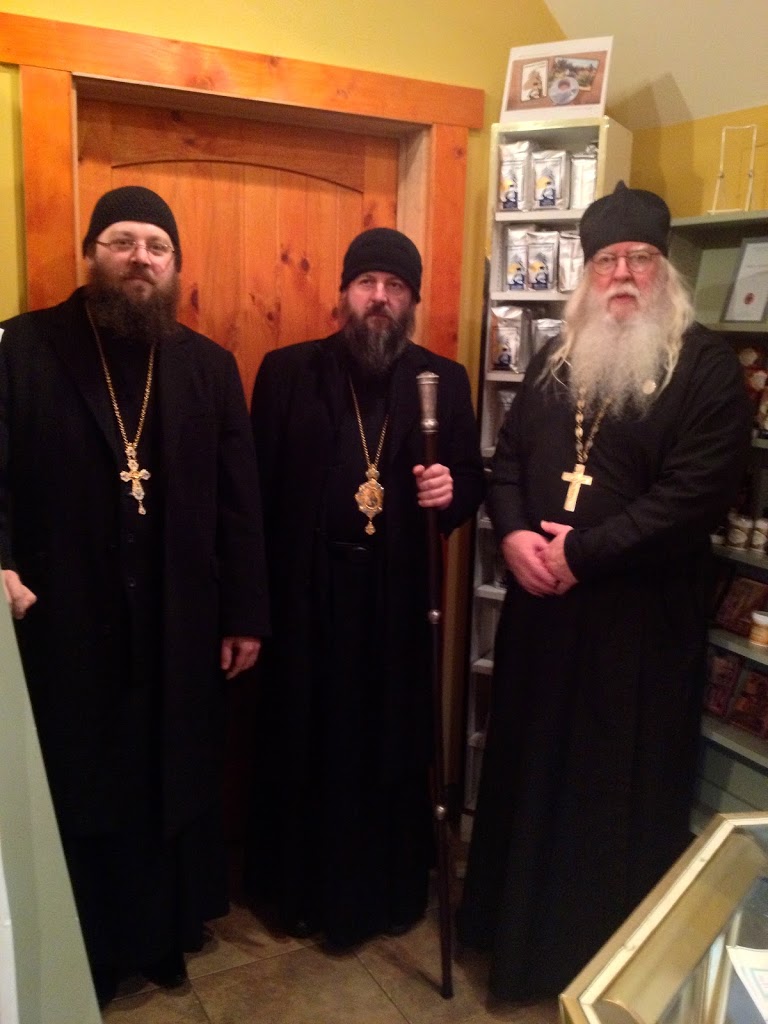 Archimandrite Irenei, Bishop Theodosius, and Abbot Tryphon
Thoughts That Arouse you to Judge Your Neighbor
At the very first sign we are tempted to judge our neighbor, we must condemn ourselves. Self-condemnation is the only weapon that assures us of escaping the sin of judging another, for when we make ourselves confront our own sin, the sin of another becomes invisible to us. When we condemn ourselves, we take the power of the demon that is tempting us, and crush it under our feet, banishing it with the weapon of self-condemnation. When we condemn ourselves, we can see the person who is heaping abuse upon us is, in reality, our benefactor, and has become an instrument with which God constructs our salvation.
With love in Christ,
Abbot Tryphon
Friday December 21, 2012
29th Week after Pentecost. Tone three.
Nativity (St. Philip's Fast). By Monastic Charter: Strict Fast (Bread, Vegetables, Fruits)
Venerable Patapius of Thebes (7th c.).
New Martyr John (Kochurov), priest (1918).
New Hieromartyr Sergius (1937)..
Venerable Cyril, abbot of Chelma Hill (1367).
Holy Apostles of the Seventy: Sosthenes, Apollos, Cephas, Tychicus, Epaphroditus, Caesar, and Onesiphorus.
Holy 362 Martyrs of Africa, martyred by the Arians, and Martyr Anthusa, at Rome (5th c.).
Martyr Anthusa at Rome (5th C).
St. Sophronius, bishop of Cyprus (8th c.).
St. Valerius, bishop of Trier (3rd c.).
St. Budoc, bishop of Plourin.
You can read the life of the saint in green, by click on the name.
THANK YOU, to all of you who have been able to contribute towards the support of the monastery. These difficult times of economic hardship have impacted the monastery, and those of you who have been able to donate, have been our lifeline. May God bless you for your generosity, and kindness.With love in Christ,
Abbot Tryphon
Hebrews 7:18-25
18For on the one hand there is an annulling of the former commandment because of its weakness and unprofitableness, 19for the law made nothing perfect; on the other hand, there is the bringing in of a better hope, through which we draw near to God.
Greatness of the New Priest
20And inasmuch as He was not made priest without an oath 21(for they have become priests without an oath, but He with an oath by Him who said to Him:
"The Lord has swornAnd will not relent,
'You are a priest forever
According to the order of Melchizedek'"),
22by so much more Jesus has become a surety of a better covenant.
23Also there were many priests, because they were prevented by death from continuing. 24But He, because He continues forever, has an unchangeable priesthood. 25Therefore He is also able to save to the uttermost those who come to God through Him, since He always lives to make intercession for them.
Luke 21:37-22:8
37And in the daytime He was teaching in the temple, but at night He went out and stayed on the mountain called Olivet. 38Then early in the morning all the people came to Him in the temple to hear Him.
The Plot to Kill Jesus
22 Now the Feast of Unleavened Bread drew near, which is called Passover. 2And the chief priests and the scribes sought how they might kill Him, for they feared the people.
3Then Satan entered Judas, surnamed Iscariot, who was numbered among the twelve. 4So he went his way and conferred with the chief priests and captains, how he might betray Him to them. 5And they were glad, and agreed to give him money. 6So he promised and sought opportunity to betray Him to them in the absence of the multitude.
Jesus and His Disciples Prepare the Passover
7Then came the Day of Unleavened Bread, when the Passover must be killed. 8And He sent Peter and John, saying, "Go and prepare the Passover for us, that we may eat."