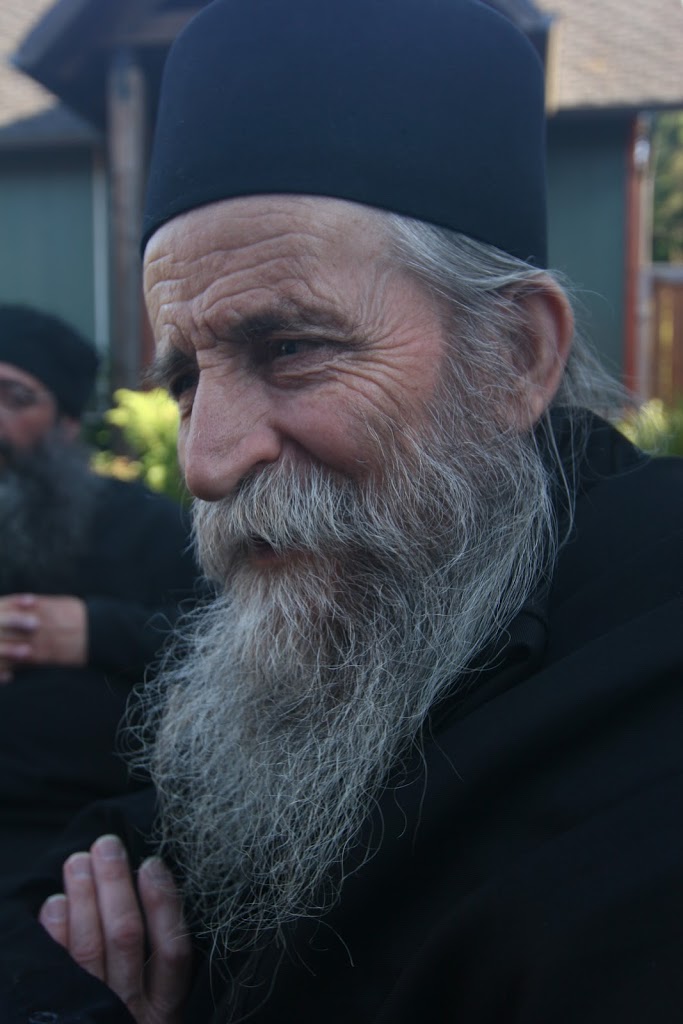 Elder Pavlos of Sinai
The Elder Pavlos of Sinai, who spent Saturday afternoon with us, recounted something about my own late spiritual father, Archimandrite Dimitry of Santa Rosa, that I'd forgotten. Father Dimitry, who had escaped from Communist Russia, having suffered beatings and imprisonment, never spoke against them, nor ever uttered a word in judgement regarding his former tormentors. Father Dimitry never spoke a word in judgement against anyone.
This demonstration of holiness is within the realm of possibility of us all, for it simply requires commitment on our part, and a willingness to never allow ourselves to utter a word of judgement against anyone. If we do this, we will learn we can love everyone, for when we decide to judge no one, love can enter our heart, and everyone will be the recipient of our love, and kindness, and mercy.
With love in Christ,
Abbot Tryphon
The brotherhood was blessed to have Archimandrite Pavlos of Saint Katherine's Monastery in the Sinai Desert, spend Saturday afternoon with us. Saint Katherine's is the oldest continually operating monastery in the world, and the site of the Burning Bush, which still grows within the walls of the monastery. The Elder Pavlos has been a monk in this monastery for forty years. Father Pavlos was accompanied by Sister Joanna, who acted as his translator. The Elder is not only the Spiritual Father of Saint Katherine's, but their chief gardener, as well. He accompanied our chief gardener, Father Paul, on a tour of our large organic garden. Our guests ate a meal with us, and left after the evening service. The brotherhood benefited greatly from the Elder's spiritual wisdom, and monastic counsel.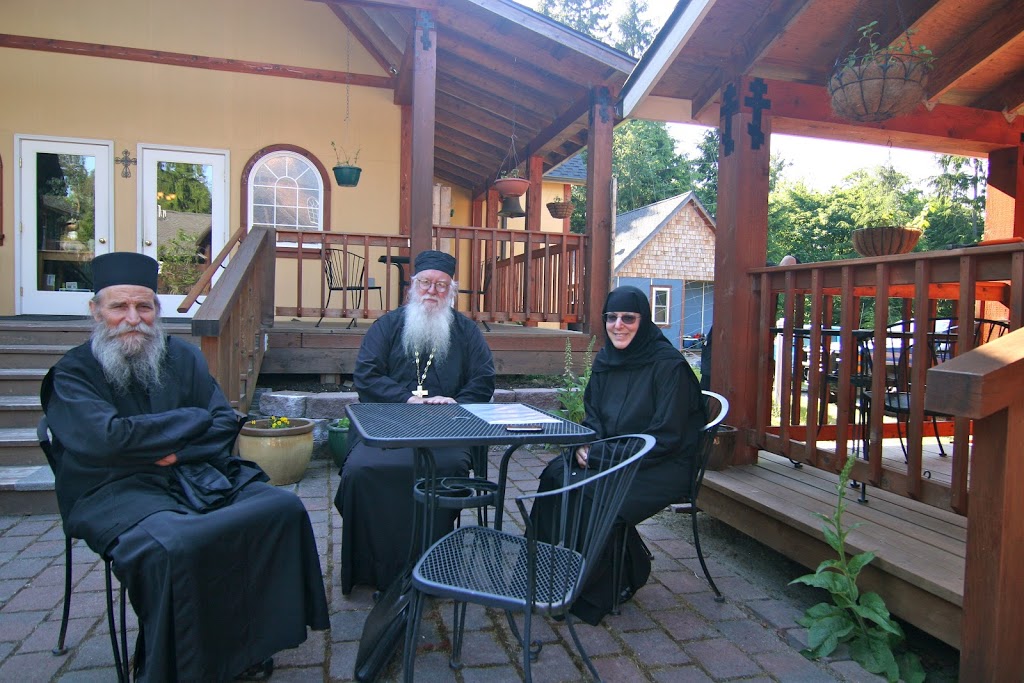 Elder Pavlos of Sinai, together with Abbot Tryphon and Sr. Joanna
click on photos to enlargeSunday May 27, 2012
Seventh Sunday of Pascha: The Fathers of the First Ecumenical Council. Tone six.
"Chelnsk" Icon of the Most Holy Theotokos named "Tenderness" (movable holiday on the 7th Sunday of Pascha).
Martyr Isidore of Chios (251).
St. Isidore, fool-for-Christ, wonderworker of Rostov (1474).
St. Matthew, Hieromonk of Yaramsk in Vyatka (1927).
New Hieromartyr Peter priest (1939).
Venerable Nicetas, bishop of Novgorod and recluse of the Kiev Caves (1108).
Martyr Maximus, under Decius (250).
Venerable Serapion the Sindonite, monk, of Egypt (542).
St. Leontius, patriarch of Jerusalem (1175).
Trebensk (1654) and Yaroslavl (Pechersk) Icons of the Mother of God (1823).
New Martyr John-Raiko of Shumena, Bulgaria (1802)) (Greek).
New Martyr Mark of Crete, at Smyrna (1643) (Greek).
First opening of the relics (1846) of St. Tikhon of Zadonsk (1783).
St. Aprunculus, bishop of Clermont in Gaul (Gaul).
Sts. Alexander, Barbarus, and Acolythus, martyred at the Church of Holy Peace by the Sea in Constantinople (Greek).
St. Andrew, abbot of Raphael (Tobolsk) (1820).
You can read the life of the saint in green, by click on the name.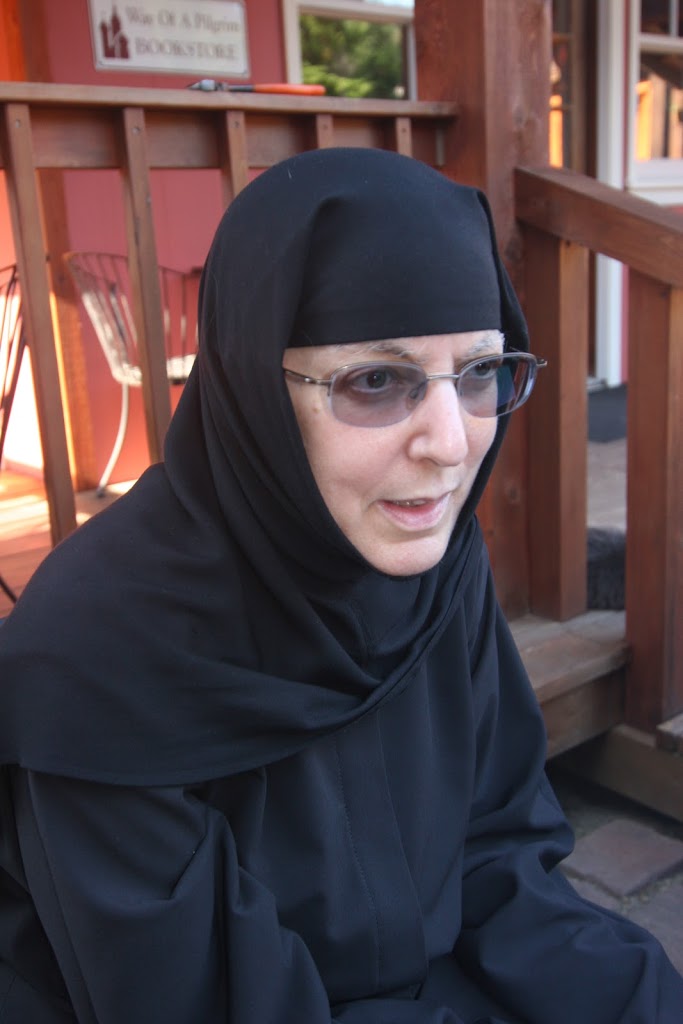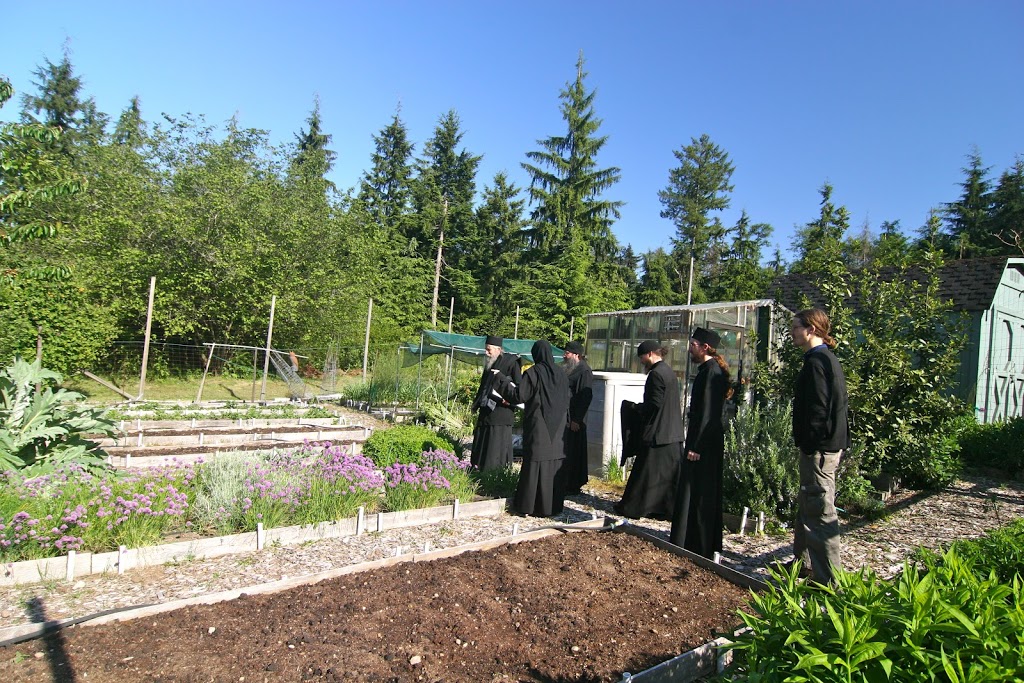 click on photos to enlarge
Our thanks and gratitude to all of you who have contributed to the monastery through your generous contributions. May God richly bless you for your kindness, and support, of this monastery.
With love and blessings,
Abbot Tryphon
Acts 20:16-18
16For Paul had decided to sail past Ephesus, so that he would not have to spend time in Asia; for he was hurrying to be at Jerusalem, if possible, on the Day of Pentecost.
The Ephesian Elders Exhorted
17From Miletus he sent to Ephesus and called for the elders of the church. 18And when they had come to him, he said to them: "You know, from the first day that I came to Asia, in what manner I always lived among you,
Acts 20:28-36
28Therefore take heed to yourselves and to all the flock, among which the Holy Spirit has made you overseers, to shepherd the church of God which He purchased with His own blood. 29For I know this, that after my departure savage wolves will come in among you, not sparing the flock. 30Also from among yourselves men will rise up, speaking perverse things, to draw away the disciples after themselves. 31Therefore watch, and remember that for three years I did not cease to warn everyone night and day with tears.
32"So now, brethren, I commend you to God and to the word of His grace, which is able to build you up and give you an inheritance among all those who are sanctified. 33I have coveted no one's silver or gold or apparel. 34Yes, you yourselves know that these hands have provided for my necessities, and for those who were with me. 35I have shown you in every way, by laboring like this, that you must support the weak. And remember the words of the Lord Jesus, that He said, 'It is more blessed to give than to receive.'"
36And when he had said these things, he knelt down and prayed with them all.
John 17:1-13
Jesus Prays for Himself
17 Jesus spoke these words, lifted up His eyes to heaven, and said: "Father, the hour has come. Glorify Your Son, that Your Son also may glorify You, 2as You have given Him authority over all flesh, that He should give eternal life to as many as You have given Him. 3And this is eternal life, that they may know You, the only true God, and Jesus Christ whom You have sent. 4I have glorified You on the earth. I have finished the work which You have given Me to do. 5And now, O Father, glorify Me together with Yourself, with the glory which I had with You before the world was.
Jesus Prays for His Disciples
6"I have manifested Your name to the men whom You have given Me out of the world. They were Yours, You gave them to Me, and they have kept Your word. 7Now they have known that all things which You have given Me are from You. 8For I have given to them the words which You have given Me; and they have received them, and have known surely that I came forth from You; and they have believed that You sent Me.
9"I pray for them. I do not pray for the world but for those whom You have given Me, for they are Yours. 10And all Mine are Yours, and Yours are Mine, and I am glorified in them. 11Now I am no longer in the world, but these are in the world, and I come to You. Holy Father, keep through Your name those whom You have given Me, that they may be one as We are. 12While I was with them in the world, I kept them in Your name. Those whom You gave Me I have kept; and none of them is lost except the son of perdition, that the Scripture might be fulfilled. 13But now I come to You, and these things I speak in the world, that they may have My joy fulfilled in themselves.