Mother of God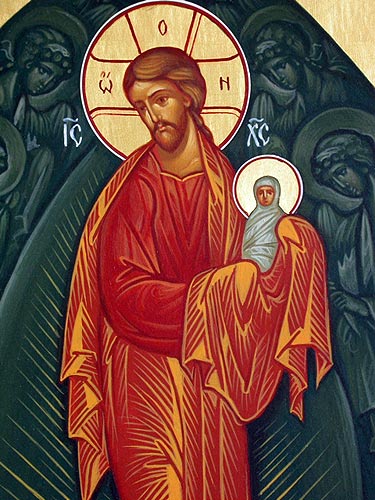 Today the Living Ladder is Assumed into Heaven
How does He, who dwells in the splendor of His glory, descend into the Virgin's womb without leaving the bosom of the Father?
How is He conceived in the flesh, and does He spontaneously suffer, and suffer unto death, in that material body, gaining immortality through corruptibility?
And, again, ascending to the Father, He drew His Mother, according to the flesh, to His own Father, assuming into the heavenly country her who was heaven on earth.
Today the living ladder, through whom the Most High descended and was seen on earth, and conversed with men, was assumed into heaven by death.
Today the heavenly table, she, who contained the bread of life, the fire of the Godhead, without knowing man, was assumed from earth to heaven, and the gates of heaven opened wide to receive the gate of God from the East.
Saint John of Damascus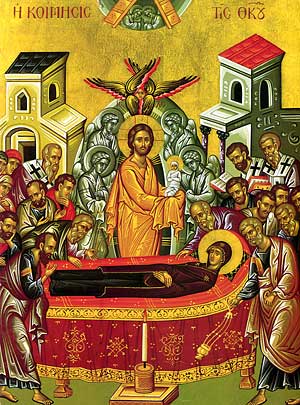 Sunday August 28, 2011
11th Sunday after Pentecost. Tone two.
The Dormition of Our Most Holy Lady the Theotokos and Ever-Virgin Mary.
.
Philippians 2:5-11
The Humbled and Exalted Christ
5 Let this mind be in you which was also in Christ Jesus, 6 who, being in the form of God, did not consider it robbery to be equal with God, 7 but made Himself of no reputation, taking the form of a bondservant, and coming in the likeness of men. 8 And being found in appearance as a man, He humbled Himself and became obedient to the point of death, even the death of the cross. 9 Therefore God also has highly exalted Him and given Him the name which is above every name, 10 that at the name of Jesus every knee should bow, of those in heaven, and of those on earth, and of those under the earth, 11 and that every tongue should confess that Jesus Christ is Lord, to the glory of God the Father.
Luke 10:38-42
Mary and Martha Worship and Serve
38 Now it happened as they went that He entered a certain village; and a certain woman named Martha welcomed Him into her house. 39 And she had a sister called Mary, who also sat at Jesus' feet and heard His word. 40 But Martha was distracted with much serving, and she approached Him and said, "Lord, do You not care that my sister has left me to serve alone? Therefore tell her to help me."
41 And Jesus answered and said to her, "Martha, Martha, you are worried and troubled about many things. 42 But one thing is needed, and Mary has chosen that good part, which will not be taken away from her."
Luke 11:27-28
Keeping the Word
27 And it happened, as He spoke these things, that a certain woman from the crowd raised her voice and said to Him, "Blessed is the womb that bore You, and the breasts which nursed You!"
28 But He said, "More than that, blessed are those who hear the word of God and keep it!"