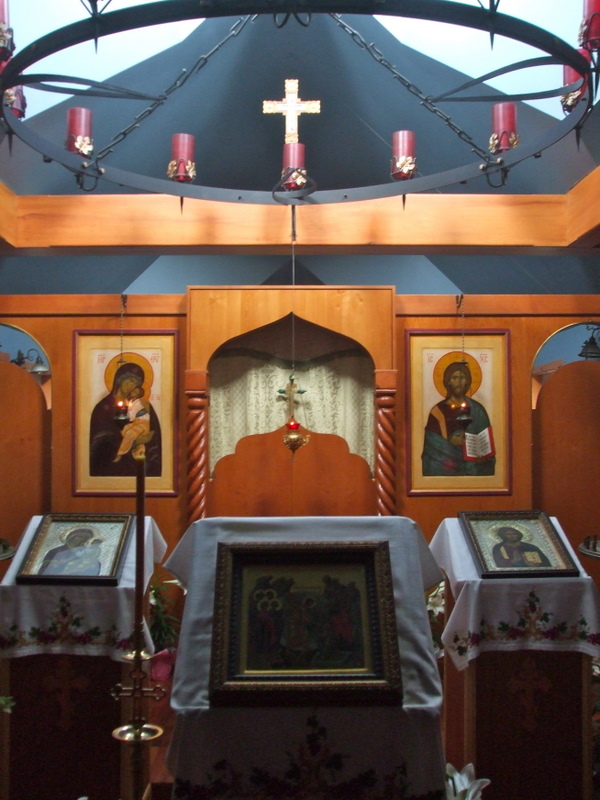 Christ is Risen! Truly He is Risen!
May 1, 2011 / April 18, 2011
Second Sunday of Pascha: Antipascha, St. Thomas Sunday.

"Sladkoe lobzanie" Icon of the Most Holy Theotokos (9th c.) (movable holiday on the Antipascha).


Venerable John, disciple of St. Gregory of Decapolis (820).


New Hieromartyr Bessarion priest (1918).


New Hieromartyrs Priests Nicholas (1937) and Basil (Derzhavin) (1930) and lay people of the city of Gorodets, Nizhni-Novgorod.


Virgin-martyr Tamara (1942).


Martyrs Victor, Zoticus, Zeno, Acindynus, and Severian of Nicomedia (ca. 303).


Venerable Cosmas, bishop of Chalcedon, and his fellow-ascetic Venerable Auxentius (815-820).


New Martyr John the Tailor of Ioannina, at Constantinople (1526).


"Maximov" Icon of the Mother of God (1299).


Venerable Euthymius the Enlightener of Karelia (1435), and Venerables Anthony and Felix of St. Nicholas Monastery in Karelia.


Monks John and Athanasius of Aegina (Greek).


St. Naucratius, abbot of the Studion (848).


St. Athanasia the Wonderworker of Aegina (9th c.).


St. Basil Ratishvili of the Holy Mountain, Georgia (13th c.).


Martyr Sabbas the Goth (372).
Photo of the Day:
We were honored with a visit by an old friend, Protopresbyter William Weir, of Assumption of the Blessed Virgin Mary Serbian Orthodox Church, in Fair Oaks, CA. Father William, accompanied by his dear wife, Matushka Mary Anne, spent part of Saturday with us.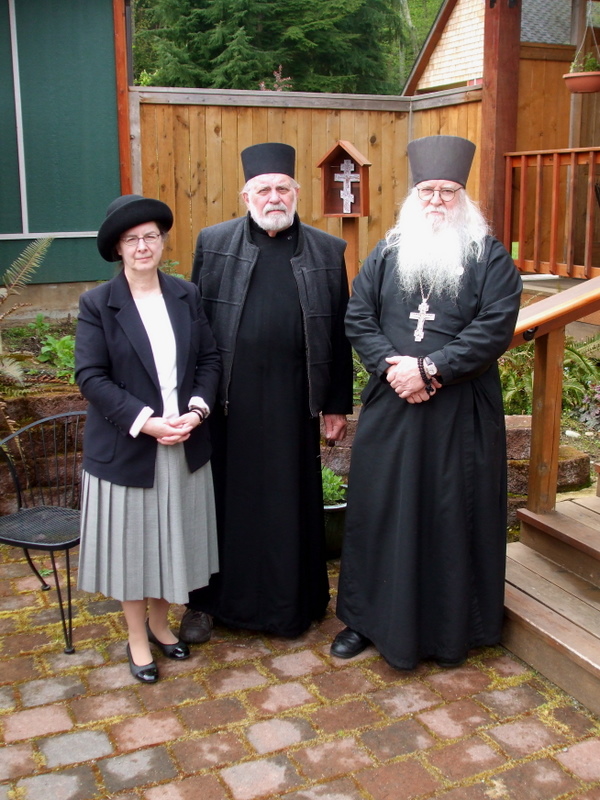 A Word from the Abbot:
Christ is Risen!
Today is Thomas Sunday, called so after Saint Thomas the Apostle, who wanted to place his hands in the wounds of Christ, before he would believe that He had risen from the dead. Thomas is like all of us. He is the "everyman", who would one day be a great missionary for Christ, and do remarkable things. He had his moments, just like us, where he was fearful. He, like us, was weak in his faith, and lacked a courageous heart, yet he gained all, by his belief in the midst of his unbelief. We, if we follow his example, can do great things, and be all that God designed us to be, when He created us in His image and likeness. Even in our weakness, and unbelief, we, like Saint Thomas, can be great men and women of Faith. He is "everyman", just as are we. He did great things, and so can we. He followed Christ into eternity, and so can we!
Love in the Risen Lord Jesus Christ,
Abbot Tryphon
Scripture Readings for the Day
Acts 5:12-20
Continuing Power in the Church
12 And through the hands of the apostles many signs and wonders were done among the people. And they were all with one accord in Solomon's Porch. 13 Yet none of the rest dared join them, but the people esteemed them highly. 14 And believers were increasingly added to the Lord, multitudes of both men and women, 15 so that they brought the sick out into the streets and laid them on beds and couches, that at least the shadow of Peter passing by might fall on some of them. 16 Also a multitude gathered from the surrounding cities to Jerusalem, bringing sick people and those who were tormented by unclean spirits, and they were all healed.
Imprisoned Apostles Freed
17 Then the high priest rose up, and all those who were with him (which is the sect of the Sadducees), and they were filled with indignation, 18 and laid their hands on the apostles and put them in the common prison. 19 But at night an angel of the Lord opened the prison doors and brought them out, and said, 20 "Go, stand in the temple and speak to the people all the words of this life."
John 20:19-31
19 Then, the same day at evening, being the first day of the week, when the doors were shut where the disciples were assembled, for fear of the Jews, Jesus came and stood in the midst, and said to them, "Peace be with you." 20 When He had said this, He showed them His hands and His side. Then the disciples were glad when they saw the Lord.
21 So Jesus said to them again, "Peace to you! As the Father has sent Me, I also send you." 22 And when He had said this, He breathed on them, and said to them, "Receive the Holy Spirit. 23 If you forgive the sins of any, they are forgiven them; if you retain the sins of any, they are retained."
Seeing and Believing
24 Now Thomas, called the Twin, one of the twelve, was not with them when Jesus came. 25 The other disciples therefore said to him, "We have seen the Lord."
So he said to them, "Unless I see in His hands the print of the nails, and put my finger into the print of the nails, and put my hand into His side, I will not believe."
26 And after eight days His disciples were again inside, and Thomas with them. Jesus came, the doors being shut, and stood in the midst, and said, "Peace to you!" 27 Then He said to Thomas, "Reach your finger here, and look at My hands; and reach your hand here, and put it into My side. Do not be unbelieving, but believing."
28 And Thomas answered and said to Him, "My Lord and my God!"
29 Jesus said to him, "Thomas, because you have seen Me, you have believed. Blessed are those who have not seen and yet have believed."
That You May Believe
30 And truly Jesus did many other signs in the presence of His disciples, which are not written in this book; 31 but these are written that you may believe that Jesus is the Christ, the Son of God, and that believing you may have life in His name.