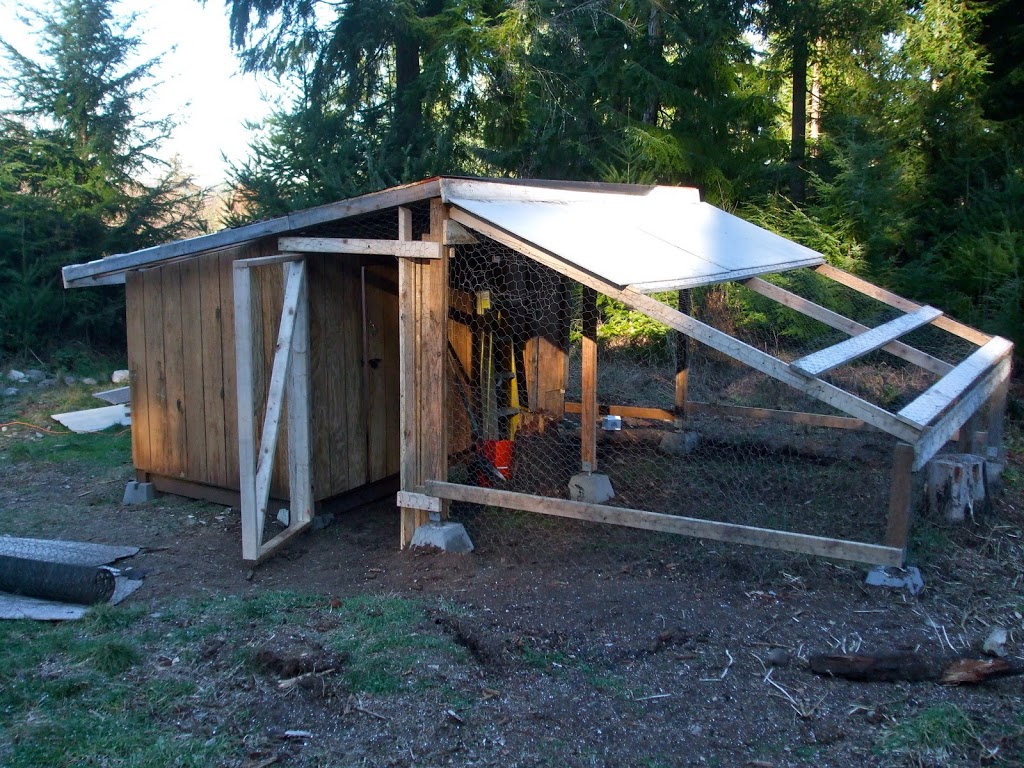 Our Monastery's chicken coop progresses towards completion.
32nd Week after Pentecost. Tone six.
Nativity (St. Philip's Fast). Fish Allowed

Saturday the Nativity of our Lord God and Savior Jesus Christ


Martyr Boniface at Tarsus in Cilicia (290) and Righteous Aglae (Aglaida) of Rome.


Venerable Elias of Murom, wonderworker of the Kiev Caves (1188).


Martyrs Elias, Probus, and Ares, in Cilicia (308.


Martyrs Polyeuctus at Caesarea in Cappadocia, and Timothy the Deacon in Mauretania (309).


St. Boniface the Merciful, bishop of Ferentino (6th c.).


St. Gregory (Gregentius), archbishop of Omirits (552).


Hieromartyr Capito, bishop of Cherson (4th c.).


Martyra Hermylus and Phocas.


Martyrs Eutyches and Thessalonica and with them 200 men and 70 women (Greek).


Sts. George the Scribe and Sabbas of Khakhuli (11th c.).
This is the lift top nesting box, making the retrieval of eggs an easy task.
A Word from Abbot Tryphon:
Wishing all of you a Happy New Year.
With love in Christ,
Abbot Tryphon
Scripture Readings for the Day
Galatians 3:8-12
8 And the Scripture, foreseeing that God would justify the Gentiles by faith, preached the gospel to Abraham beforehand, saying, "In you all the nations shall be blessed." 9 So then those who are of faith are blessed with believing Abraham.
The Law Brings a Curse
10 For as many as are of the works of the law are under the curse; for it is written, "Cursed is everyone who does not continue in all things which are written in the book of the law, to do them." 11 But that no one is justified by the law in the sight of God is evident, for "the just shall live by faith." 12 Yet the law is not of faith, but "the man who does them shall live by them."
Luke 13:18-29
The Parable of the Mustard Seed18 Then He said, "What is the kingdom of God like? And to what shall I compare it? 19 It is like a mustard seed, which a man took and put in his garden; and it grew and became a large tree, and the birds of the air nested in its branches."
The Parable of the Leaven
20 And again He said, "To what shall I liken the kingdom of God? 21 It is like leaven, which a woman took and hid in three measures of meal till it was all leavened."
The Narrow Way
22 And He went through the cities and villages, teaching, and journeying toward Jerusalem. 23 Then one said to Him, "Lord, are there few who are saved?"
And He said to them, 24 "Strive to enter through the narrow gate, for many, I say to you, will seek to enter and will not be able. 25 When once the Master of the house has risen up and shut the door, and you begin to stand outside and knock at the door, saying, 'Lord, Lord, open for us,' and He will answer and say to you, 'I do not know you, where you are from,' 26 then you will begin to say, 'We ate and drank in Your presence, and You taught in our streets.' 27 But He will say, 'I tell you I do not know you, where you are from. Depart from Me, all you workers of iniquity.' 28 There will be weeping and gnashing of teeth, when you see Abraham and Isaac and Jacob and all the prophets in the kingdom of God, and yourselves thrust out. 29 They will come from the east and the west, from the north and the south, and sit down in the kingdom of God.