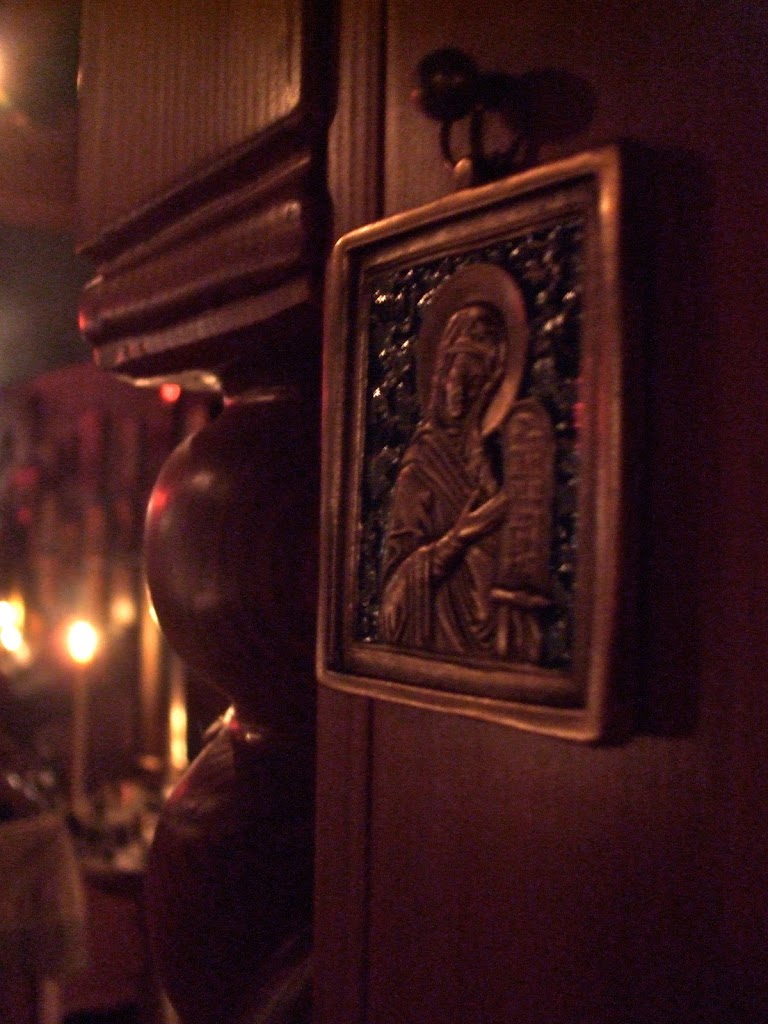 31st Week after Pentecost. Tone five.
Nativity (St. Philip's Fast). By Monastic Charter: Strict Fast (Bread, Vegetables, Fruits)

The Conception by St. Anna of the Most Holy Theotokos.


New Hieromartyr Vladimir priest (1919).


New Hieromartyr Vladimir priest and Virgin-martyr Ephrosia (1920).


New Hieromartyrs Basil and Alexander priests (1937).


New Martyr Priest Sergius Mechev of Moscow (1941).


Prophetess Anna (Hannah) (1100 B.C.), mother of the Prophet Samuel.


Saint Sophronios, Archbishop of Cyprus (6th C).


Venerable Stephen the "New Light" of Constantinople (912).


Icon of the Mother of God, named "Unexpected Joy".


Martyr Narses of Persia (Greek).


St. Valeria of Aquitaine (2nd c.).


Martyr Sositheus of Persia (553).


Martyr Isaak (Greek).
Quote of the Day
"I behold a new and wondrous mystery. My ears resound to the Shepherds' song, piping no soft melody, but chanting full forth a heavenly hymn. The Angels sing. The Archangels blend their voice in harmony. The Cherubim hymn their joyful praise. The Seraphim exalt His glory. All join to praise this holy feast, beholding the Godhead here on earth, and man in heaven. He Who is above, now for our redemption dwells here below; and he that was lowly is by divine mercy raised."
Saint John Chrysostom
Scripture Readings for the Day
Galatians 4:22-31
22 For it is written that Abraham had two sons: the one by a bondwoman, the other by a freewoman. 23 But he who was of the bondwoman was born according to the flesh, and he of the freewoman through promise, 24 which things are symbolic. For these are the two covenants: the one from Mount Sinai which gives birth to bondage, which is Hagar— 25 for this Hagar is Mount Sinai in Arabia, and corresponds to Jerusalem which now is, and is in bondage with her children— 26 but the Jerusalem above is free, which is the mother of us all. 27 For it is written:
" Rejoice, O barren,
You who do not bear!
Break forth and shout,
You who are not in labor!
For the desolate has many more children
Than she who has a husband."
28 Now we, brethren, as Isaac was, are children of promise. 29 But, as he who was born according to the flesh then persecuted him who was born according to the Spirit, even so it is now. 30 Nevertheless what does the Scripture say? "Cast out the bondwoman and her son, for the son of the bondwoman shall not be heir with the son of the freewoman." 31 So then, brethren, we are not children of the bondwoman but of the free.
Luke 8:16-21
The Parable of the Revealed Light16 "No one, when he has lit a lamp, covers it with a vessel or puts it under a bed, but sets it on a lampstand, that those who enter may see the light. 17 For nothing is secret that will not be revealed, nor anything hidden that will not be known and come to light. 18 Therefore take heed how you hear. For whoever has, to him more will be given; and whoever does not have, even what he seems to have will be taken from him."
Jesus' Mother and Brothers Come to Him
19 Then His mother and brothers came to Him, and could not approach Him because of the crowd. 20 And it was told Him by some, who said, "Your mother and Your brothers are standing outside, desiring to see You."
21 But He answered and said to them, "My mother and My brothers are these who hear the word of God and do it."