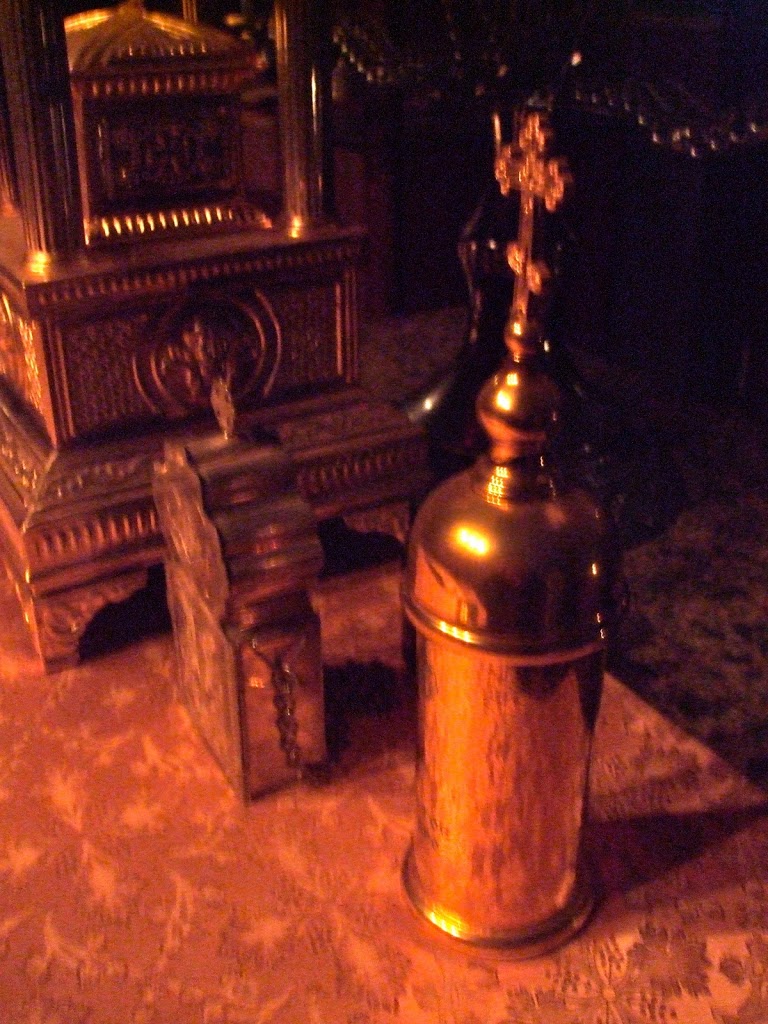 31st Week after Pentecost. Tone five.
Nativity (St. Philip's Fast). Food with Oil

Martyrs Menas the Melodius, Hermogenes, and Eugraphus of Alexandria (310).


St. Ioasaph, bishop of Belgorod (1754).


New Hieromartyr Jacob and Alexander priests, Hieromartyr Eugraph and his son (1918).


New Hieromartyrs Anatolius, Alexander, Eugine, Constantine, Nicholas priests and with them Martyrs Peter, Michael, Dorotheus, Laurentius, Gregory and Virgin-martyrs Alexandra and Tatiana, New Hieromartyr Michael priest, New Hieromartyr Sergius (1937).


Virgin-martyr Eudocia (after 1937).


New Hieromartyrs Nicholas and Alexis priests (1938).


Virgin-martyrs Anna and Tatiana confessors (1948).


Virgin-martyr Thecla confessor (1954).


Venerable Anna confessor (1958).


Martyr Gemellus of Paphlagonia (361).


Venerable Thomas of Bithynia (10th c.).


Blessed John, king of Serbia (1503), and his parents Stephen (1468) and Angelina Brancovich (16th c.).


Hieromartyr Theotecnus (Greek).


Martyr Marianus (Greek).


Martyr Eugene (Greek).
Quote of the Day
"If you happen to witness your neighbor's fault, pray for yourself, lest you succumb to a similar evil, for we are all capable of it and ready to fall on any occasion; but, above all, seal your mouth by silence, and inwardly sigh to God about this brother, that God may straighten him."
Saint Tikhon of Zadonsk
Scripture Readings for the Day
James 1:19-27
Qualities Needed in Trials19 So then, my beloved brethren, let every man be swift to hear, slow to speak, slow to wrath; 20 for the wrath of man does not produce the righteousness of God.
Doers—Not Hearers Only
21 Therefore lay aside all filthiness and overflow of wickedness, and receive with meekness the implanted word, which is able to save your souls.
22 But be doers of the word, and not hearers only, deceiving yourselves. 23 For if anyone is a hearer of the word and not a doer, he is like a man observing his natural face in a mirror; 24 for he observes himself, goes away, and immediately forgets what kind of man he was. 25 But he who looks into the perfect law of liberty and continues in it, and is not a forgetful hearer but a doer of the work, this one will be blessed in what he does.
26 If anyone among you thinks he is religious, and does not bridle his tongue but deceives his own heart, this one's religion is useless. 27 Pure and undefiled religion before God and the Father is this: to visit orphans and widows in their trouble, and to keep oneself unspotted from the world.
Luke 21:28-33
28 Now when these things begin to happen, look up and lift up your heads, because your redemption draws near."
The Parable of the Fig Tree
29 Then He spoke to them a parable: "Look at the fig tree, and all the trees. 30 When they are already budding, you see and know for yourselves that summer is now near. 31 So you also, when you see these things happening, know that the kingdom of God is near. 32 Assuredly, I say to you, this generation will by no means pass away till all things take place. 33 Heaven and earth will pass away, but My words will by no means pass away.