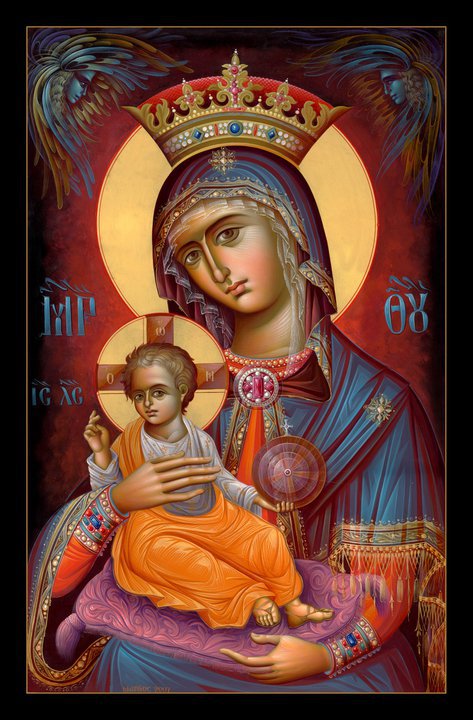 31st Week after Pentecost. Tone five.
Nativity (St. Philip's Fast). Fish Allowed

St. Spyridon the Wonderworker of Tremithon (348).


Venerable Therapontes, abbot of Monza (1597).


Hieromartyr Alexander, bishop of Jerusalem (251).


Martyr Synesius of Rome (3rd c.).


Venerable Herman, Wonderworker of Alaska (1836).


Synaxis of the First Martyrs of the American land: Hieromartyr Juvenal, Peter the Aleut, and New Martyrs of Russia Anatole (Kamensky) of Irkutsk and Seraphim (Samoilovich) of Uglich and priests John (Kochurov) of Chicago and Alexander (Khotovitsky) of New York.


Venerable Finian, founder of Clonard and Skellig Michael (Ireland) (549) (Celtic & British).


Venerable Colman of Glendalough (Ireland) (659) (Celtic & British).


St. John, metropolitan of Zichon, founder of the monastery of the Forerunner on Mt. Menikion (1333) (Greek).


Sts. Amonathus and Anthus, monks (Greek).


Martyr John, abbot of Zedazeni, Georgia (9th c.) (Georgia).
Quote of the Day
"The more the victor has to struggle, the more he is honoured, and from this he derives great joy. When such a person hears the sound of the trumpet, he does not feel fear because it summons him to face death, but rather he rejoices because it foretells the glory that awaits him. For there is nothing that so readily prepares one for victory as bravery combined with a firm faith; and nothing so readily prepares one for defeat as self-centredness and the cowardice that comes from lack of faith."
Saint Peter of Damaskos
Scripture Readings for the Day
Colossians 1:3-6
Their Faith in Christ
3 We give thanks to the God and Father of our Lord Jesus Christ, praying always for you, 4 since we heard of your faith in Christ Jesus and of your love for all the saints; 5 because of the hope which is laid up for you in heaven, of which you heard before in the word of the truth of the gospel, 6 which has come to you, as it has also in all the world, and is bringing forth fruit, as it is also among you since the day you heard and knew the grace of God in truth;
Luke 13:18-29
The Parable of the Mustard Seed
18 Then He said, "What is the kingdom of God like? And to what shall I compare it? 19 It is like a mustard seed, which a man took and put in his garden; and it grew and became a large tree, and the birds of the air nested in its branches."
The Parable of the Leaven
20 And again He said, "To what shall I liken the kingdom of God? 21 It is like leaven, which a woman took and hid in three measures of meal till it was all leavened."
The Narrow Way
22 And He went through the cities and villages, teaching, and journeying toward Jerusalem. 23 Then one said to Him, "Lord, are there few who are saved?"
And He said to them, 24 "Strive to enter through the narrow gate, for many, I say to you, will seek to enter and will not be able. 25 When once the Master of the house has risen up and shut the door, and you begin to stand outside and knock at the door, saying, 'Lord, Lord, open for us,' and He will answer and say to you, 'I do not know you, where you are from,' 26 then you will begin to say, 'We ate and drank in Your presence, and You taught in our streets.' 27 But He will say, 'I tell you I do not know you, where you are from. Depart from Me, all you workers of iniquity.' 28 There will be weeping and gnashing of teeth, when you see Abraham and Isaac and Jacob and all the prophets in the kingdom of God, and yourselves thrust out. 29 They will come from the east and the west, from the north and the south, and sit down in the kingdom of God.