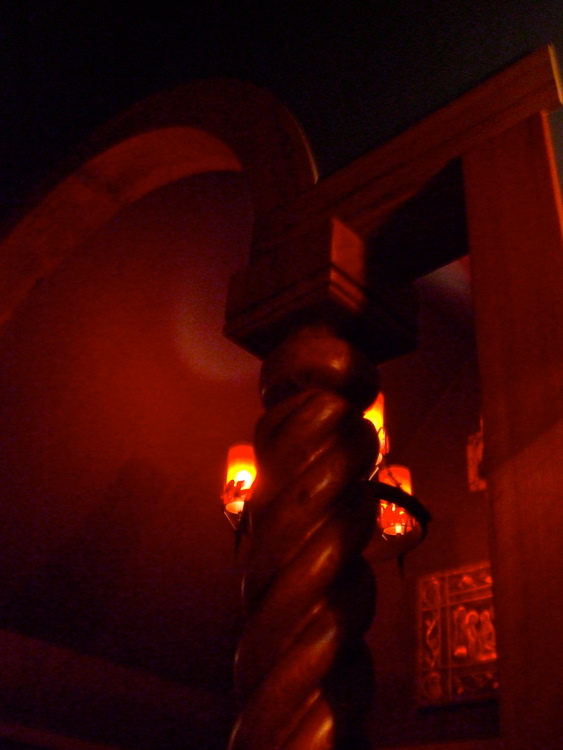 One of the Pillars in the Narthex.
29th Week after Pentecost. Tone three.
Nativity (St. Philip's Fast). By Monastic Charter: Strict Fast (Bread, Vegetables, Fruits)

Apodosis of the Entryof the Most Holy Theotokos into the Temple.


Hieromartyr Clement, pope of Rome (101).


Hieromartyr Peter, archbishop of Alexandria (311).


New Hieromartyrs Seraphim archbishop of Smolensk, Gregory, John, Basil, Cosmas, John, Simeon, Hilarion, Iaroslav, Alexander, John, Voctor, Andrew priests and Martyr Paul (1937).


Martyr Nicholas (1938).


Venerable Peter the Silent, of Galata, Syria (429).


St Clement, Bishop of Ochrid and Enlightener of the Bulgarians.


Great-martyr Catherine of Alexandria (305) (Greek).
Quote of the Day
"He says that on the last day of a person's biological life "sins contort his soul", they stir up his soul. This refers to the passions which "move up from below the heart". The passions seek satisfaction, but the person cannot respond. It is a terrible state."
Metropolitan Hierotheos Vlakos of Nafpaktos
Scripture Readings for the Day
Hebrews 5:11-6:8
11 of whom we have much to say, and hard to explain, since you have become dull of hearing.
Spiritual Immaturity
12 For though by this time you ought to be teachers, you need someone to teach you again the first principles of the oracles of God; and you have come to need milk and not solid food. 13 For everyone who partakes only of milk is unskilled in the word of righteousness, for he is a babe. 14 But solid food belongs to those who are of full age, that is, those who by reason of use have their senses exercised to discern both good and evil.
Hebrews 6
The Peril of Not Progressing
1 Therefore, leaving the discussion of the elementary principles of Christ, let us go on to perfection, not laying again the foundation of repentance from dead works and of faith toward God, 2 of the doctrine of baptisms, of laying on of hands, of resurrection of the dead, and of eternal judgment. 3 And this we will do if God permits.
4 For it is impossible for those who were once enlightened, and have tasted the heavenly gift, and have become partakers of the Holy Spirit, 5 and have tasted the good word of God and the powers of the age to come, 6 if they fall away, to renew them again to repentance, since they crucify again for themselves the Son of God, and put Him to an open shame.
7 For the earth which drinks in the rain that often comes upon it, and bears herbs useful for those by whom it is cultivated, receives blessing from God; 8 but if it bears thorns and briers, it is rejected and near to being cursed, whose end is to be burned.
Luke 18:15-17
Jesus Blesses Little Children15 Then they also brought infants to Him that He might touch them; but when the disciples saw it, they rebuked them. 16 But Jesus called them to Him and said, "Let the little children come to Me, and do not forbid them; for of such is the kingdom of God. 17 Assuredly, I say to you, whoever does not receive the kingdom of God as a little child will by no means enter it."
Luke 18:26-30
26 And those who heard it said, "Who then can be saved?"
27 But He said, "The things which are impossible with men are possible with God."
28 Then Peter said, "See, we have left all and followed You."
29 So He said to them, "Assuredly, I say to you, there is no one who has left house or parents or brothers or wife or children, for the sake of the kingdom of God, 30 who shall not receive many times more in this present time, and in the age to come eternal life."