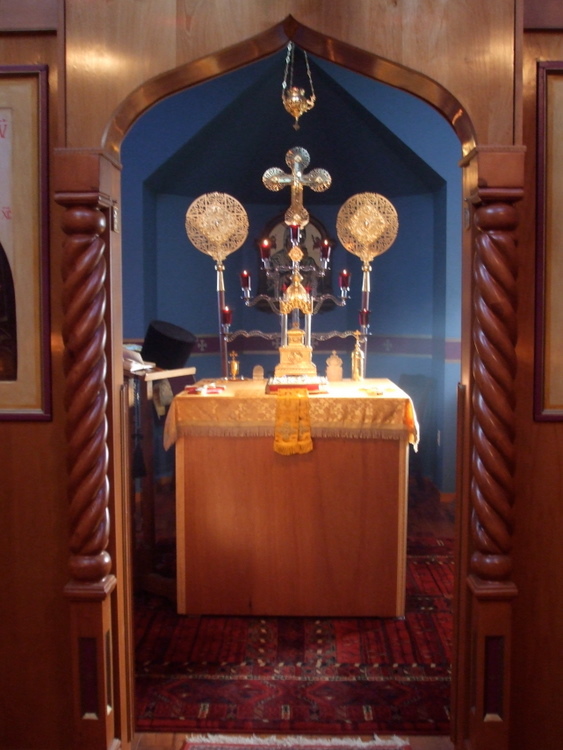 The Holy Altar of the Temple
29th Week after Pentecost. Tone three.
Nativity (St. Philip's Fast). By Monastic Charter: Food without Oil

Afterfeast of the Entry of the Most Holy Theotokos into the Temple.


St. Amphilochius, bishop of Iconium (394).


St. Gregory, bishop of Agrigentum (680).


St. Alexander Nevsky (in schema Alexis), grand prince of Novgorod (1263).


St. Metrophanes (in schema Macarius), bishop of Voronezh (1703).


New Hieromartyr Seraphim (1931).


St. John confessor (1932).


New Hieromartyr Boris bishop of Ivanonsk, Eleazar Spyridonov of Eupatoria priest, Crimea and Martyr Alexander (1937).


New Martyr Archimandrite Gregory (Peradze) of Georgia, who suffered in Auschwitz, Poland (1942).


St. Sisinius the confessor, bishop of Cyzicus (ca. 325).


Martyr Theodore of Antioch (4th c.).


Venerable Ischyrion, bishop in Egypt and hermit of Scete.


St. Amphilochius of the Kiev Caves, bishop of Volhynia (1122).


St. Anthony of lezeru-Vilcea (1714) (Romania).


Venerable Trudo, abbot (693) (Neth.).


St. Helenus of Tarsus, bishop (Greek).


St. Dionysius I, patriarch of Constantinople (15th c.).
Quote of the Day
"…Do not give yourself over to grief, do not be disturbed, do not run away; but consider yourself as dust before the feet of others."
Saint Paisius Velichkovsky
"Field Flowers"
Scripture Readings for the Day
Hebrews 3:5-11
5 And Moses indeed was faithful in all His house as a servant, for a testimony of those things which would be spoken afterward, 6 but Christ as a Son over His own house, whose house we are if we hold fast the confidence and the rejoicing of the hope firm to the end.
Be Faithful
7 Therefore, as the Holy Spirit says:
" Today, if you will hear His voice,
8 Do not harden your hearts as in the rebellion,
In the day of trial in the wilderness,
9 Where your fathers tested Me, tried Me,
And saw My works forty years.
10 Therefore I was angry with that generation,
And said, 'They always go astray in their heart,
And they have not known My ways.'
11 So I swore in My wrath,
'They shall not enter My rest.'"
Luke 17:20-25
The Coming of the Kingdom20 Now when He was asked by the Pharisees when the kingdom of God would come, He answered them and said, "The kingdom of God does not come with observation; 21 nor will they say, 'See here!' or 'See there!' For indeed, the kingdom of God is within you."
22 Then He said to the disciples, "The days will come when you will desire to see one of the days of the Son of Man, and you will not see it. 23 And they will say to you, 'Look here!' or 'Look there!' Do not go after them or follow them. 24 For as the lightning that flashes out of one part under heaven shines to the other part under heaven, so also the Son of Man will be in His day. 25 But first He must suffer many things and be rejected by this generation.