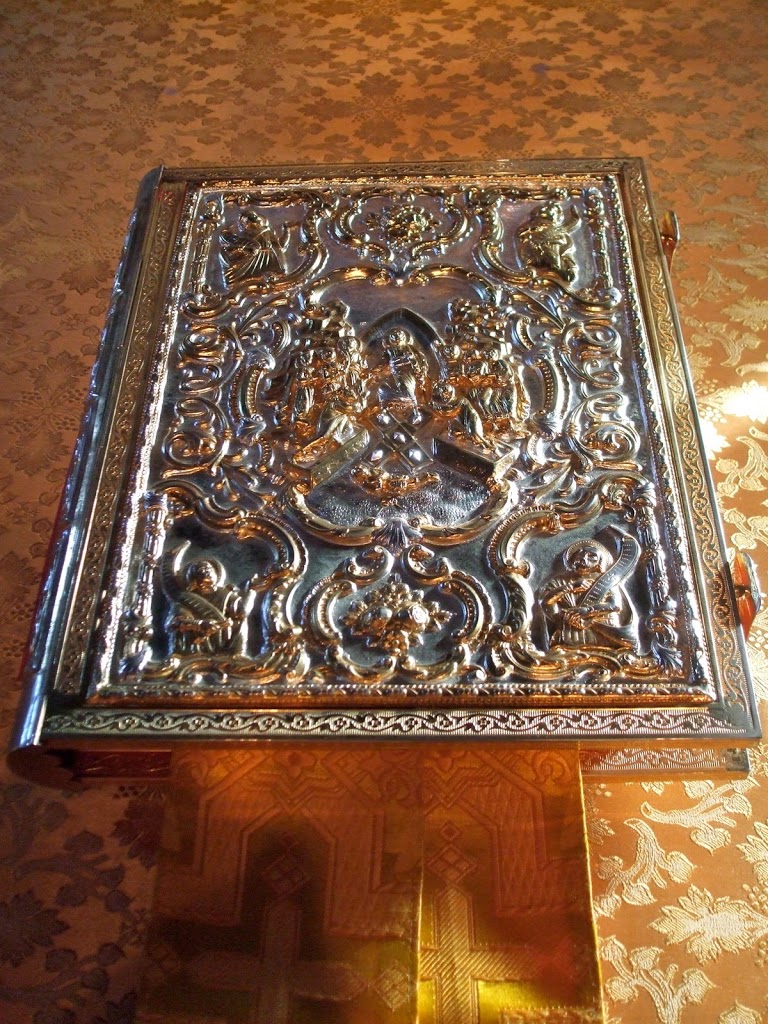 31st Week after Pentecost. Tone five.
Nativity (St. Philip's Fast). By Monastic Charter: Strict Fast (Bread, Vegetables, Fruits)

Venerable Daniel the Stylite of Constantinopole (490).


New Hieromartyr Theophan, bishop of Solokamsk (1918) and with him 2 Hieromartyrs and 5 Martyrs (1918).


New Hieromartyr Nicholas priest (1937).


New Hieromartyr John priest (1941).


St. Kuksha (Velichko), hieroschemamonk of Odessa (1964).


Venerable Nicon the Dry of Kiev Caves (1101).


Martyr Mirax of Egipt (640).


Martyr Acepsius and Aeithalas at Arbela in Assyria (354).


Venerable Luke the New Stylite of Chalcedon (979).


Venerable Leontius, monk, of Monemdasia in the Peloponnesus (1450).


Monk-martyr Barsabas, abbot og Ishtar and 10 companions in Persia (342).


All Saints of Georgia (Georgia).


Martyrs Terentius, Vincent, Emilian and Bebaia (Greek).
Quote of the Day
"A tempered iron can sharpen untempered, so a fervent brother has often saved an indolent one."
Saint John Climacus "The Ladder of Divine Ascent" (Step 26)
Scripture Readings for the Day
James 2:1-13
Beware of Personal Favoritism
1 My brethren, do not hold the faith of our Lord Jesus Christ, the Lord of glory, with partiality. 2 For if there should come into your assembly a man with gold rings, in fine apparel, and there should also come in a poor man in filthy clothes, 3 and you pay attention to the one wearing the fine clothes and say to him, "You sit here in a good place," and say to the poor man, "You stand there," or, "Sit here at my footstool," 4 have you not shown partiality among yourselves, and become judges with evil thoughts?
5 Listen, my beloved brethren: Has God not chosen the poor of this world to be rich in faith and heirs of the kingdom which He promised to those who love Him? 6 But you have dishonored the poor man. Do not the rich oppress you and drag you into the courts? 7 Do they not blaspheme that noble name by which you are called?
8 If you really fulfill the royal law according to the Scripture, "You shall love your neighbor as yourself," you do well; 9 but if you show partiality, you commit sin, and are convicted by the law as transgressors. 10 For whoever shall keep the whole law, and yet stumble in one point, he is guilty of all. 11 For He who said, "Do not commit adultery," also said, "Do not murder." Now if you do not commit adultery, but you do murder, you have become a transgressor of the law. 12 So speak and so do as those who will be judged by the law of liberty. 13 For judgment is without mercy to the one who has shown no mercy. Mercy triumphs over judgment.
Luke 21:37-22:8
37 And in the daytime He was teaching in the temple, but at night He went out and stayed on the mountain called Olivet. 38 Then early in the morning all the people came to Him in the temple to hear Him.
Luke 22
The Plot to Kill Jesus
1 Now the Feast of Unleavened Bread drew near, which is called Passover. 2 And the chief priests and the scribes sought how they might kill Him, for they feared the people.
3 Then Satan entered Judas, surnamed Iscariot, who was numbered among the twelve. 4 So he went his way and conferred with the chief priests and captains, how he might betray Him to them. 5 And they were glad, and agreed to give him money. 6 So he promised and sought opportunity to betray Him to them in the absence of the multitude.
Jesus and His Disciples Prepare the Passover
7 Then came the Day of Unleavened Bread, when the Passover must be killed. 8 And He sent Peter and John, saying, "Go and prepare the Passover for us, that we may eat."