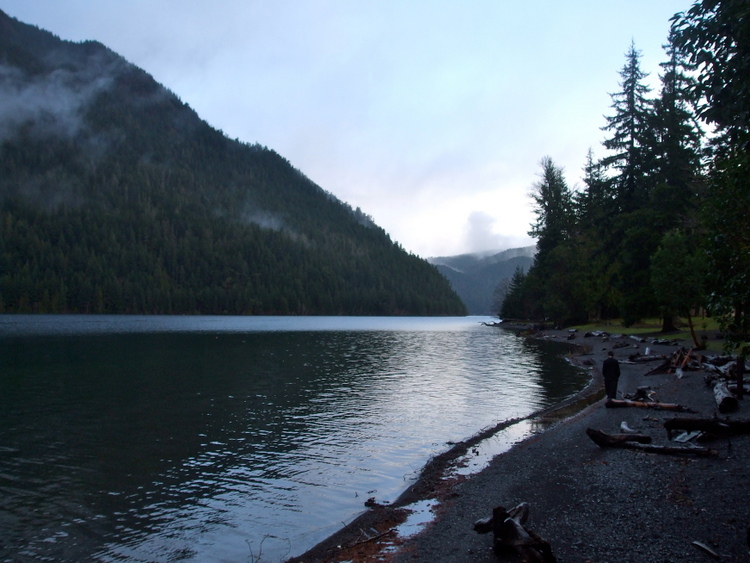 Lake Crescent, in the Olympic National Forest
December 15, 2010
30th Week after Pentecost. Tone four.
Nativity (St. Philip's Fast). By Monastic Charter: Strict Fast (Bread, Vegetables, Fruits)

Prophet Habakkuk (Abbacum) (7th c. B.C.).


New Hieromartyr John priest (1919).


New Hieromartyr Mathew priest (1921).


New Hieromartyr Demetrius priest and Venarable Vera confessor (1932).


New Hieromartyrs Constantine, Nicholas, Sergius, Vladimir, John, Theodore, Nicholas, John, Nicholas priests, Hieromartyr Danact, Cosmas,, Woman Hieromartyrs Theuromia, Tamara, Antonina, and Mary; and Virgin-martyrs Mary and Matrona (1937).


Virgin-martyr Mary (1938).


Martyr Boris (1942).


Venerable Athanasius "the Resurrected," recluse of the Kiev Caves, whose relics are in the Near Caves (1176).


Venerable Athanasius, recluse of the Kiev Caves whose relics are in the Far Caves (13th c.).


Martyr Myrope of Chios (251).


Venerables John, Heraclemon, Andrew, and Theophilus of Egypt (4th c.).


Venerable Jesse (Ise), bishop of Tsilkani in Georgia (6th c.) (Georgia).


St. Stephen-Urosh IV, king (1371), and St. Helen of Serbia..


St. Solomon, archbishop of Ephesus.


Venerable Cyril of Philea (1110).


Venerable Ioannicius, monk of Devich (1430) (Greek).


St. Abibus the New (Greek).
Quote of the Day
"There are three degrees of eating: self-control, sufficiency and satiety. Self-control is to be hungry after having eaten. Sufficiency is to be neither hungry nor weighted down. Satiety is to be slightly weighted down. To eat again after reaching the point of satiety is to open the door of gluttony, through which unchastity comes in. Attentive to these destinctions, choose what is best for you according to your powers, not overstepping the limits. For according to St. Paul only the perfect can be hungry and full, and at the same time be strong in all things"
Saint Gregory of Sinai
Scripture Readings for the Day:
Hebrews 10:1-18
Animal Sacrifices Insufficient
1 For the law, having a shadow of the good things to come, and not the very image of the things, can never with these same sacrifices, which they offer continually year by year, make those who approach perfect. 2 For then would they not have ceased to be offered? For the worshipers, once purified, would have had no more consciousness of sins. 3 But in those sacrifices there is a reminder of sins every year. 4 For it is not possible that the blood of bulls and goats could take away sins.
Christ's Death Fulfills God's Will
5 Therefore, when He came into the world, He said:
" Sacrifice and offering You did not desire,
But a body You have prepared for Me.
6 In burnt offerings and sacrifices for sin
You had no pleasure.
7 Then I said, 'Behold, I have come—
In the volume of the book it is written of Me—
To do Your will, O God.'"
8 Previously saying, "Sacrifice and offering, burnt offerings, and offerings for sin You did not desire, nor had pleasure in them " (which are offered according to the law), 9 then He said, "Behold, I have come to do Your will, O God." He takes away the first that He may establish the second. 10 By that will we have been sanctified through the offering of the body of Jesus Christ once for all.
Christ's Death Perfects the Sanctified
11 And every priest stands ministering daily and offering repeatedly the same sacrifices, which can never take away sins. 12 But this Man, after He had offered one sacrifice for sins forever, sat down at the right hand of God, 13 from that time waiting till His enemies are made His footstool. 14 For by one offering He has perfected forever those who are being sanctified.
15 But the Holy Spirit also witnesses to us; for after He had said before,
16 "This is the covenant that I will make with them after those days, says the LORD: I will put My laws into their hearts, and in their minds I will write them," 17 then He adds, "Their sins and their lawless deeds I will remember no more." 18 Now where there is remission of these, there is no longer an offering for sin.
Luke 20:1-8
Jesus' Authority Questioned
1 Now it happened on one of those days, as He taught the people in the temple and preached the gospel, that the chief priests and the scribes, together with the elders, confronted Him 2 and spoke to Him, saying, "Tell us, by what authority are You doing these things? Or who is he who gave You this authority?"
3 But He answered and said to them, "I also will ask you one thing, and answer Me: 4 The baptism of John—was it from heaven or from men?"
5 And they reasoned among themselves, saying, "If we say, 'From heaven,' He will say, 'Why then did you not believe him?' 6 But if we say, 'From men,' all the people will stone us, for they are persuaded that John was a prophet." 7 So they answered that they did not know where it was from.
8 And Jesus said to them, "Neither will I tell you by what authority I do these things."
Please note: You can click on the photo to enlarge.