A blessed and joyous Thanksgiving to all of my readers! We are the only nation that has a set national holiday, meant to give thanks to Almighty God, for all that we enjoy; freedom of religion, freedom of speech, freedom of association, freedom to bear arms. May the Lord, in His great mercy, grant wisdom to our president, our national leaders, and the leaders of our military, that we remain worthy of God's blessings. May this be the year that our nation returns to God, putting aside all secular concerns, and embracing our Christian values, and morals, and once again becomes a nation of that embraces our historic Judeo/Christian values. And, may we remember the poor among us, and the elderly, and shut-ins. May we be a good example to the youth of this nation, and may we Orthodox be a witness to the enduring Truth of our Faith, once delivered to the saints. Happy Thanksgiving to all of you!
Love to all,
Abbot Tryphon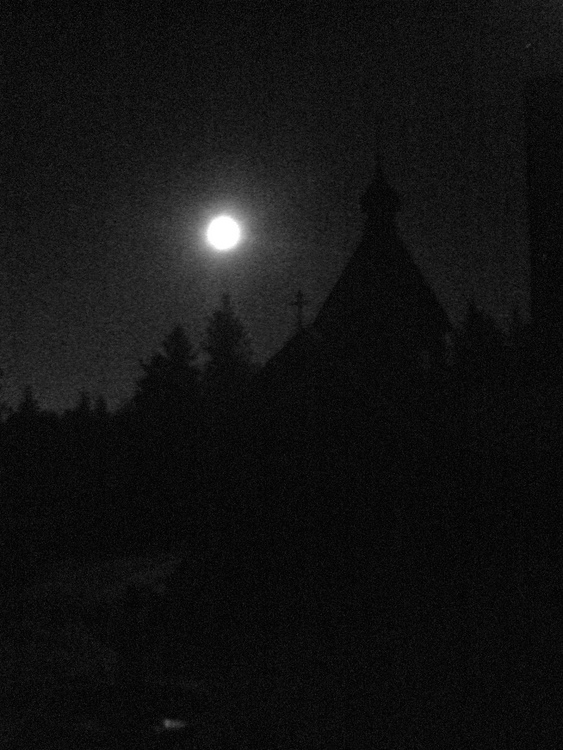 A Winter Moon Over the Temple
November 25 / 12
27th Week after Pentecost. Tone one.

St. John the Merciful, patriarch of Alexandria (620).


Venerable Nilus the Faster of Sinai (451).


New Hieromartyrs Constantine, Vladimir, Alexander, Matthew, Demetrius priests (1937).


New Hieromartyr Boris (1942).


Blessed John "the Hairy," fool-for-Christ at Rostov (1580).


Prophet Ahijah (Achias) (960 B.C.).


St. Nilus the Myrrh-gusher of Mt. Athos (1651).


"The Merciful" Icon of the Mother of God.


New Martyr Sabbas Nigdelinus of Constantinople (1726) (Greek).


New Martyr Nicholas of Constantinople (1726).


St. Leontius, patriarch of Constantinople (1143).


Venerable Emilian of Vergegio in Iberia.


Venerable Lebuinus, missionary monk of the Netherlands (Netherlands).


St. Machar, bishop of Aberdeen (Scotland) (6th c.) (Celtic & British).


St. Sinnell of Cleenish (6th c.) (Celtic & British).


St. Cadwaladr, king of the Welsh (664) (Celtic & British).


New Hieromartyr priest Theodore Gidaspov.


Synaxis of the Russian New Martyrs of Optina: Anatolius, Barnabas, Dositheus, Nectarius, Panteleimon and Vincent.
Quote for the Day
"Everyone capable of thanksgiving is capable of salvation and eternal joy."
Father Alexander Schmemann
Scripture Readings of the Day:1 Timothy 6:17-21
Instructions to the Rich17 Command those who re rich in this present age not to be haughty, nor to trust in uncertain riches but in the living God, who gives us richly all things to enjoy. 18 Let them do good, that they be rich in good works, ready to give, willing to share, 19 storing up for themselves a good foundation for the time to come, that they may lay hold on eternal life.
Guard the Faith
20 O Timothy! Guard what was committed to your trust, avoiding the profane and idle babblings and contradictions of what is falsely called knowledge— 21 by professing it some have strayed concerning the faith.
Grace be with you. Amen.
Luke 13:1-9
Repent or Perish
1 There were present at that season some who told Him about the Galileans whose blood Pilate had mingled with their sacrifices. 2 And Jesus answered and said to them, "Do you suppose that these Galileans were worse sinners than all other Galileans, because they suffered such things? 3 I tell you, no; but unless you repent you will all likewise perish. 4 Or those eighteen on whom the tower in Siloam fell and killed them, do you think that they were worse sinners than all other men who dwelt in Jerusalem? 5 I tell you, no; but unless you repent you will all likewise perish."
The Parable of the Barren Fig Tree
6 He also spoke this parable: "A certain man had a fig tree planted in his vineyard, and he came seeking fruit on it and found none. 7 Then he said to the keeper of his vineyard, 'Look, for three years I have come seeking fruit on this fig tree and find none. Cut it down; why does it use up the ground?' 8 But he answered and said to him, 'Sir, let it alone this year also, until I dig around it and fertilize it. 9 And if it bears fruit, well. But if not, after that you can cut it down.'"