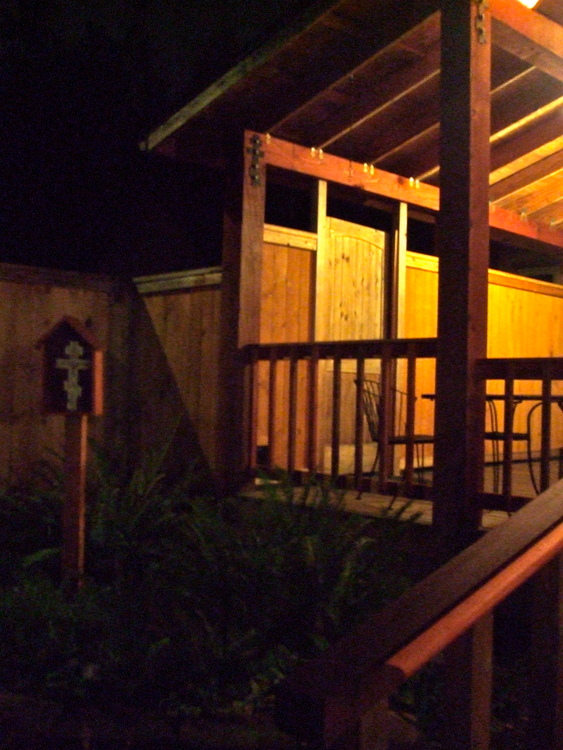 The Trapeza Porch at Night
Saints of the Day
Apostles Stachys, Amplias, Urban, Narcissus, Apelles and Aristobulus of the Seventy. Martyr Epimachus of Alexandria. Saints Spyridon and Nicodemus the prosphora-bakers of the Kiev Caves. St. Maura of Constantinople St. Anatolius, recluse of the Kiev Caves. New-Martyr Nicholas of Chios. (Greek Calendar Martyrs Stephen, Barnabas, Trophimus,Dorymedon, Cosmas, Damian, Sabbas, Bassa, Abraham, and others with them. Martyr Gordian. Martyr Epimachus the Roman Martyrs Seleucius and Stratonica his wife, myrrh-gushers.)
Quote of the Day
"Christians, above all men, are forbidden to correct the stumblings of sinners by force…it is necessary to make a man better not by force but by persuasion. God gives the crown to those who are kept from evil, not by force, but by choice."
Saint John Chrysostom
Photo of the Day
The Trapeza porch, at night.
Scripture Readings for the Day
Galatians 1:3-10
3 Grace to you and peace from God the Father and our Lord Jesus Christ, 4 who gave Himself for our sins, that He might deliver us from this present evil age, according to the will of our God and Father, 5 to whom be glory forever and ever. Amen.
Only One Gospel
6 I marvel that you are turning away so soon from Him who called you in the grace of Christ, to a different gospel, 7 which is not another; but there are some who trouble you and want to pervert the gospel of Christ. 8 But even if we, or an angel from heaven, preach any other gospel to you than what we have preached to you, let him be accursed. 9 As we have said before, so now I say again, if anyone preaches any other gospel to you than what you have received, let him be accursed.
10 For do I now persuade men, or God? Or do I seek to please men? For if I still pleased men, I would not be a bondservant of Christ.
Luke 8:16-21
The Parable of the Revealed Light16 "No one, when he has lit a lamp, covers it with a vessel or puts it under a bed, but sets it on a lampstand, that those who enter may see the light. 17 For nothing is secret that will not be revealed, nor anything hidden that will not be known and come to light. 18 Therefore take heed how you hear. For whoever has, to him more will be given; and whoever does not have, even what he seems to have will be taken from him."
Jesus' Mother and Brothers Come to Him
19 Then His mother and brothers came to Him, and could not approach Him because of the crowd. 20 And it was told Him by some, who said, "Your mother and Your brothers are standing outside, desiring to see You."
21 But He answered and said to them, "My mother and My brothers are these who hear the word of God and do it."
We thank all of you who have been donating to the Monastery through PayPal. Your generosity is greatly appreciated. Some of you have pledged, again through PayPal, an automatic monthly donation. Please, know how grateful we are for your help, during these very lean times.
With love in Christ,
Abbot Tryphon