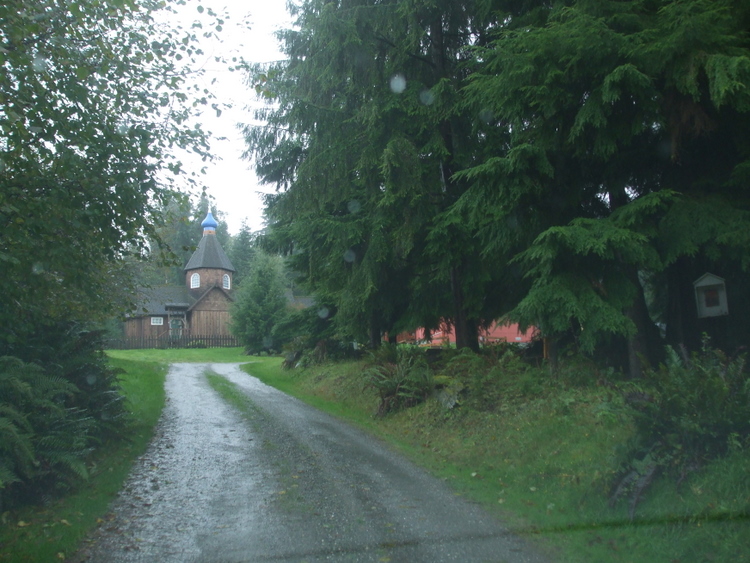 A Rainy Autumn Day at the Monastery
Saints of the Day
Martyrs Nazarius, Gervase, Protase and Celsius of Milan. St. Parasceve of Serbia. Hieromartyr Silvanus of Gaza. St. Nikola Sviatosha, prince of Chernigov and Wonderworker of the Kiev Caves. St. Cosmas, abbot of Yakhromsk. (Greek Calendar: St. Euthymius the New of Thessalonica, confessor. St. Ignatius of Methymna, Archbishop and Wonderworker.) Namesday of Blessed Abbot Nazarius of Valaam.
Quote of the Day
"Orthodox Christians, surrounded by and already swimming in a sea of humanist-worldly philosophy and practice, must do everything possible to create their own islands, in that sea, of other-worldly, God-oriented thought and practice."
Blessed Seraphim of Platina
Photo of the Day:
A rainy autumn day at the Monastery.
Scripture Readings for the Day
1 Thessalonians 2:1-8
Paul's Conduct
1 For you yourselves know, brethren, that our coming to you was not in vain. 2 But even after we had suffered before and were spitefully treated at Philippi, as you know, we were bold in our God to speak to you the gospel of God in much conflict. 3 For our exhortation did not come from error or uncleanness, nor was it in deceit.
4 But as we have been approved by God to be entrusted with the gospel, even so we speak, not as pleasing men, but God who tests our hearts. 5 For neither at any time did we use flattering words, as you know, nor a cloak for covetousness—God is witness. 6 Nor did we seek glory from men, either from you or from others, when we might have made demands as apostles of Christ. 7 But we were gentle among you, just as a nursing mother cherishes her own children. 8 So, affectionately longing for you, we were well pleased to impart to you not only the gospel of God, but also our own lives, because you had become dear to us.
Luke 8:22-25
Wind and Wave Obey Jesus22 Now it happened, on a certain day, that He got into a boat with His disciples. And He said to them, "Let us cross over to the other side of the lake." And they launched out. 23 But as they sailed He fell asleep. And a windstorm came down on the lake, and they were filling with water, and were in jeopardy. 24 And they came to Him and awoke Him, saying, "Master, Master, we are perishing!"
Then He arose and rebuked the wind and the raging of the water. And they ceased, and there was a calm. 25 But He said to them, "Where is your faith?"
And they were afraid, and marveled, saying to one another, "Who can this be? For He commands even the winds and water, and they obey Him!"