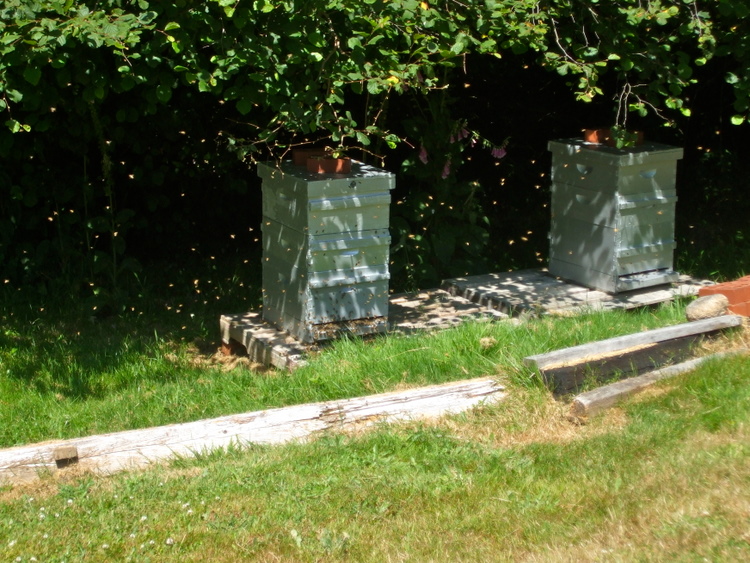 Our Monastery's bee hives.
Saints of the Day
Holy Glorious Apostle Thomas [(1) I Jn 1:1-7; (2) Jas 1:1-12; (3) Jude 1:1-7, 17-25. Matins: Jn 21:15-25. Liturgy: I Cor 4:9-16; Jn 20:19-31]. Woman-martyr Erothis of Cappadocia. New-Martyr Macarius at Kion in Bithynia (Mt. Athos). (Greek Calendar: St. Cindeus of Cyprus, monk.) Icon of the Most Holy Theotokos O All-Hymned Mother.
Quote of the Day
"The bee is more honored than other animals, not because she labors, but because she labors for others." Saint John Chrysostom
Photo of the Day
The Monastery's bee hives.
Scripture Readings for the Day
1 Corinthians 4:9-16
9 For I think that God has displayed us, the apostles, last, as men condemned to death; for we have been made a spectacle to the world, both to angels and to men. 10 We are fools for Christ's sake, but you are wise in Christ! We are weak, but you are strong! You are distinguished, but we are dishonored! 11 To the present hour we both hunger and thirst, and we are poorly clothed, and beaten, and homeless. 12 And we labor, working with our own hands. Being reviled, we bless; being persecuted, we endure; 13 being defamed, we entreat. We have been made as the filth of the world, the offscouring of all things until now.
Paul's Paternal Care
14 I do not write these things to shame you, but as my beloved children I warn you. 15 For though you might have ten thousand instructors in Christ, yet you do not have many fathers; for in Christ Jesus I have begotten you through the gospel. 16 Therefore I urge you, imitate me.
John 10:19-31
19 Therefore there was a division again among the Jews because of these sayings. 20 And many of them said, "He has a demon and is mad. Why do you listen to Him?"
21 Others said, "These are not the words of one who has a demon. Can a demon open the eyes of the blind?"
The Shepherd Knows His Sheep
22 Now it was the Feast of Dedication in Jerusalem, and it was winter. 23 And Jesus walked in the temple, in Solomon's porch. 24 Then the Jews surrounded Him and said to Him, "How long do You keep us in doubt? If You are the Christ, tell us plainly."
25 Jesus answered them, "I told you, and you do not believe. The works that I do in My Father's name, they bear witness of Me. 26 But you do not believe, because you are not of My sheep, as I said to you. 27 My sheep hear My voice, and I know them, and they follow Me. 28 And I give them eternal life, and they shall never perish; neither shall anyone snatch them out of My hand. 29 My Father, who has given them to Me, is greater than all; and no one is able to snatch them out of My Father's hand. 30 I and My Father are one."
Renewed Efforts to Stone Jesus
31 Then the Jews took up stones again to stone Him.