Saints of the Day
Martyrs Carpus, Papylus, Agathadorus and Agathonica at Pergamus. Martyr Florentius of Thessalonica. Martyr Benjamin, deacon of Persia. St. Nicetas the Confessor of Paphlagonia. St. Benjamin of the Kiev Caves. New-Martyr Chryse (Zlata) of Bulgaria. St. Vannatius of Poitiers (Gaul). Icon of the Most Holy Theotokos Of the Seven Lakes. Portaitissa Icon of the Most Holy Theotokos.
Quote of the Day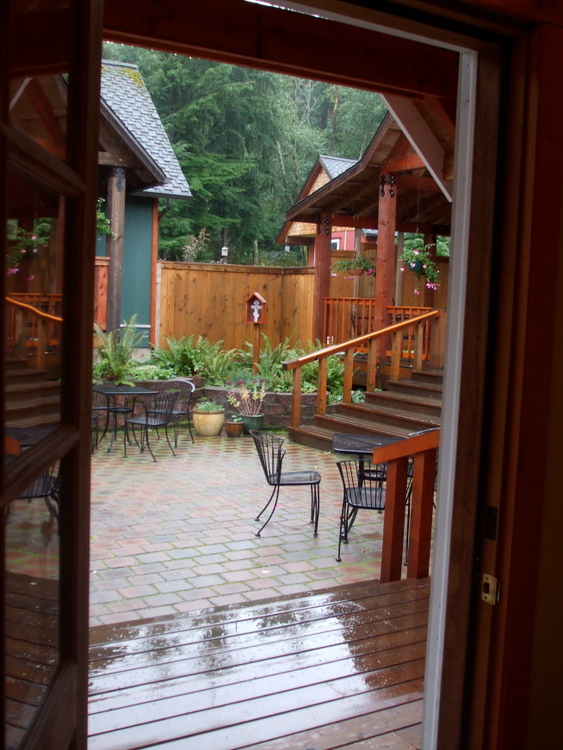 "Beside each believer stands an Angel as protector and shepherd, leading him to life."
Saint Basil the Great
Photo of the Day
An autumn day, as seen from the Monastery's gift shop.
Scripture Readings for the Day
1 Thessalonians 1:6-10
6 And you became followers of us and of the Lord, having received the word in much affliction, with joy of the Holy Spirit, 7 so that you became examples to all in Macedonia and Achaia who believe. 8 For from you the word of the Lord has sounded forth, not only in Macedonia and Achaia, but also in every place. Your faith toward God has gone out, so that we do not need to say anything. 9 For they themselves declare concerning us what manner of entry we had to you, and how you turned to God from idols to serve the living and true God, 10 and to wait for His Son from heaven, whom He raised from the dead, even Jesus who delivers us from the wrath to come.
Luke 8:1-3
Many Women Minister to Jesus
1 Now it came to pass, afterward, that He went through every city and village, preaching and bringing the glad tidings of the kingdom of God. And the twelve were with Him, 2 and certain women who had been healed of evil spirits and infirmities—Mary called Magdalene, out of whom had come seven demons, 3 and Joanna the wife of Chuza, Herod's steward, and Susanna, and many others who provided for Him from their substance.