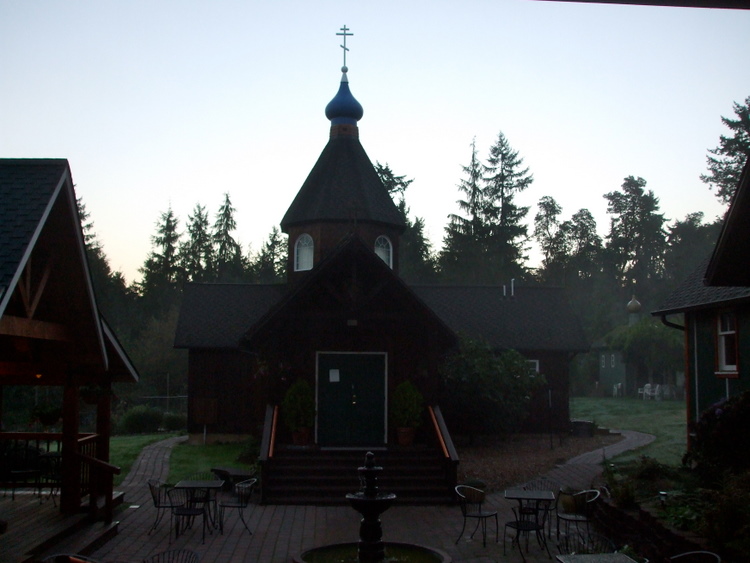 Saints of the Day
Hieromartyr Cyprian and Virgin Martyr Justina of Nicomedia [I Tim 1:12-17; Jn 10:9-16]. Blessed Andrew, fool-for-Christ at Constantinople. St. Anna of Kashin. Blessed Cyprian of Suzdal, fool-for-Christ. St. Cassian, monk of Uglich. Martyrs David and Constantine, princes of Georgia. New-Martyr George of Philadelphia in Asia Minor (Mt. Athos). (Greek Calendar: St. Damaris of Athens. St. Theophilus the Confessor. Great-Martyr Theodore Gavra of Atran in Chaldea.) Repose of Schema-hieromonk Theodosius of Karoulia, Mt. Athos (1937).
Quote of the Day
"The flame of a fire always reaches upwards, even if you turn the lighted stick upside down. And in the same way the heart of the proud man is incapable of humility. The more you give him suitable advice, the more he elevates himself. If you admonish or rebuke him he answers back aggressively, but if you praise or encourage him he is shamefully puffed up."
Saint Simeon the New Theologian
Photo of the Day
An early autumn morning at the Monastery.
Scripture Readings for the Day
Colossians 2:1-7
Not Philosophy but Christ1 For I want you to know what a great conflict I have for you and those in Laodicea, and for as many as have not seen my face in the flesh, 2 that their hearts may be encouraged, being knit together in love, and attaining to all riches of the full assurance of understanding, to the knowledge of the mystery of God, both of the Father and of Christ, 3 in whom are hidden all the treasures of wisdom and knowledge.
4 Now this I say lest anyone should deceive you with persuasive words. 5 For though I am absent in the flesh, yet I am with you in spirit, rejoicing to see your good order and the steadfastness of your faith in Christ.
6 As you therefore have received Christ Jesus the Lord, so walk in Him, 7 rooted and built up in Him and established in the faith, as you have been taught, abounding in it with thanksgiving.
Luke 9:12-18
12 When the day began to wear away, the twelve came and said to Him, "Send the multitude away, that they may go into the surrounding towns and country, and lodge and get provisions; for we are in a deserted place here."
13 But He said to them, "You give them something to eat."
And they said, "We have no more than five loaves and two fish, unless we go and buy food for all these people." 14 For there were about five thousand men.
Then He said to His disciples, "Make them sit down in groups of fifty." 15 And they did so, and made them all sit down.
16 Then He took the five loaves and the two fish, and looking up to heaven, He blessed and broke them, and gave them to the disciples to set before the multitude. 17 So they all ate and were filled, and twelve baskets of the leftover fragments were taken up by them.
Peter Confesses Jesus as the Christ
18 And it happened, as He was alone praying, that His disciples joined Him, and He asked them, saying, "Who do the crowds say that I am?"