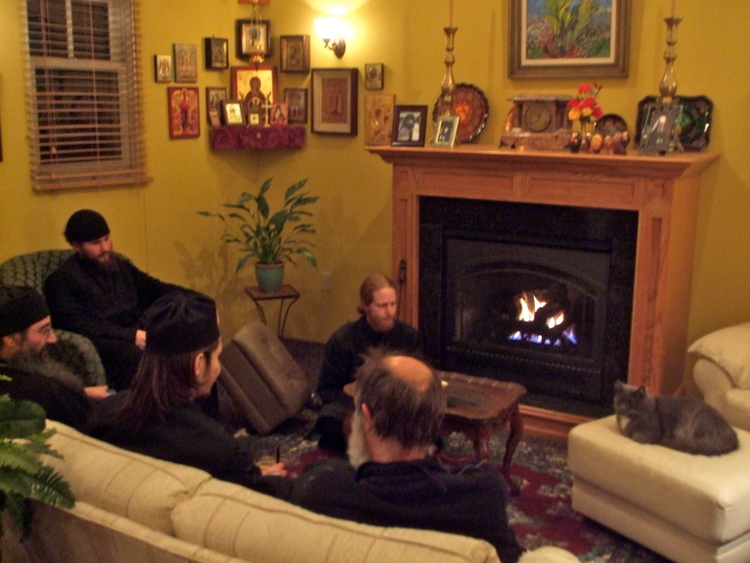 The monastic community, enjoying an evening by the hearth.
Saints of the Day
Martyrs Eulampius and Eulampia at Nicomedia, and 200 Martyrs with them. Martyr Theotecnus of Antioch. St. Theophilus the Confessor of Bulgaria. St. Bassian of Constantinople. Blessed Andrew of Totma, fool-for-Christ. Martyrdom of the 26 Martyrs of Zographou Monastery on Mt. Athos, by the Latins: Abbot Thomas, monks Barsanuphius, Cyril, Micah, Simon, Hilarion, Job, James, Cyprian, Sabbas, James, Martinian, Cosmas, Sergius, Paul, Menas, Ioasaph, Ioannicius, Anthony, Euthymius, Dometian, Parthenius, and four laymen. Synaxis of the Seven Saints of Volhynia: St. Job of Pochaev; Saints Stephen and Amphilochius, Bishops of Vladimir in Volhynia; Hieromartyr Macarius, archimandrite of Kanev; St. Yaropolk, prince of Vladimir-Volhynia; St. Theodore (in monasticism Theodosius), prince of Ostrog; and St. Juliana Olshanskaya. Zographou Icon of the Most Holy Theotokos Of the Akathist. Repose of Bishop Innocent of Penze (1819), and Elder Ambrose of Optina (1891)
Quote of the Day
"When you rise from sleep, your first thought should be of God,
your first word should be a prayer to God–your Father and Creator."
Elder Anthony of Optina
Photo of the Day
Our community, gathered before the hearth, for a nice, warm fire. Hammi enjoyed it the most, as you can see!
Scripture Readings for the Day
2 Corinthians 5:1-10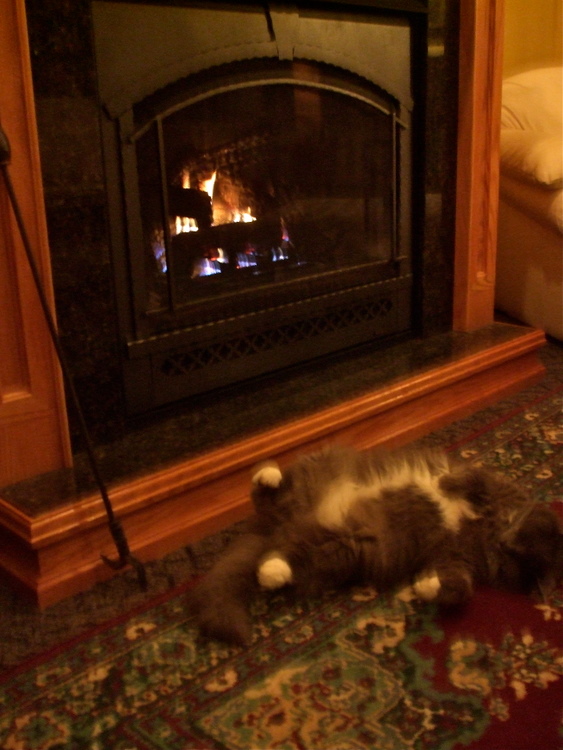 Hammi, enjoying the fire.
Assurance of the Resurrection
1 For we know that if our earthly house, this tent, is destroyed, we have a building from God, a house not made with hands, eternal in the heavens. 2 For in this we groan, earnestly desiring to be clothed with our habitation which is from heaven, 3 if indeed, having been clothed, we shall not be found naked. 4 For we who are in this tent groan, being burdened, not because we want to be unclothed, but further clothed, that mortality may be swallowed up by life. 5 Now He who has prepared us for this very thing is God, who also has given us the Spirit as a guarantee.
6 So we are always confident, knowing that while we are at home in the body we are absent from the Lord. 7 For we walk by faith, not by sight. 8 We are confident, yes, well pleased rather to be absent from the body and to be present with the Lord.
The Judgment Seat of Christ
9 Therefore we make it our aim, whether present or absent, to be well pleasing to Him. 10 For we must all appear before the judgment seat of Christ, that each one may receive the things done in the body, according to what he has done, whether good or bad.
Luke 5:27-32
Matthew the Tax Collector27 After these things He went out and saw a tax collector named Levi, sitting at the tax office. And He said to him, "Follow Me." 28 So he left all, rose up, and followed Him.
29 Then Levi gave Him a great feast in his own house. And there were a great number of tax collectors and others who sat down with them. 30 And their scribes and the Pharisees complained against His disciples, saying, "Why do You eat and drink with tax collectors and sinners?"
31 Jesus answered and said to them, "Those who are well have no need of a physician, but those who are sick. 32 I have not come to call the righteous, but sinners, to repentance."