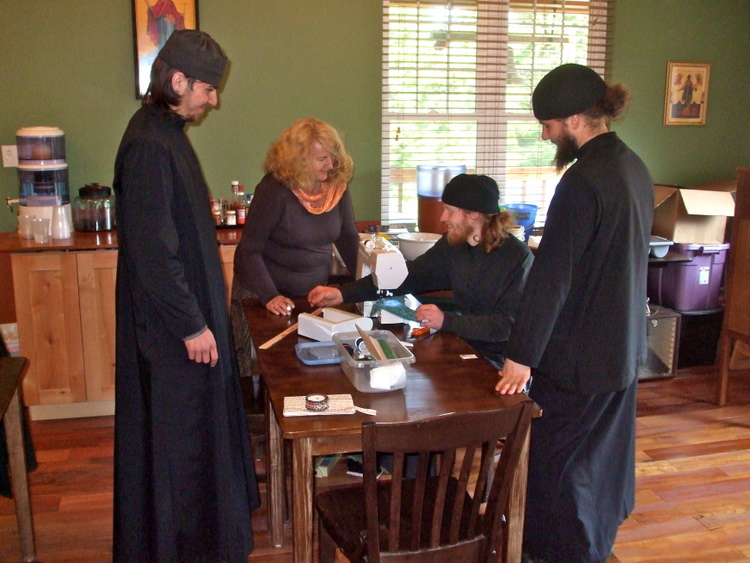 Judith Trigg, Teaching a Class in Sewing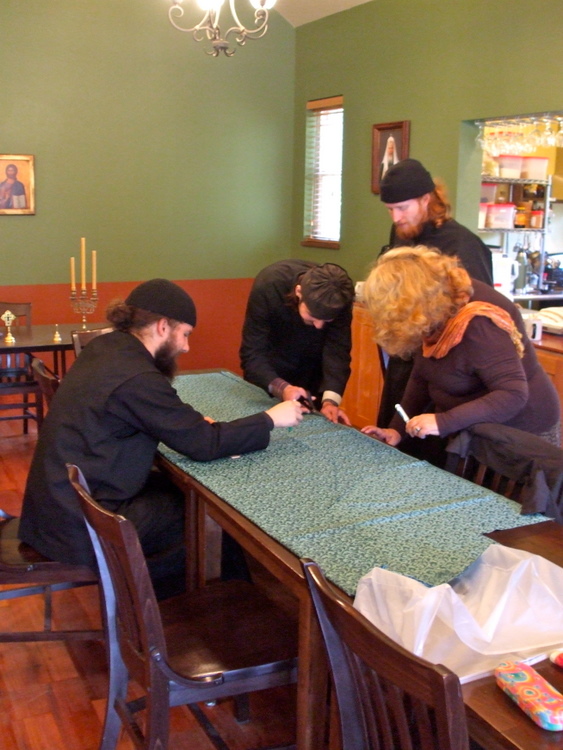 Cutting Out a Pattern for a Banner
Saints of the Day
Holy Apostle James, son of Alphaeus. St. Andronicus and his wife St. Athanasia of Egypt. Righteous Forefather Abraham and his nephew Righteous Lot. Martyrs Juventius and Maximus at Antioch. St. Peter of Galatia. St. Publia the Confessor of Antioch. St. Stephen the New of Serbia (same as July 19). Icons of the Most Holy Theotokos Korsun (Cherson) and Assuage My Sorrow.
Quote of the Day
"The bodily eye cannot tolerate even the smallest speck of dust on its surface, so too the conscience, when soiled by something, cannot attain prayer." Elder Moses of Optina
Photo of the Day:
Judith Trigg, teaching a class in sewing, so the young monks can make our cassocks, banners, vestments, and other necessary items, in the future.
Scripture Readings for the Day
1 Corinthians 4:9-16
9 For I think that God has displayed us, the apostles, last, as men condemned to death; for we have been made a spectacle to the world, both to angels and to men. 10 We are fools for Christ's sake, but you are wise in Christ! We are weak, but you are strong! You are distinguished, but we are11 To the present hour we both hunger and thirst, and we are poorly clothed, and beaten, and homeless. 12 And we labor, working with our own hands. Being reviled, we bless; being persecuted, we endure; 13 being defamed, we entreat. We have been made as the filth of the world, the offscouring of all things until now. dishonored!
Paul's Paternal Care
14 I do not write these things to shame you, but as my beloved children I warn you. 15 For though you might have ten thousand instructors in Christ, yet you do not have many fathers; for in Christ Jesus I have begotten you through the gospel. 16 Therefore I urge you, imitate me.
Luke 10:16-21
16 He who hears you hears Me, he who rejects you rejects Me, and he who rejects Me rejects Him who sent Me."
The Seventy Return with Joy
17 Then the seventy returned with joy, saying, "Lord, even the demons are subject to us in Your name."
18 And He said to them, "I saw Satan fall like lightning from heaven. 19 Behold, I give you the authority to trample on serpents and scorpions, and over all the power of the enemy, and nothing shall by any means hurt you. 20 Nevertheless do not rejoice in this, that the spirits are subject to you, but rather rejoice because your names are written in heaven."
Jesus Rejoices in the Spirit
21 In that hour Jesus rejoiced in the Spirit and said, "I thank You, Father, Lord of heaven and earth, that You have hidden these things from the wise and prudent and revealed them to babes. Even so, Father, for so it seemed good in Your sight.