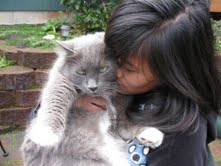 Hammi and Mercedes.
Saints of the Day
Martyrs Probus, Tarachus and Andronicus at Tarsus in Cilicia. St. Cosmas the Hymnographer, Bishop of Maiuma. Martyr Domnica of Anazarbus. St. Martin the Merciful, Bishop of Tours. (canon only) Saints Amphilochius, Macarius and Tarasius, abbots, and Theodosius, monk, of Glushetskry (Vologda). (Greek Calendar: Virgin Martyr Anastasia of Rome. St. Theodotus, Bishop of Ephesus. Martyrs Malfethos and Anthea. St. Jason, Bishop of Damascus. St. Symeon the New Theologian (transferred here from Great Lent, March 12). St. Theodosius the God-bearer of Arsinoe in Cyprus.) Jerusalem Icon of the Most Holy Theotokos.
Quote of the Day
"If the Divine Liturgy is celebrated and attended with faith, it is enough to demonstrate that ours is the true religion. In no other religion in the world, in no religious service of the non-Christian world, is there the grandeur which shines in our Divine Liturgy." – Metropolitan Augoustinos of Florina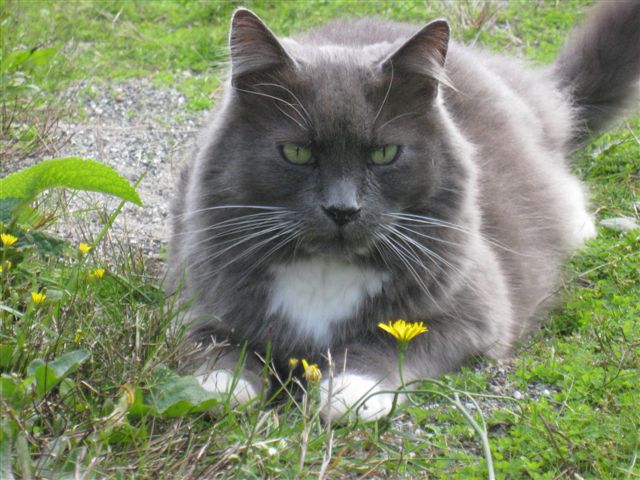 Hammi, the Monastery's official greeter.

Photo of the Day:
Mercedes, visiting from Nepal, sharing a moment with Hammi.
Scripture Readings for the Day
1 Thessalonians 1:1-5
Greeting
1 Paul, Silvanus, and Timothy,
To the church of the Thessalonians in God the Father and the Lord Jesus Christ:
Grace to you and peace from God our Father and the Lord Jesus Christ.
Their Good Example
2 We give thanks to God always for you all, making mention of you in our prayers, 3 remembering without ceasing your work of faith, labor of love, and patience of hope in our Lord Jesus Christ in the sight of our God and Father, 4 knowing, beloved brethren, your election by God. 5 For our gospel did not come to you in word only, but also in power, and in the Holy Spirit and in much assurance, as you know what kind of men we were among you for your sake.
Luke 7:36-50
A Sinful Woman Forgiven36 Then one of the Pharisees asked Him to eat with him. And He went to the Pharisee's house, and sat down to eat. 37 And behold, a woman in the city who was a sinner, when she knew that Jesus sat at the table in the Pharisee's house, brought an alabaster flask of fragrant oil, 38 and stood at His feet behind Him weeping; and she began to wash His feet with her tears, and wiped them with the hair of her head; and she kissed His feet and anointed them with the fragrant oil. 39 Now when the Pharisee who had invited Him saw this, he spoke to himself, saying, "This Man, if He were a prophet, would know who and what manner of woman this is who is touching Him, for she is a sinner."
40 And Jesus answered and said to him, "Simon, I have something to say to you."
So he said, "Teacher, say it."
41 "There was a certain creditor who had two debtors. One owed five hundred denarii, and the other fifty. 42 And when they had nothing with which to repay, he freely forgave them both. Tell Me, therefore, which of them will love him more?"
43 Simon answered and said, "I suppose the one whom he forgave more."
And He said to him, "You have rightly judged." 44 Then He turned to the woman and said to Simon, "Do you see this woman? I entered your house; you gave Me no water for My feet, but she has washed My feet with her tears and wiped them with the hair of her head. 45 You gave Me no kiss, but this woman has not ceased to kiss My feet since the time I came in. 46 You did not anoint My head with oil, but this woman has anointed My feet with fragrant oil. 47 Therefore I say to you, her sins, which are many, are forgiven, for she loved much. But to whom little is forgiven, the same loves little."
48 Then He said to her, "Your sins are forgiven."
49 And those who sat at the table with Him began to say to themselves, "Who is this who even forgives sins?"
50 Then He said to the woman, "Your faith has saved you. Go in peace."