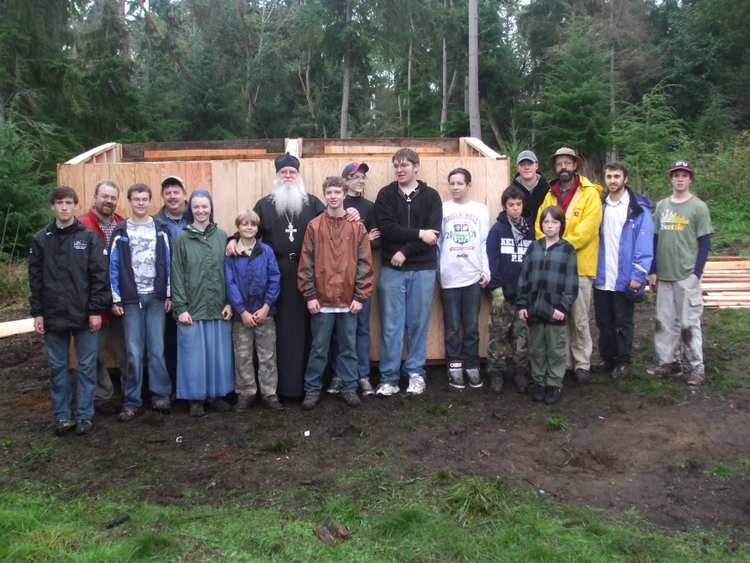 David Munkres, to the left of Abbot Tryphon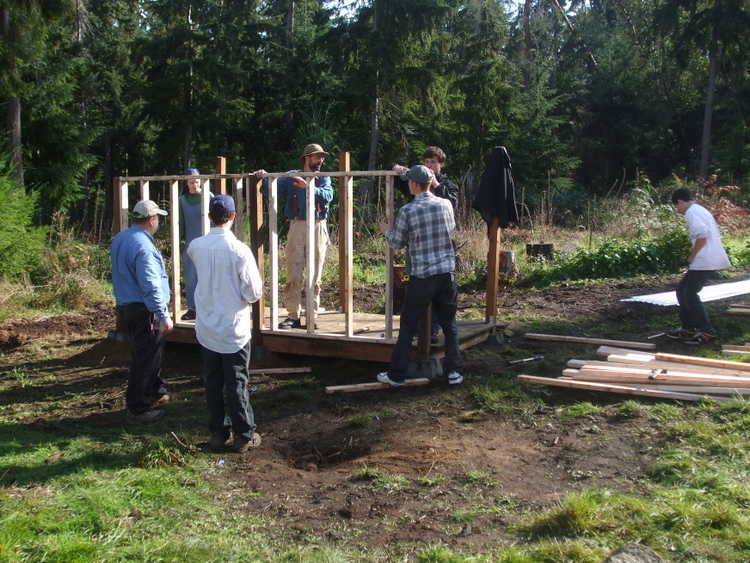 The framing goes up.
Fathers of the 7th Ecumenical Council
Saints of the Day
Holy Apostle Philip of the Seventy, one of the seven deacons. St. Theophanes the Confessor and Hymnographer, Bishop of Nicaea. Martyrs Zenaida (Zenais) and Philonilla of Tarsus in Cilicia. St. Theophanes, faster of the Kiev Caves. Saints Nectarius, Arcadius and Sinisius, Patriarch of Constantinople. Commemoration of the Miracle from the Icon of Our Lord Jesus Christ in Beret of Phoenicia. Repose of Elder Leonid of Optina (1841).
Quote of the Day
"Living in solitude, I occupy myself with searching the spiritual writings: above all I search the Lord's commandments and their commentaries, and the
Apostolic traditions; then the lives and instructions of the holy fathers. I reflect on all this, and whatever I find after reflection to be God-pleasing and useful for my soul, I copy out for myself. In this is my life and breath." St. Nilus of Sora
Photo of the Day
Young people from an area Orthodox Boy Scout Troop, spent Saturday, building the Monastery a chicken coop. Thanks to David Munkres (to my left) who's Eagle Scout project this is, and the generosity of these fine youny people, the monk's will soon be enjoying fresh, free range, organic farm eggs!
Scripture Readings for the Day
Hebrews 13:7-16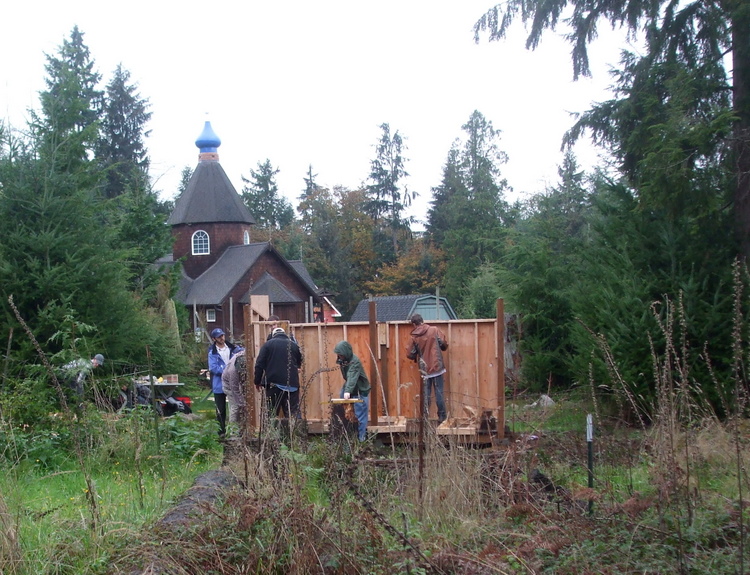 The Monastery's future chicken coop.

Concluding Religious Directions7 Remember those who rule over you, who have spoken the word of God to you, whose faith follow, considering the outcome of their conduct. 8 Jesus Christ is the same yesterday, today, and forever. 9 Do not be carried about with various and strange doctrines. For it is good that the heart be established by grace, not with foods which have not profited those who have been occupied with them.
10 We have an altar from which those who serve the tabernacle have no right to eat. 11 For the bodies of those animals, whose blood is brought into the sanctuary by the high priest for sin, are burned outside the camp. 12 Therefore Jesus also, that He might sanctify the people with His own blood, suffered outside the gate. 13 Therefore let us go forth to Him, outside the camp, bearing His reproach. 14 For here we have no continuing city, but we seek the one to come. 15 Therefore by Him let us continually offer the sacrifice of praise to God, that is, the fruit of our lips, giving thanks to His name. 16 But do not forget to do good and to share, for with such sacrifices God is well pleased.
John 17:1-13
Jesus Prays for Himself
1 Jesus spoke these words, lifted up His eyes to heaven, and said: "Father, the hour has come. Glorify Your Son, that Your Son also may glorify You, 2 as You have given Him authority over all flesh, that He should give eternal life to as many as You have given Him. 3 And this is eternal life, that they may know You, the only true God, and Jesus Christ whom You have sent. 4 I have glorified You on the earth. I have finished the work which You have given Me to do. 5 And now, O Father, glorify Me together with Yourself, with the glory which I had with You before the world was.
Jesus Prays for His Disciples
6 "I have manifested Your name to the men whom You have given Me out of the world. They were Yours, You gave them to Me, and they have kept Your word. 7 Now they have known that all things which You have given Me are from You. 8 For I have given to them the words which You have given Me; and they have received them, and have known surely that I came forth from You; and they have believed that You sent Me.
9 "I pray for them. I do not pray for the world but for those whom You have given Me, for they are Yours. 10 And all Mine are Yours, and Yours are Mine, and I am glorified in them. 11 Now I am no longer in the world, but these are in the world, and I come to You. Holy Father, keep through Your name those whom You have given Me, that they may be one as We are. 12 While I was with them in the world, I kept them in Your name. Those whom You gave Me I have kept; and none of them is lost except the son of perdition, that the Scripture might be fulfilled. 13 But now I come to You, and these things I speak in the world, that they may have My joy fulfilled in themselves.