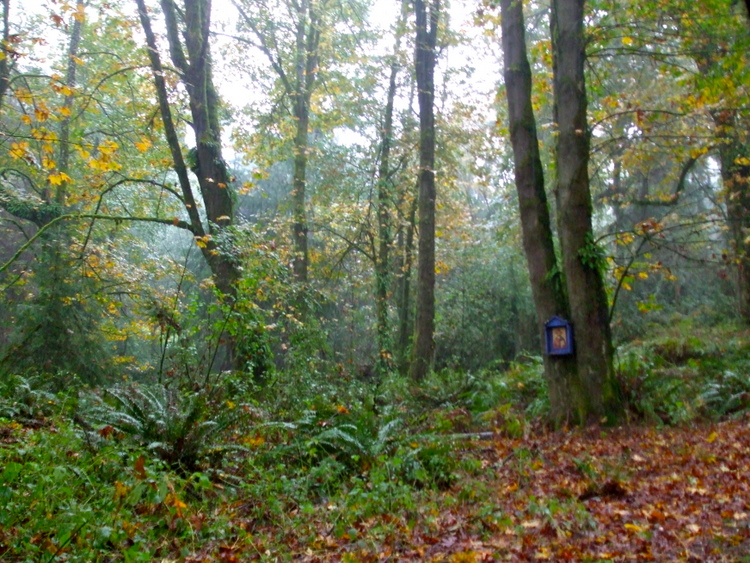 Autumn Arrives at the Monastery
Saints of the Day
St. Euthymius the New of Thessalonica, monk of Mt. Athos. Martyr Lucian, presbyter of Greater Antioch. (services combined) St. Sabinus, Bishop of Catania. Martyrs Sarbelius and Bebaia (Barbea) of Edessa. St. Dionysius, Archbishop of Suzdal. St. John, Bishop of Suzdal. Hieromartyr Lucian, presbyter of the Kiev Caves.
Quote of the Day
"One must force himself to prayer when he has not spiritual prayer; and thus God, beholding him thus striving and compelling himself by force, in spite of an unwilling heart, gives him the true prayer of the Spirit." Saint Macarius the Great
Photo of the Day:
An autumn day on the grounds of the Monastery.
Scripture Readings for the Day
1 Thessalonians 2:9-14
9 For you remember, brethren, our labor and toil; for laboring night and day, that we might not be a burden to any of you, we preached to you the gospel of God.
10 You are witnesses, and God also, how devoutly and justly and blamelessly we behaved ourselves among you who believe; 11 as you know how we exhorted, and comforted, and charged every one of you, as a father does his own children, 12 that you would walk worthy of God who calls you into His own kingdom and glory.
Their Conversion
13 For this reason we also thank God without ceasing, because when you received the word of God which you heard from us, you welcomed it not as the word of men, but as it is in truth, the word of God, which also effectively works in you who believe. 14 For you, brethren, became imitators of the churches of God which are in Judea in Christ Jesus. For you also suffered the same things from your own countrymen, just as they did from the Judeans,
Luke 9:7-11
Herod Seeks to See Jesus7 Now Herod the tetrarch heard of all that was done by Him; and he was perplexed, because it was said by some that John had risen from the dead, 8 and by some that Elijah had appeared, and by others that one of the old prophets had risen again. 9 Herod said, "John I have beheaded, but who is this of whom I hear such things?" So he sought to see Him.
Feeding the Five Thousand
10 And the apostles, when they had returned, told Him all that they had done. Then He took them and went aside privately into a deserted place belonging to the city called Bethsaida. 11 But when the multitudes knew it, they followed Him; and He received them and spoke to them about the kingdom of God, and healed those who had need of healing.