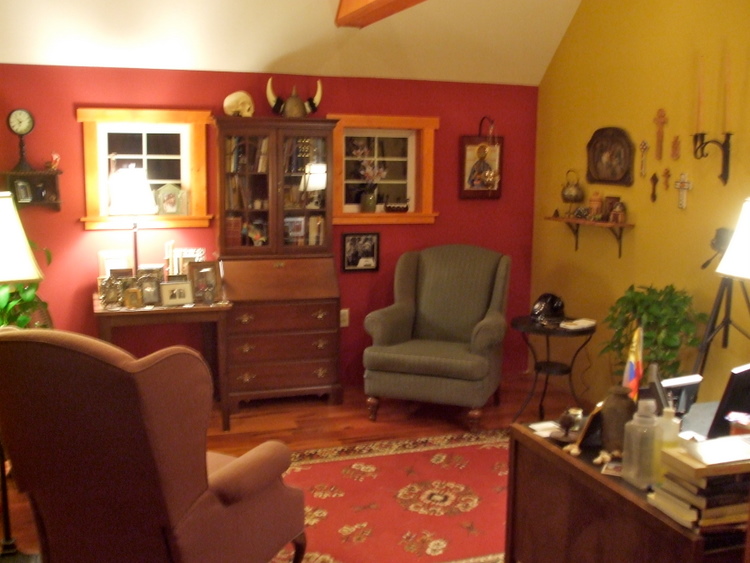 Abbot Tryphon's study.
Saints of the Day
St. Chariton the Confessor, abbot of Palestine [(1) Wis 3:1-9; (2) Wis 5:15-6:3; (3) Wis 4:7-15. Matins: Matt 4:25-5:12. Liturgy: II Cor 4:6-15; Lk 6:17-23]. Prophet Baruch. Martyrs Alexander, Alphius, Zosimas, Mark, Nicon, Neon, Heliodorus and 24 others in Pisidia and Phrygia. Martyrdom of St. Wenceslaus, prince of the Czechs. St. Herodion, abbot of Iloezersk. St. Chariton, monk of Syanzhemsk (Vologda). (Greek Calendar: Martyr Eustace of Rome.)
Quote of the Day
"We were created for happiness: we were made happy when we were first made. We were given Paradise: to enjoy its delight. We received a commandment: that obeying it we might win merit, not that He knew not what was to be, but as laying down the law of free will. Through envy we were deceived. We were cast forth because we had broken the law. We hungered, because we did not deny ourselves: being defeated and overcome by the Tree of Knowledge. For the Commandment was with us from our beginning, being in a manner an unvarying guide to our soul, and a restraint upon pleasure; and to it we were reasonably made subject, so that we might regain by keeping it what we had lost by not keeping it. That we might live we needed a God Incarnate, and dying for us. We died with Him, that we might be cleansed of our sin. We rose with Him, because we died with Him. And with Him shall we be glorified, because we have risen with Him."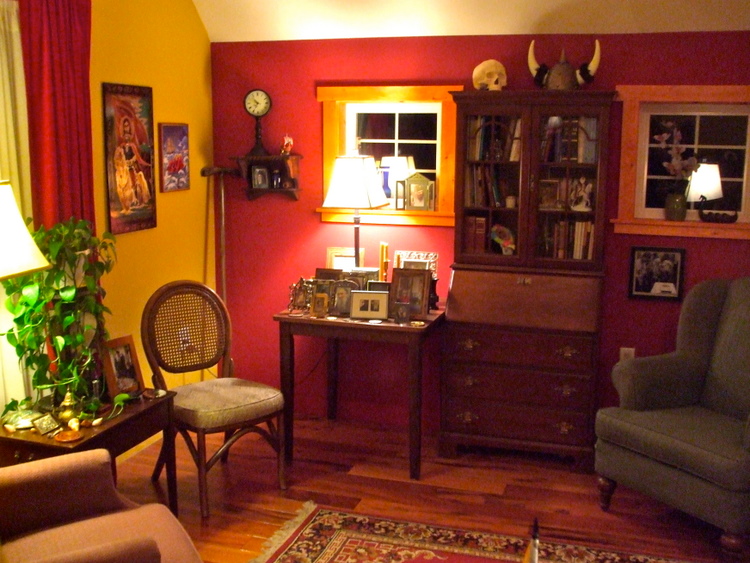 Abbot Tryphon's study.
Photo of the Day
The Abbot's study.
Scripture Readings for the Day
Philippians 4:10-23
Philippian Generosity10 But I rejoiced in the Lord greatly that now at last your care for me has flourished again; though you surely did care, but you lacked opportunity. 11 Not that I speak in regard to need, for I have learned in whatever state I am, to be content: 12 I know how to be abased, and I know how to abound. Everywhere and in all things I have learned both to be full and to be hungry, both to abound and to suffer need. 13 I can do all things through Christ who strengthens me.
14 Nevertheless you have done well that you shared in my distress. 15 Now you Philippians know also that in the beginning of the gospel, when I departed from Macedonia, no church shared with me concerning giving and receiving but you only. 16 For even in Thessalonica you sent aid once and again for my necessities. 17 Not that I seek the gift, but I seek the fruit that abounds to your account. 18 Indeed I have all and abound. I am full, having received from Epaphroditus the things sent from you, a sweet-smelling aroma, an acceptable sacrifice, well pleasing to God. 19 And my God shall supply all your need according to His riches in glory by Christ Jesus. 20 Now to our God and Father be glory forever and ever. Amen.
Greeting and Blessing
21 Greet every saint in Christ Jesus. The brethren who are with me greet you. 22 All the saints greet you, but especially those who are of Caesar's household.
23 The grace of our Lord Jesus Christ be with you all. Amen.
Luke 7:36-50
A Sinful Woman Forgiven36 Then one of the Pharisees asked Him to eat with him. And He went to the Pharisee's house, and sat down to eat. 37 And behold, a woman in the city who was a sinner, when she knew that Jesus sat at the table in the Pharisee's house, brought an alabaster flask of fragrant oil, 38 and stood at His feet behind Him weeping; and she began to wash His feet with her tears, and wiped them with the hair of her head; and she kissed His feet and anointed them with the fragrant oil. 39 Now when the Pharisee who had invited Him saw this, he spoke to himself, saying, "This Man, if He were a prophet, would know who and what manner of woman this is who is touching Him, for she is a sinner."
40 And Jesus answered and said to him, "Simon, I have something to say to you."
So he said, "Teacher, say it."
41 "There was a certain creditor who had two debtors. One owed five hundred denarii, and the other fifty. 42 And when they had nothing with which to repay, he freely forgave them both. Tell Me, therefore, which of them will love him more?"
43 Simon answered and said, "I suppose the one whom he forgave more."
And He said to him, "You have rightly judged." 44 Then He turned to the woman and said to Simon, "Do you see this woman? I entered your house; you gave Me no water for My feet, but she has washed My feet with her tears and wiped them with the hair of her head. 45 You gave Me no kiss, but this woman has not ceased to kiss My feet since the time I came in. 46 You did not anoint My head with oil, but this woman has anointed My feet with fragrant oil. 47 Therefore I say to you, her sins, which are many, are forgiven, for she loved much. But to whom little is forgiven, the same loves little."
48 Then He said to her, "Your sins are forgiven."
49 And those who sat at the table with Him began to say to themselves, "Who is this who even forgives sins?"
50 Then He said to the woman, "Your faith has saved you. Go in peace."