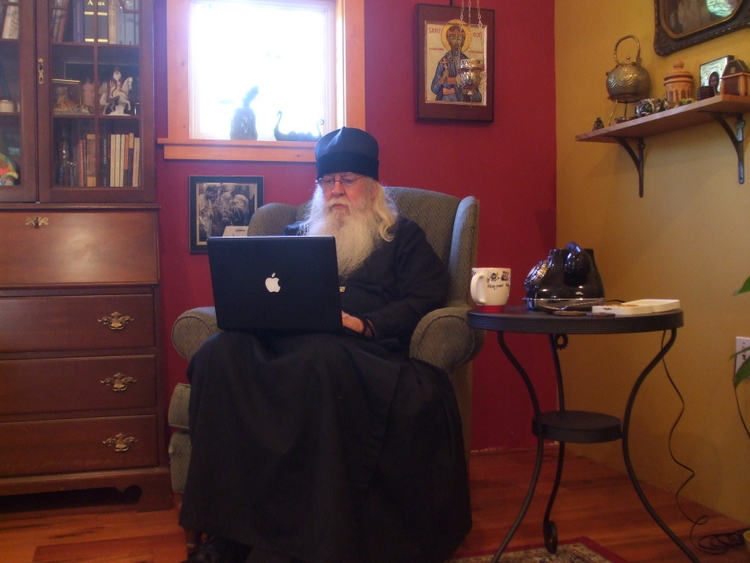 Abbot Tryphon, preparing The Morning Offering
Saints of the Day
Hieromartyr Hierotheus, Bishop of Athens. Opening of the Relics of St. Gurias, first Archbishop of Kazan and St. Barsanuphius, Bishop of Tver. Martyr Peter of Capetolis. Martyrs Domnina and her daughters Berenice (Bernice) and Prosdoce of Syria. Martyr Adauctus and his daughter St. Callisthene of Ephesus. St. Ammon of Egypt. St. Paul the Simple of Egypt. Martyrs Gaius, Faustus, Eusebius, and Chaeremon of Alexandria. St. Vladimir Yaroslavich, prince of Novgorod, and his mother St. Anna. Saints Helladius, Onesimus and Ammon of the Kiev Caves. Martyr Stephen Stiljianovitch of Serbia. (Greek Calendar: St. John Lampadistus. Blessed Elizabeth of Serbia.) Repose of Righteous Youth Peter Michurin (1820).
Quote of the Day
"To those who are distrustful, who doubt and dispute and use only the faculty of reason and are not open to God, God does not show himself. God does not enter locked souls; He does not force an entrance." Elder Porphyrious
Photo of the Day
Abbot Tryphon, preparing The Morning Offering, on his MacBook.
Scripture Readings for the Day
Galatians 2:16-20
16 knowing that a man is not justified by the works of the law but by faith in Jesus Christ, even we have believed in Christ Jesus, that we might be justified by faith in Christ and not by the works of the law; for by the works of the law no flesh shall be justified.
17 "But if, while we seek to be justified by Christ, we ourselves also are found sinners, is18 For if I build again those things which I destroyed, I make myself a transgressor. 19 For I through the law died to the law that I might live to God. 20 I have been crucified with Christ; it is no longer I who live, but Christ lives in me; and the life which I now live in the flesh I live by faith in the Son of God, who loved me and gave Himself for me. Christ therefore a minister of sin? Certainly not!
Luke 6:31-36
31 And just as you want men to do to you, you also do to them likewise.
32 "But if you love those who love you, what credit is that to you? For even sinners love those who love them. 33 And if you do good to those who do good to you, what credit is that to you? For even sinners do the same. 34 And if you lend to those from whom you hope to receive back, what credit is that to you? For even sinners lend to sinners to receive as much back. 35 But love your enemies, do good, and lend, hoping for nothing in return; and your reward will be great, and you will be sons of the Most High. For He is kind to the unthankful and evil. 36 Therefore be merciful, just as your Father also is merciful.