(Church Calendar)
Feast of Saint Olav of Norway
Saints of the Day
July 29 / August 11. Martyr Callinicus of Gangra in Asia Minor. Virgin Martyr Seraphima (Serapia) of Antioch. Martyr Theodota and her three sons in Bithynia. St. Constantine, Patriarch of Constantinople. St. Theodosius the New, emperor. St. Romanus, abbot of Kirzhach, disciple of St. Sergius of Radonezh. Saints Constantine and Cosmas, abbots of Kosinsk (Pskov). Martyr Eustace of Mtskhet in Georgia. Martyr Michael, St. Lupus the Confessor, Bishop of Troyes. Martyr Mamas in Darii. St. Bogolep, Schemamonk-child of Black Ravine near Astrakhan. St. Olaf, Enlightener of Norway. (Greek Calendar: Martyr Basiliscus the Elder. Martyrs Benjamin and Berius of Constantinople.Saint Olav of Norway.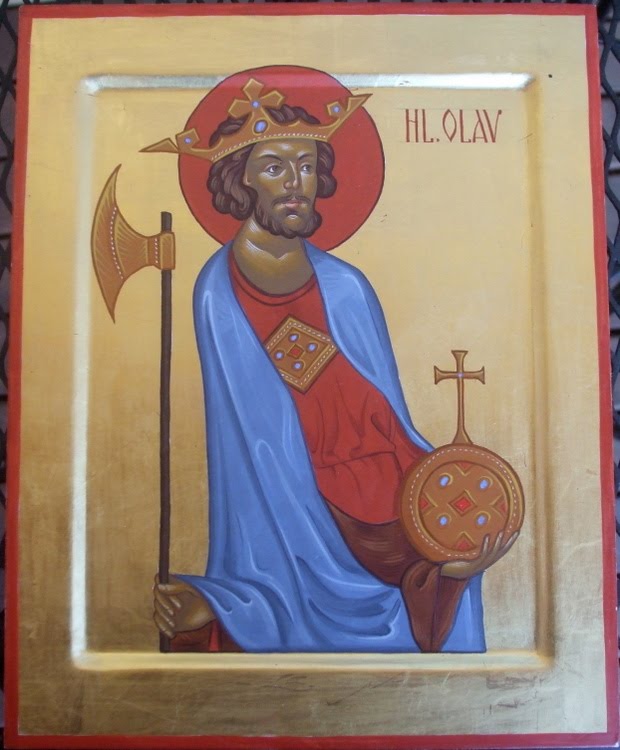 Photo of the Day
Holy Martyr King Olav of Norway, pray to God for us.
Thought for the Day
The Feast of Saint Olav of Norway (King Olav Haraldsson), is of the utmost importance to members of my family, for my maternal grandfather, was a direct descendant of this martyred king. It was with this heritage in mind, that I chose to use Norwegian architecture for our monastery, including the pattern for our temple, designed after the Norwegian Stave churches, some of which are a thousand years old. All the colors used for the inside and outside of the buildings, come from the traditional homes and churches of Norway.
Norway was once an Orthodox country, and the young Prince Olav lived in Kiev (in present day Ukraine), at the age of ten, where he was sent for safety, after a plot to murder the future king was discovered.
Present day Norway has a growing Orthodox population, with two monasteries. Like ourselves, the Norwegian Orthodox Church is under the protection of the Moscow Patriarchate. God willing, this newly thriving Church, will one day become a full fledged Local Orthodox Church, with her own Norwegian born bishops.
It is my heart's desire, to one day make a pilgrimage to the land of my ancestors, and visit the city from which my grandfather came, at the age of seventeen, to seek his fortune in America.
Scripture Readings for the Day
2 Corinthians 6:11-16
Be Holy
11 O Corinthians! We have spoken openly to you, our heart is wide open. 12 You are not restricted by us, but you are restricted by your own affections. 13 Now in return for the same (I speak as to children), you also be open.
14 Do not be unequally yoked together with unbelievers. For what fellowship has righteousness with lawlessness? And what communion has light with darkness? 15 And what accord has Christ with Belial? Or what part has a believer with an unbeliever? 16 And what agreement has the temple of God with idols? For you are the temple of the living God. As God has said:
" I will dwell in them
And walk among them.
I will be their God,
And they shall be My people."
Mark 1:23-28
23 Now there was a man in their synagogue with an unclean spirit. And he cried out, 24 saying, "Let us alone! What have we to do with You, Jesus of Nazareth? Did You come to destroy us? I know who You are—the Holy One of God!"
25 But Jesus rebuked him, saying, "Be quiet, and come out of him!" 26 And when the unclean spirit had convulsed him and cried out with a loud voice, he came out of him. 27 Then they were all amazed, so that they questioned among themselves, saying, "What is this? What new doctrine is this? For with authority He commands even the unclean spirits, and they obey Him." 28 And immediately His fame spread throughout all the region around Galilee.