(Church Calendar)
Saints of the Day
July 30 / August 12. Apostles Silas and Silvanus of the Seventy and those with them: Crescens, Epenetus, and Andronicus. Hieromartyr Valentine, Bishop of Interamna (Terni) in Italy, and Martyrs Proculus, Ephebus, Apollonius, and Abundius, youths. Martyr John the soldier at Constantinople. Hieromartyr Polychronius, Bishop of Babylon, and Martyrs Permenius, Helimenas (Elimas) and Chrysotelus, presbyters; Luke and Mocius, deacons; and Abdon, Sennen, Maximus and Olympius. Opening of the Relics of St. Herman (Germanus) of Solovki. St. Angelina, princess of Serbia. Birthday of New-Martyr Crown Prince Alexis. New-Martyr Anatole of Optina (1922).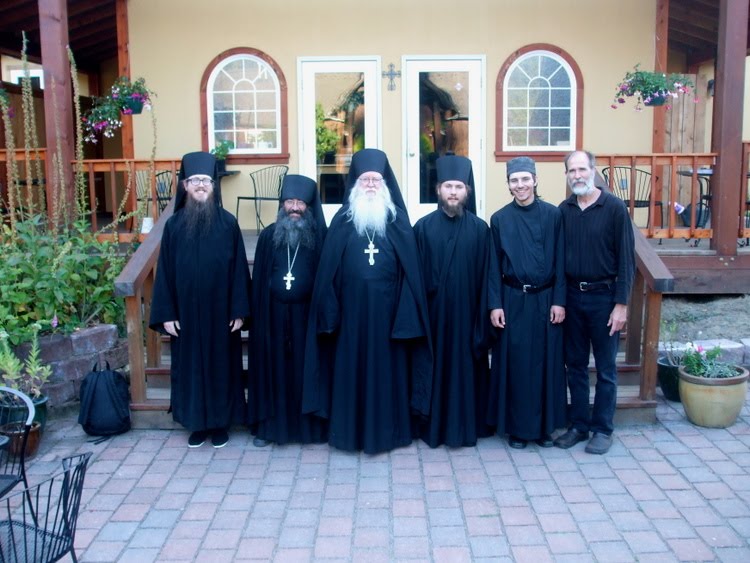 Photo of the Day
Our monastic brotherhood.
Thought for the Day:
"Faith in Christ is… a good and patient disposition of the soul in enduring all temptations, whether griefs, sorrows or unpleasant happenings, until God's favour looks down upon us; thus we would imitate David who says: 'I waited patiently for the Lord; and He inclined to me and heard my cry' (Ps. 40:1)."
St. Simeon the New Theologian
Scripture Readings for the Day
2 Corinthians 7:1-10
1 Therefore, having these promises, beloved, let us cleanse ourselves from all filthiness of the flesh and spirit, perfecting holiness in the fear of God.
The Corinthians' Repentance
2 Open your hearts to us. We have wronged no one, we have corrupted no one, we have cheated no one. 3 I do not say this to condemn; for I have said before that you are in our hearts, to die together and to live together. 4 Great is my boldness of speech toward you, great is my boasting on your behalf. I am filled with comfort. I am exceedingly joyful in all our tribulation.
5 For indeed, when we came to Macedonia, our bodies had no rest, but we were troubled on every side. Outside were conflicts, inside were fears. 6 Nevertheless God, who comforts the downcast, comforted us by the coming of Titus, 7 and not only by his coming, but also by the consolation with which he was comforted in you, when he told us of your earnest desire, your mourning, your zeal for me, so that I rejoiced even more.
8 For even if I made you sorry with my letter, I do not regret it; though I did regret it. For I perceive that the same epistle made you sorry, though only for a while. 9 Now I rejoice, not that you were made sorry, but that your sorrow led to repentance. For you were made sorry in a godly manner, that you might suffer loss from us in nothing. 10 For godly sorrow produces repentance leading to salvation, not to be regretted; but the sorrow of the world produces death.
Mark 9:29-35
29 So He said to them, "This kind can come out by nothing but prayer and fasting."
Jesus Again Predicts His Death and Resurrection
30 Then they departed from there and passed through Galilee, and He did not want anyone to know it. 31 For He taught His disciples and said to them, "The Son of Man is being betrayed into the hands of men, and they will kill Him. And after He is killed, He will rise the third day." 32 But they did not understand this saying, and were afraid to ask Him.
Who Is the Greatest?
33 Then He came to Capernaum. And when He was in the house He asked them, "What was it you disputed among yourselves on the road?" 34 But they kept silent, for on the road they had disputed among themselves who would be the greatest. 35 And He sat down, called the twelve, and said to them, "If anyone desires to be first, he shall be last of all and servant of all."