Sunday, August 15 / 2
(Church Calendar)
Saints of the Day
August 2 / 15. Translation of the Relics of Protomartyr and Archdeacon Stephen [Acts 6:8-7:5, 47-60; Matt 21:33-42]. Translation of the Relics of Righteous Nicodemus, Gamaliel, and Abibus. Blessed Basil of Moscow, fool-for-Christ. Blessed Basil of Kubensk. Hieromartyr Stephen, pope of Rome. St. Marco of Belavinsk (Vologda). St. Friardus of Vindumitta (Gaul). (Greek Calendar: Martyr Phocas. Translation of the Relics of Martyrs Maximus, Dada, and Quinctilian at Dorostulum in Bulgaria.)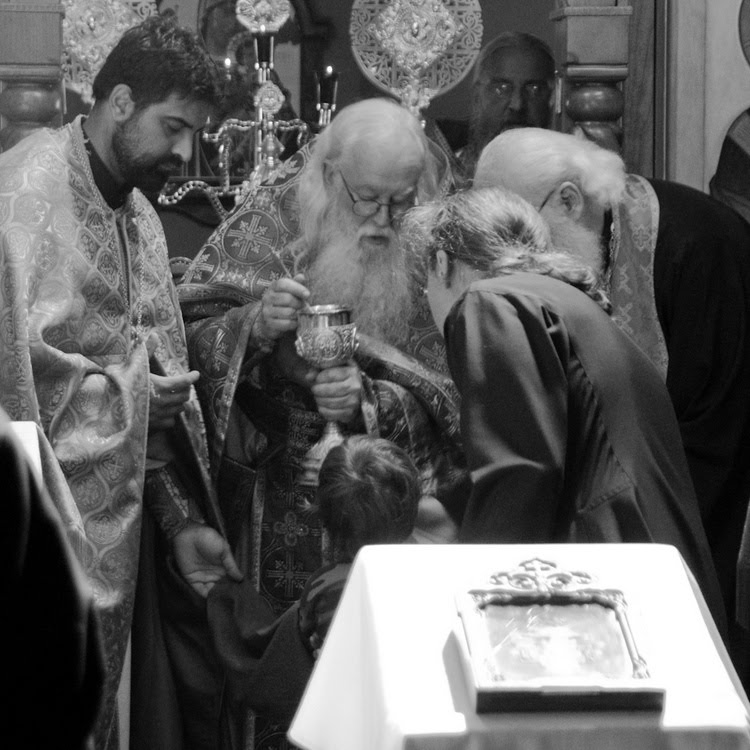 Photo of the Day
The Monastery Pilgrimage.
Quote for the Day
"Salvation consists in the recovery of communion with God. This communion was lost by the whole human race when our ancestors fell into sin."
Bishop Ignatius Brianchaninov
Scripture Readings for the Day
1 Corinthians 15:1-11
The Risen Christ, Faith's Reality
1 Moreover, brethren, I declare to you the gospel which I preached to you, which also you received and in which you stand, 2 by which also you are saved, if you hold fast that word which I preached to you—unless you believed in vain.
3 For I delivered to you first of all that which I also received: that Christ died for our sins according to the Scriptures, 4 and that He was buried, and that He rose again the third day according to the Scriptures, 5 and that He was seen by Cephas, then by the twelve. 6 After that He was seen by over five hundred brethren at once, of whom the greater part remain to the present, but some have fallen asleep. 7 After that He was seen by James, then by all the apostles. 8 Then last of all He was seen by me also, as by one born out of due time.
9 For I am the least of the apostles, who am not worthy to be called an apostle, because I persecuted the church of God. 10 But by the grace of God I am what I am, and His grace toward me was not in vain; but I labored more abundantly than they all, yet not I, but the grace of God which was with me. 11 Therefore, whether it was I or they, so we preach and so you believed.
Matthew 19:16-26
Jesus Counsels the Rich Young Ruler
16 Now behold, one came and said to Him, "Good Teacher, what good thing shall I do that I may have eternal life?"
17 So He said to him, "Why do you call Me good? No one is good but One, that is, God. But if you want to enter into life, keep the commandments."
18 He said to Him, "Which ones?"
Jesus said, " 'You shall not murder,' 'You shall not commit adultery,' 'You shall not steal,' 'You shall not bear false witness,' 19 'Honor your father and your mother,' and, 'You shall love your neighbor as yourself.'"
20 The young man said to Him, "All these things I have kept from my youth. What do I still lack?"
21 Jesus said to him, "If you want to be perfect, go, sell what you have and give to the poor, and you will have treasure in heaven; and come, follow Me."
22 But when the young man heard that saying, he went away sorrowful, for he had great possessions.
With God All Things Are Possible
23 Then Jesus said to His disciples, "Assuredly, I say to you that it is hard for a rich man to enter the kingdom of heaven. 24 And again I say to you, it is easier for a camel to go through the eye of a needle than for a rich man to enter the kingdom of God."
25 When His disciples heard it, they were greatly astonished, saying, "Who then can be saved?"
26 But Jesus looked at them and said to them, "With men this is impossible, but with God all things are possible."